As a business, one of the most effective ways to increase your customer engagement and conversions is to make your marketing efforts more targeted and precise. A study by Epsilon revealed that 80% of customers are more likely to buy from a brand that delivers personalized experiences.
But to target your customers with contextually relevant messages and offers at the right time, you must first know their needs, preferences, and behaviors in the moment.
To achieve this, you may be gathering customer data from various sources—your website, mobile app, POS systems, CRM, DMP, and others. However, combining and making sense of all this data—with the goal of better understanding your customers—may not be as simple as it sounds.
According to Shopify's Future of Commerce report, 47% of brands say that unifying online and offline operations or data will "prove to be difficult" this year.
A siloed approach to data and analysis results in incomplete customer insights – like a jigsaw puzzle with missing pieces. And this in turn results in problems like inconsistent engagement and broken journeys when a customer switches from one channel to another.
For example, when you receive an offer on a product you wishlisted, except you purchased it a day ago. Or when you have to explain the situation—let's say a product quality issue you raised—all over again to a customer support agent.
Today's channel-agnostic customer expects individualized engagement no matter when and where they choose to engage with a brand. In fact, the average customer uses 6 touchpoints across their shopping journey, and 90% of customers expect consistent interactions across all channels.
To address this need, brands are turning to real-time customer profiles.
What is a Real-Time Customer Profile?
A real-time customer profile provides a comprehensive view of a customer—complete with demographic information, transaction history, affinities, purchasing habits, activity timeline, and more.
As the name suggests, a real-time customer profile dynamically evolves with each customer interaction with your brand. This means your marketing team will always have updated and relevant information about the customer at any given time. Further, it helps you build more accurate segments to orchestrate tailored marketing messages and campaigns.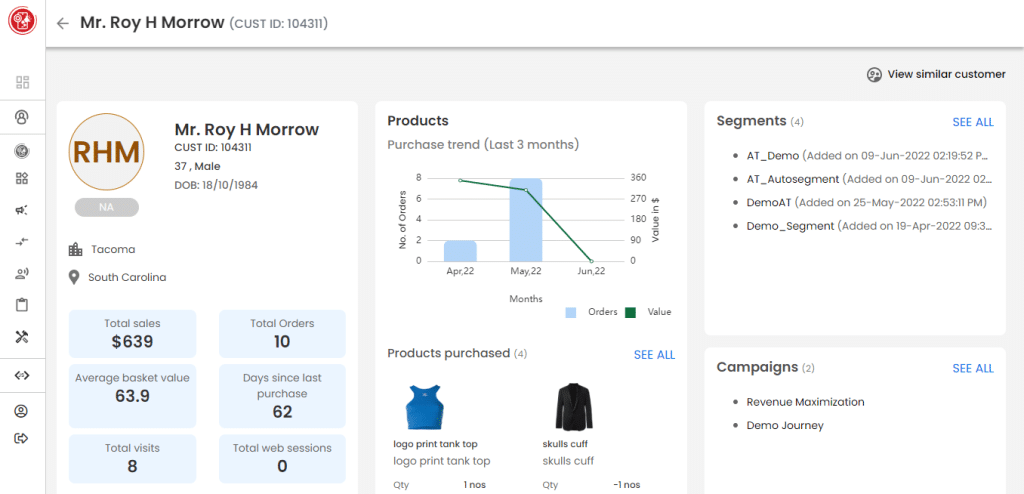 Real-time customer profiles go beyond traditional analytics and provide granular insights for a deeper understanding of customers. They not only tell you who your customers are but also shed light on the why behind their behaviors.
To elaborate, buying behavior varies from one customer to another. Some buy online and pick up in-store, while others want same-day delivery to their homes. Some only shop during weekends. And then there are some who never buy unless there is a discount. Every customer is unique. These behaviors have little to do with gender, age, location, and income.
Real-time profiles, therefore, help brands replace demographic segmentation and guesswork with insight-driven decision-making. They enable marketers to treat each customer as an individual and make every engagement feel personal.
3 Benefits of Real-Time Customer Profiles
Real-time customer profiles can offer you many short-term as well as long-term advantages. They help you to:
Access a Single Source of Truth for Each Customer

A real-time profile connects all online and offline, first, second, and third-party data to create a unified view of each customer.
It helps your marketing, sales, and support teams access relevant and accurate information about the customer in an instant.

Case Study

A multinational conglomerate, operating across 40 countries and driving over 30 businesses and 300 brands, wanted to address data silos. Their data was stored in disparate systems across various business units, which hindered them from deriving actionable customer insights.

The company deployed an AI-powered data management platform (CDP) that helped them centralize all of their customer data and prepare it for analysis. With probabilistic matching algorithms, they deduplicated customer records to create a unified view of each customer.

Further enrichment helped create Golden Customer Records, which gave an end-to-end view of the customer journey of over 5 million customers, cutting across the company's brands and business units.

The company was able to remove 300,000 duplicate customer records and build 450 micro-segments to drive omnichannel, journey-based customer engagement.

Drive Hyper-personalized Omnichannel Marketing

Real-time profiles help you move from tactical segmentation to strategic individualization.
They help you recognize your customers as individuals, engage in real-time, and personalize every interaction across their journey.
They enable contextually relevant customer engagement in the moment.
They help integrate your channels such that customers can seamlessly switch between them and continue along their journey without friction.

Case Study

A major US supermarket chain was struggling with implementing a data-driven, targeted marketing strategy. The company used a CDP to build a unified view of customers across online and offline channels.

The CDP's machine learning algorithms helped create granular customer segments by applying RFM modeling. This helped understand customer journeys, identify products of interest, and utilize propensity models to gauge the likelihood to respond, buy, and churn.

Armed with deep customer insights, the grocery chain adopted a personalized marketing approach that was curated to each customer's preferences, transactional behavior, lifecycle stage, and promotional activity.

Better targeting—across the touchpoints of app push notifications, email, eCommerce, SMS, and more—resulted in improved response rates and revenue. The company experienced an impressive 100% increase in digital account growth.

Strengthen Your Marketing Campaigns and Improve ROI

Switch from spray-and-pray marketing tactics—such as mass campaigns and generic retargeting—to personalized marketing to increase customer engagement, lifetime value, and revenue.
Build one-to-one relationships with your customers by sending thoughtful, relevant offers and promotions that meet their needs.

Case Study

A large pizza franchise, operating over 500 stores across 200+ cities was relying on manual, Excel-based analytics reports to make decisions on campaigns and customer engagement.

This meant that their marketing team wasn't equipped with the right insights at the right time to be able to drive effective communication that would resonate with the end customer. This resulted in poor marketing ROI.

The company started by unifying their customer data that was spread across siloed systems—POS, loyalty, delivery, digital, etc.—with the help of a CDP. The CDP came with a layer of advanced AI algorithms for micro-segmentation, RFME & lifecycle status segments, segment migration, market basket, retention analysis, propensity, campaign effectiveness, and more.

Armed with this decisioning intelligence, they were able to drive relevant and timely engagement based on customers' tastes and preferences. This led to an 8% increase in overall sales and a 16.5% increase in average recency.
Solve for Real-time Profiles and More With a Retail-specific CDP
The prevalence of omnichannel customer engagements necessitates a platform that can centralize all your online and offline customer data, build a holistic view of each customer, and enable instant activation of your audience with retail-specific data structures and models.
Algonomy's Real-time Customer Data Platform delivers on this very need. It is a 'Campaign CDP' that comes with a marketer-friendly UX. With simple drag-and-drop data onboarding to audience activation for campaigns, the CDP promises to help you drive real-time, contextually relevant customer engagement.
Learn more about Real-time CDP. Or request a demo here.
More Reading:
Check out our in-depth CDP guide to learn everything you need to know about the platform and explore potential use cases for your business.