Data is an immutable asset. One that has surpassed oil to become the most valuable resource in the world. Yet, in the age of analytics, it is just that – fuel. Much like fuel, it must be transformed to extract genuine value.
As Clive Humbly put it, "Data is the new oil. It's valuable, but if unrefined, it cannot really be used. It has to be changed into gas, plastic, chemicals, etc., to create a valuable entity that drives profitable activity; so must data be broken down and analyzed for it to have value."
Though infinitely available (unlike oil), the challenge most marketers face is the inability to effectively unify, analyze, and leverage data to drive decisioning and personalized customer engagement.
Customers are loyal to brands that acknowledge them as individuals. This makes the ability to hyper-personalize every customer engagement paramount for retail marketers.
To help marketers activate their audience in real-time with custom offers and cross-sell products along the customer journey, we are introducing our Real-time Customer Data Platform (CDP).
A hurdle most marketers encounter in their efforts to deliver personalized experiences is unstructured data silos. These inconsistencies in data become barriers to accessing a comprehensive view of the audience. Consequently, stakeholders are unable to identify, segment, or even market to the audience along their journey. This leads to bigger problems such as the inability to quantify performance and contain churn.
Algonomy's CDP empowers marketers to unlock the full value that can be derived from data and orchestrate high-quality journey-based campaigns. Our CDP paves the way for data unification and intelligent decisioning through real-time audiences and delivery of personalized engagement across online and offline channels. In addition, native integration with Algonomy's Campaign tool enables marketers to deliver tailored omnichannel marketing campaigns across the customer journey.
How Real-time CDP Works
Our API-based integration facilitates frictionless consolidation of the tool to existing systems at scale.
CDP's array of connectors eliminates data silos with out-of-box batch and real-time integration that seamlessly centralizes data from any app or offline data store.
Anonymized customer data (including demographic, behavioral, and transactional) is captured and ingested in real-time from online, offline, first party, second party, and third party systems. This is then stitched together to create a unified customer profile that is updated with each customer interaction.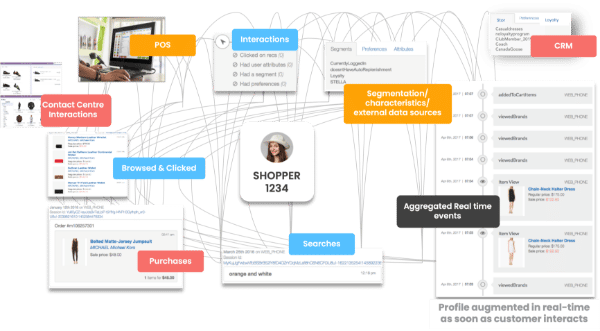 Profiles are dynamically micro-segmented using out-of-the-box models for churn, recency frequency, order value, engagement, etc. and the audience thus derived can be activated at scale.
Audience Discovery helps marketers filter these segment lists using attributes or browsing information. Events can be added to further refine the audience to create granular segments for targeted engagement.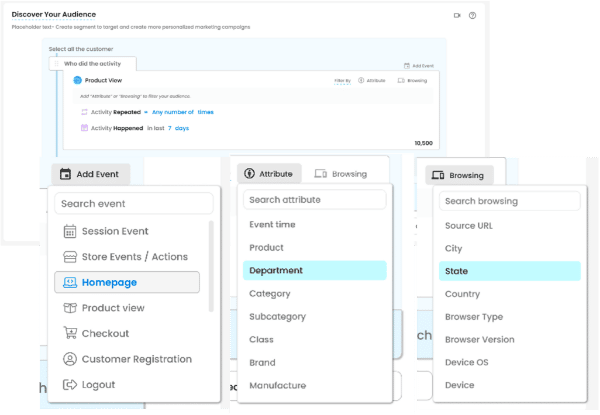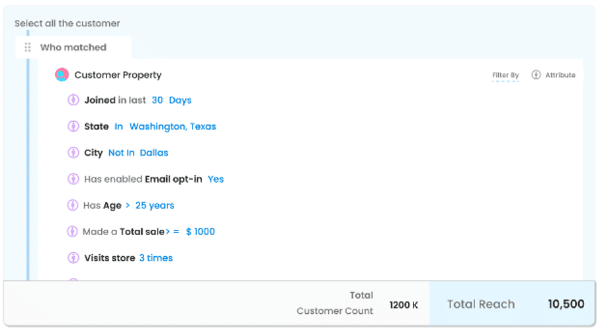 CDP's Audience Manager creates, manages, and leverages the audience segment list to drive contextually relevant journey-based engagement in real-time across touchpoints.
Our diverse mix of connectors for outbound engagement empowers marketers and retailers to reach their audience across channels. This includes Email, SMS, Messengers, and Social.
Here are a few ways how marketers can leverage Algonomy's CDP:
Real-time cross-channel profile updates: The CDP enables dynamic updates to the customer profile with every interaction, both online and offline. Actionable algorithms enable real-time audience activation so marketers can deliver journey-based hyper-personalization in the moment.

Real-time transaction communication on Whatsapp: Leveraging Algonomy's Campaign tool, marketers can enable triggers at various event nodules. Marketers can determine triggers, and delays (days or minutes post the event), as well as choose from templates how they would like to communicate with their audience.

Proactive action to arrest churn: Churn modeling in-built into our CDP enables marketers to predict the probability of churn and identifies drivers which then can be leveraged to take corrective action. This audience list is then pushed to Campaign to initiate personalized retention campaigns to reverse churn behavior.
There are a lot more use cases you can explore. Review the full list of power-packed features and learn how we can help you improve customer engagement, loyalty, and lifetime value. Or request a demo here.