A Customer Data Platform (CDP) is used to collate consumer data from diverse first, second, and third-party sources into a single central location. It records and distills your consumer interactions into unified identities, and provides insights that help you drive marketing content and offers that resonate with the individual customer.
Let's dive deeper to understand how this works.
What CDP-based Identity Resolution Means
Recognizing who your customers are and understanding their affinities, needs, and motivations is critical in marketing. The faster you do so, the more relevant and individualized your services and communications become. Identity resolution is key to achieving this objective.
Identity Resolution, or ID Resolution, involves the combining of user information to create a unified profile based on the data obtained from diverse online and offline sources, stitching together known logins with anonymized user sessions.
This means that irrespective of whether a user is logged in to their account on an eCommerce website or not, through recognizable data such as IP address or device, a CDP can identify the user or the household and update and enrich the existing customer profile.
Further data enrichment (using third-party data) turns every unified customer profile into a comprehensive Golden Customer Record, which then serves as the single source of truth. This ensures that, at any given juncture, organizations have an always-evolving 360-degree customer view for better engagement and targeting at an individual and household level.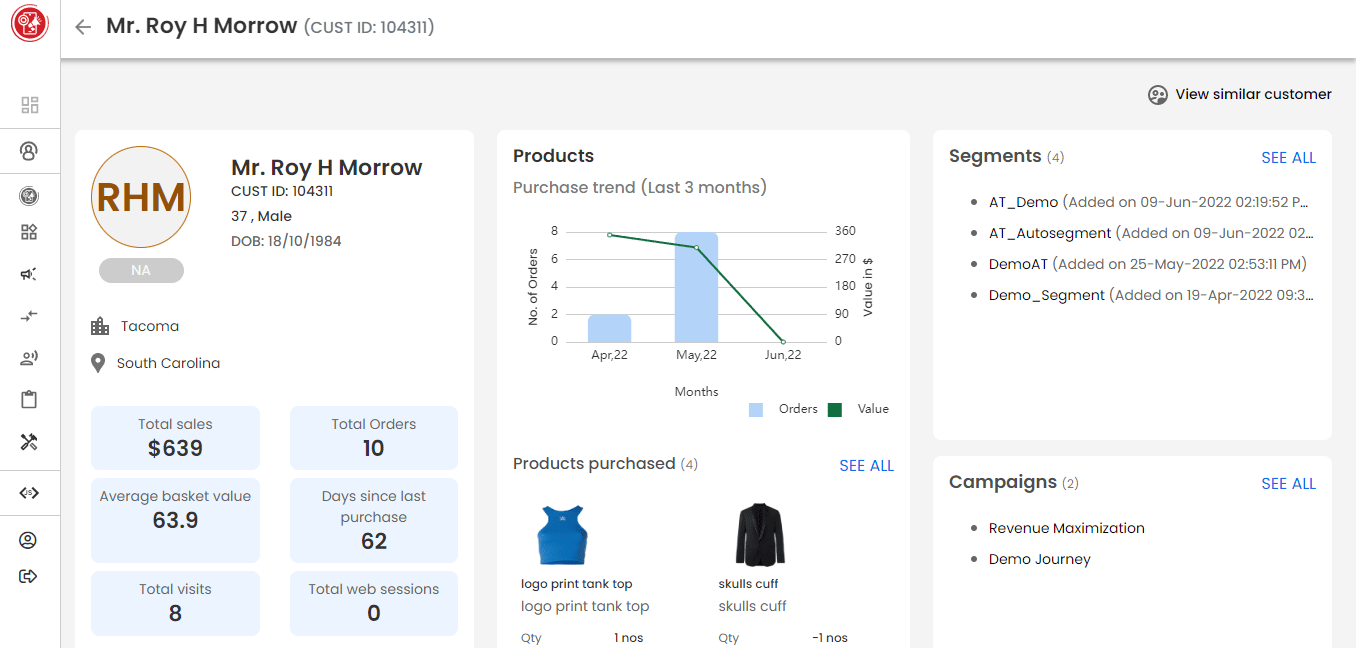 Golden Customer Record
How CDP Creates Individual Customer Profiles
The process of profile-building initially involves the standardization of data from different touchpoints. These touchpoints include online and offline sources, such as web search, mobile app browses, communication between customers and CRM executives at physical stores, POS data, and social media engagement.
Data taken from such disparate sources are generally in different formats and sizes. A CDP converts them all into a common format – a process known as data standardization.
Before getting into the various ways in which a CDP can build individual profiles, one must know the unique types of data that a CDP collects. The most vital of these is first-party data, which is the information your customers give you voluntarily. For example, the phone number, email address, and location a user provides while using a newly-installed mobile app. Other examples include data from loyalty programs and purchase history.
Another important first-party user data is identity-based, which is how a user wants to be identified by people and companies. This includes their name and gender.
Behavioral data comes from tracking users' online behavior, such as social media engagements and customer journeys on eCommerce websites (think search, page views, click-throughs). All this data is collected dynamically from different user sessions on your site or app, after which the CDP starts the identity resolution process.
Using a common identifier such as IP address, clusters of duplicate records are created and one surviving record overrides the rest. This process is called deduplication.
Some of the characteristics of ID resolution are:
Persistency of ID—the assigning of an identifier to a given individual and maintaining it even when some of their details, like their phone number and postal address, change.

Deterministic matching, which involves associating multiple identifiers belonging to a given person to a given shared ID during profile building.

Probabilistic matching, which involves associating different identifiers across different devices or accounts that appear to relate to a given person even when no deterministic match is there between them. Probability-based data collection and identification may involve machine learning and AI algorithms.
Profile building is an essential aspect of customer data management through CDP. Building evolving profiles enables businesses to adopt a dynamic and omnichannel customer engagement model in marketing.
How a CDP Fosters Omnichannel Customer Engagement
Omnichannel customer engagement is one of the several benefits of employing a CDP for marketing in an age wherein the boundaries between multiple channels of communication are getting increasingly blurred.
Omnichannel engagement requires businesses to blend multiple channels for seamless transitions, a task that is made possible by CDPs. By arming you with 360-degree customer views and deep customer insights, a CDP helps you deploy the right offers and product recommendations to the right user at the right time—whether the user is on your app or website, or at the physical store.
Say a customer is looking for Mother's Day gifts on a beauty website via desktop. A few hours later, they download the app on their phone and continue searching for a gift.
Instead of a fragmented experience where the user has to start all over again on the app, with a CDP-resolved unified customer profile, the app experience can be personalized to directly show the user products similar to what they were searching on the website or the most popular Mother's Day gifts of the season, and even offer them an incentive to complete the purchase.
Such a personalized experience will ensure conversion and seamless customer engagement across channels.
How CDP Enables Personalized Customer Experiences
Fragmented data is among the major challenges marketers face, making it difficult to paint a clear and complete picture of customers. As discussed earlier, a CDP resolves this issue by centralizing all customer data and creating Golden Customer Records that are updated in real time.
This eliminates instances in which marketers have to second-guess themselves when it comes to their audience's personal likes, dislikes, needs, and desires at any given moment.
A CDP, therefore, provides insights to make hyper-personalization possible. Below are some examples.
Personalizing Contact Center Experiences

A CDP can collect customer information from online contact forms, emails, social media posts, offline letters, etc., and display it all in one place for a customer care executive.

This would enable the executive to recognize their doubts, queries, or grievances immediately without the customer having to explain the whole situation, be it a product quality issue or a concern related to delivery.

This saves time and results in quicker and more efficient query and grievance resolution, higher overall productivity among contact centers executives, and less duplication of information.

Customers appreciate it when a support executive recognizes them as a person and not just another customer. Further, such high-quality service significantly improves brand perception and loyalty.

Making Purchase Recommendations Based on Online Searches

Often, a customer may visit an eCommerce website, search for and view a product, but not complete the purchase.

A CDP can help you track this behavior. You may then send a personalized offer to the customer via email, recommending the product they had viewed.

And the next time the customer visits the store, the store associate can show them the same product and encourage them to complete their purchase. Such tailored engagements delight customers and take their buying experience to the next level.

Using Data's Potential on Social Media

A CDP's customer insights can be used to create value for a customer on their social media. For instance, shopping and browsing data can be leveraged on Instagram in the form of targeted ads and promotions to boost customer engagement and loyalty to the brand.

Driving Meaningful Engagement 'In the Moment'

The customer intelligence that a CDP affords can be used to drive contextually relevant, real-time engagement on the right channel.

For example, a multi-brand conglomerate with a franchise of a leading coffee chain as well as a global baby care brand unifies data across both brands to get a single view of the customer.

Their CDP's AI algorithms detect a pattern that a customer prefers a certain coffee and is a regular customer of the baby care brand as well. The algorithm also knows that the customer regularly purchases baby care products from Location A.

Using these insights, the franchise sends an SMS offer on coffee at an outlet in Location A, when the customer makes a purchase at the baby care outlet, for that desirable in-the-moment connect. This entices the customer to make a purchase, resulting in increased conversion rate and revenue.
In conclusion, the ability to resolve customer identities and create ever-evolving Golden Customer Records is key to enabling hyper-personalized omnichannel experiences. Algonomy's Real-time CDP addresses this need. The platform is built for retail with online and offline data management capabilities. Further, it uses AI-ML algorithms to create micro-segments and uncover marketing opportunities throughout the customer lifecycle.
More Reading:
Check out our in-depth guide on Real-time CDP to identify potential use cases for your business, success stories, and more.