Customer Data Platforms (CDPs) are among the most disruptive technologies we've seen in the last decade. As consumer behavior and preferences continue to evolve rapidly, marketing leaders are always looking for new solutions that will help them better understand their customers and engage with them on a more personal level.
CDPs have shown tremendous promise in addressing this need, as they serve as a reliable customer data management solution and an enabler of real-time, one-to-one personalization across channels. What's more, they afford advanced analytics and reporting capabilities that help retailers make informed decisions across their marketing and customer engagement efforts. Investments in CDPs are therefore growing rapidly.
The global CDP market size is expected to grow from $2.4 billion in 2020 to $10.3 billion by 2025, at a CAGR of 34% during the forecast period.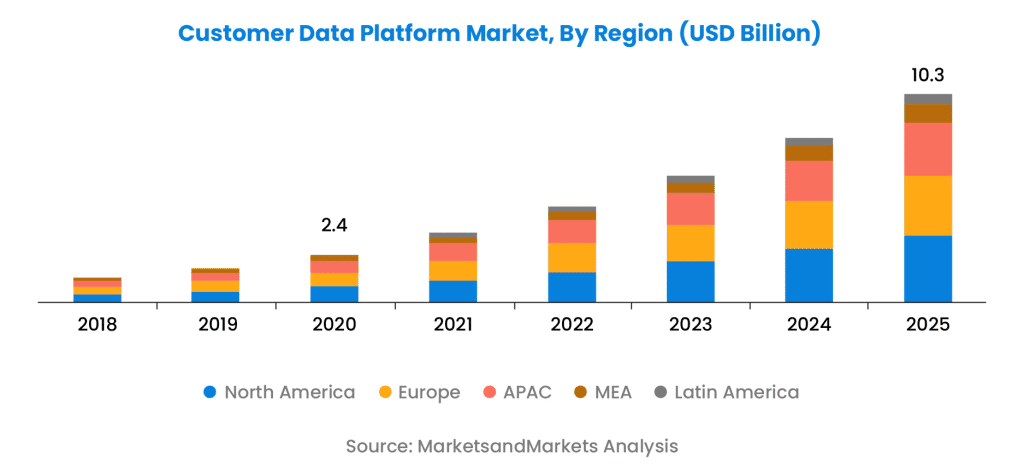 CDPs have proven to be a key component of the MarTech stack, helping companies power digital-first strategies. Let's dive deeper and look at five key marketing challenges that a CDP can solve.
1. Siloed Data and the Lack of a Unified Customer View
Connected consumers expect a unified, omnichannel brand experience across all touchpoints. However, siloed data hinders retailers from meeting this expectation. To ensure a unified customer experience, you need unified data.
A CDP ingests customer data from disparate online and offline sources — website, mobile, eCommerce, POS, CRM, ERP, etc. — and serves as an always-available, integrated source of customer data, thereby eliminating silos. It democratizes data and helps other marketing systems access it for analysis and activation.

A CDP also helps marketers address the lack of a unified view of the customer. It gathers customer's transactional, behavioral, and identity data, and links customer identifiers to create a 360-degree view of the customer. It merges multiple profiles a customer might have, a process known as deduplication, to build a golden customer record. This record serves as the single source of truth — helping retailers gain the intelligence and insights to run effective marketing campaigns that are personalized down to an individual.
54% of businesses say the lack of data quality and completeness is their biggest challenge to data-driven marketing success.
2. Generic Campaigns that Don't Create Real Value
Sending generic campaigns to a broader audience is an approach that has become dated and ineffective. It's important for businesses to get more granular with segmentation and send tailored offers and promotions at a preferred time and channel, to stay relevant in the intensely competitive retail space.
A CDP leverages machine learning algorithms to create complex micro-segments using a combination of customers' cross-channel data. This allows for persona-driven targeted marketing, which is essential to drive loyalty, improve customer lifetime value (CLTV), and reduce churn. Further, a CDP helps identify high-value segments as well as underserved segments — enabling retailers to identify revenue opportunities across their customer base.
91% of people say they're more likely to shop with brands sending offers and recommendations that are relevant to them.
3. Inability to Reverse Churn
Businesses often overlook the fact that a shopper's behavior, tastes, and preferences can change significantly over time. The offers and promotions that are relevant to a customer today may not be so after some time passes.
A CDP helps refresh a customer's data over different time periods and gain insight into their past segment, current segment status, and reasons as to why this segment switch happened. It helps identify if a customer who is a frequent buyer is slipping into dormancy. Churn models can analyze this behavior and determine the likelihood to attrite. These insights enable retailers to take corrective action with attractive offers on products/brands of their choice, to minimize churn.
32% of new and current customers would stop doing business with a brand after just one negative experience even if they'd previously loved the brand's customer service.
4. Inability to Expand the Customer Base
While marketers focus significant time, money, and effort on customer acquisition, it still remains a challenge. A CDP facilitates lookalike marketing, which is among the most efficient ways to expand the customer base. It helps retailers use insights pertaining to their existing high-value customer profiles to identify similar potential customers and target them with acquisition campaigns.
Lookalike is a more holistic approach to customer acquisition than broad segments based on age or gender. For instance, not all women in the age group of 30-35 years have the same interests. Whereas, two groups of people that have similar preferences around products, brands, channels, etc. are likely to be more responsive to the same campaigns and offers.
A CDP, with its built-in analytics models, helps surface deep customer insights and granular segments for effective customer acquisition. It helps marketers save acquisition costs by eliminating 'spray and pray' methods, aside from improving conversion rates and driving sales.
Personalization can reduce acquisition costs by up to 50%, lift revenues by 5-15%, and increase the efficiency of marketing spend by 10-30%.
5. Missed Upsell and Cross-sell Opportunities
A CDP helps with market basket analysis, which uses association mining to predict what products are likely to be purchased together. It provides a detailed view of each customer segment, covering data such as average revenue, brand affinity, basket size, and average days since the last purchase. This helps retailers better understand basket composition and identify customer affinities. A CDP, therefore, powers decision intelligence to make relevant cross-sell and upsell recommendations, which translate to improved campaign response rates, CTLV, and revenue.
Upsell and cross-sell strategies are solely responsible for 10-30% of eCommerce revenues.
With the proliferation of marketing channels and the ever-growing volumes of data they generate, it is paramount for retailers to invest in a CDP to make sense of the deluge of customer data and drive customer-centric digital strategies. Algonomy's real-time CDP is designed to meet this need and help marketers eliminate the aforesaid challenges.
What differentiates Algonomy CDP?
Real-Time Activation: Real-time activation of audience for contextually relevant connect in the moment
Deep Customer Insights: Deep and granular customer insights using ML algorithms for a segment of one connect. Leverage Lookalike models for expanding the customer base, market basket analysis, affinity and association mining to grow customers with relevant cross- and upsell and churn analysis, and CLTV to build loyalty.
Retail Focus: Comes with 150+ omnichannel strategies, 1,000+ KPIs out-of-the-box, 200+ pre-built reports to ensure rapid time to value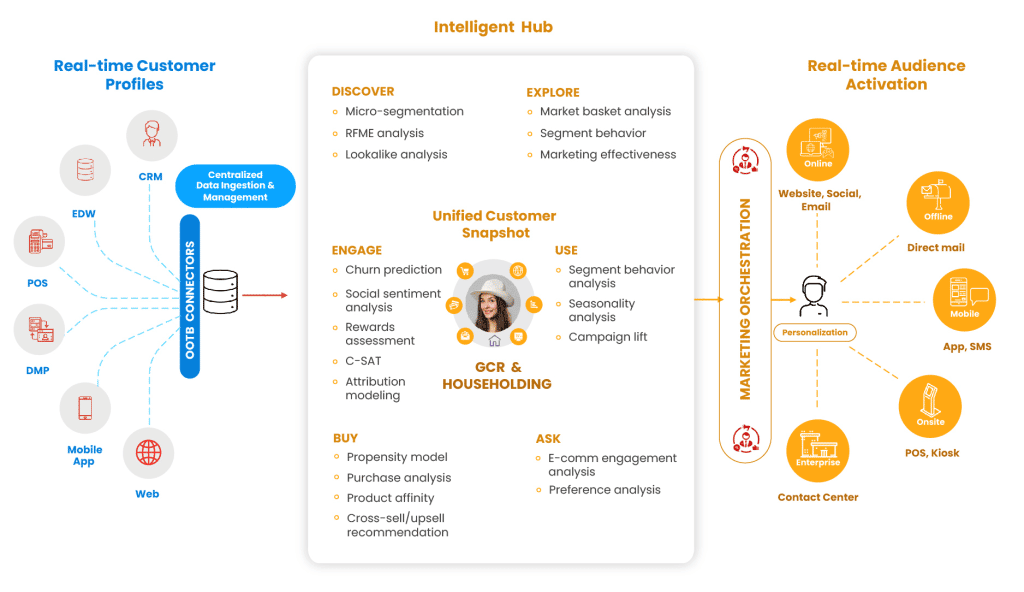 To learn more about Algonomy CDP and determine if it is the right solution for your business, you can request a consultation here.