A marketer who is looking to invest in a Customer Data Platform (CDP) grapples with the build vs. buy conundrum. The points of view are more entrenched in this space than any other. This is primarily because the end deliverable is a data platform that caters to the unique needs of each retailer. Let's compare the build and buy options.
Building a CDP
If you know exactly what you need, you can specifically define your requirements, and you have a service partner or a large in-house IT team that can deliver on the requirements, build may be a path to consider. A large-scale IT project is often lost in translation – what the customer explains is different from what the project manager understands. Further translations happen to the engineer, and then to the programmer, and alas, the result ends up looking significantly different from what was envisioned.
The people investments required to deliver a custom CDP and maintain it are considerably higher than the buy option. Make sure to build it atop an established cloud that provides you with resources to operate and support the platform. Besides, you may have to wait for 6 to 12 months to be able to start using the platform.
If time to market is not a critical consideration, you could opt for the build route for a fully customized solution instead of compromising with a generic software. If done right, there could be competitive advantages with a custom solution. However, one should be cautious of budget overruns, time delays due to expanding scope, and post-implementation support.
Buying a CDP
A pre-packaged CDP that is crafted for a specific industry offers the best of both worlds – quick time to value of a plug-and-play solution and close fit of a bespoke solution. While you would need some technical resources for the set-up and upkeep, the time and costs involved are much lower, and there are no harsh surprises.
This means you can run pilots and POCs quickly before you go all-in. You can examine and be sure that the solution really works for you. A much lower upfront cost and quick onboarding takes away risks, and still provides a solution that is tailored for your needs.
Most CDPs come with out-of-the-box connectors to integrate with existing MarTech systems, and you have the vendor's professional services to take care of seamless integration with systems of record and orchestration.
A CDP that Supercharges Individualized Customer Engagement
A good CDP caters to all use cases in a way that is specific to your industry. A CDP is a means to an end – with the end being contextually relevant engagement. This means the CDP needs to necessarily have these features:
Streaming ingestion of demographic, transactional, behavioral, known & unknown customer data from online and offline systems.
Identity resolution by creating a single, 360-degree view of the customer and a golden record by deduplicating and enriching the data.
Granular segmentation and advanced customer insights powered by micro-segments, segment analysis, market basket, churn, lookalike, propensity, and lifetime value analyses to drive next-best actions, and measure ROI with campaign and journey analytics.
Real-time audience activation to drive hyper-personalized, journey-based marketing orchestration across online and offline channels and connect with customers in the moment.
CDP Case Study
A multinational conglomerate used a real-time CDP to create unified customer views and drive personalized omnichannel marketing.
Learn More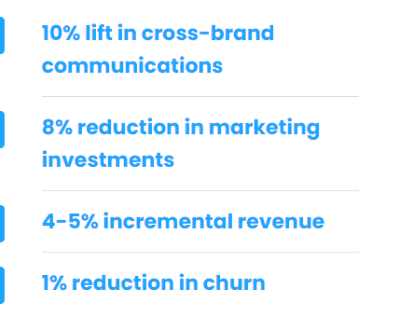 All of these features with a marketer-friendly UX are increasingly becoming important, to reduce the dependence on IT teams. It should be flexible to serve marketers and campaign planners who want to promptly analyze metrics and decide targeting strategies or perform customer segmentation. It should be scalable to serve data scientists who work with large data sets and require clean, well-organized data.
Critical Questions to Ask to Make a Buy or Build Decision
What are the use cases I want to address?
Are these use cases unique to my organization?
Is the scope likely to change with time?
What is the budget I'm willing to invest for a solution?
By when do I want to have this up and running?
Do I have in-house IT resources to allocate that are rightly skilled?
Do I have the resources for long-term support?
Customers today are truly omnichannel which increases the complexity of knowing what, how, and when they want to shop. It is no wonder that the worldwide CDP software market will grow at 19.5% CAGR from $1.3 billion in 2020 to $3.2 billion in 2025. It is a quintessential tool to understand customers as their tastes and behaviors evolve and connect with them at the right time, on the right channel with the right message.
Looking for a real-time CDP that promises fast time to value and low cost of ownership?