What makes consumers choose the brands they do business with? Brendan Witcher, VP & Principal Analyst, Digital Business Strategy, Forrester, in his keynote session at Algonomy Customer Summit 2021, talked about how a lot of brands are unable to answer this question conclusively, or worse, believe the wrong answers. In this blog, we discuss some insights from the session and what retailers can learn from them.
Most brands know who their customers are, but they don't know why they buy from them. They don't understand a customer's conditions for buying and, more importantly, what makes them a top-of-mind brand when a customer wants to make a purchase decision.
As part of a project, Brendan Witcher asked the executive team of a company as to why their customers buy from them. They said customers are loyal to their brand because they love their high-quality products and think the brand aligns with their shopping values.
Interestingly, when he interviewed some of their best customers, they said they would completely stop buying from the brand if they didn't live near their store, even though the brand has an eCommerce website. In this case, the customer's condition is the convenience of the store being nearby and has little to do with the products. This highlights how disconnected companies are from the idea of understanding customers and their conditions.
Segmentation Is Passé
Conditions for buying are different for different consumers. Some want to buy online and pick up in-store, while others want same-day delivery to their homes. Some won't buy unless there's a discount. And then there are some who only shop during weekends. Every consumer is unique. These behaviors have nothing to do with gender, age, location, and income. And yet these are the factors that businesses consider to create personalization.
So what can companies do? How can they create standout moments that make consumers think of their brand not only when they want to make a buying decision but also when they're not in purchase mode? The solution lies in moving beyond segmentation and delivering individualized experiences to consumers. However, most retailers have yet to make real progress in this regard.
According to Forrester, 89% of digital businesses are investing in personalization. But only 40% of consumers say that the information they get from brands is relevant to their tastes and interests.
These numbers indicate that companies need to do more to offer personalized experiences.
The Trap of 'Good Enough' Customer Experiences
Businesses today fail to create new competitive advantages because of what Brendan called digital sameness. They settle for "good enough" consumer experiences instead of striving to take them to the next level through personalization that is real-time and individualized. Since most businesses think this way, the collective inaction has resulted in digital sameness.
As a result, the majority of consumers don't think much of their digital experience.
Brendan revealed that 65% say their CX is 'Ok', only 17% think it's good, and no one rates it as excellent.
'Ok' experiences don't create competitive advantages. It's important to note that each time a consumer is exposed to an improved digital experience, their expectations are reset to a new, higher level. This is how the digital-savvy consumer behaves today.
I once had a go-to eCommerce site for buying clothes. It had a great user experience. But what wasn't great was product discovery – I often found myself digging deep into the catalog to find products to my liking. The quality of product recommendations often didn't hit the mark. Later, I discovered another brand, and the more I shopped with them, the better their personalization became. I never shopped with the former brand again.
A brand's products aren't an advantage. A great website or a shiny new app isn't an advantage. To keep customers loyal in the world of digital sameness, companies need to continually improve their personalization and differentiate themselves from the infinite number of brands out there.
Personalization Case Study
Learn how Aldi personalized the customer experience across commerce touchpoints despite a unique business model and fast-changing catalog.
Download Now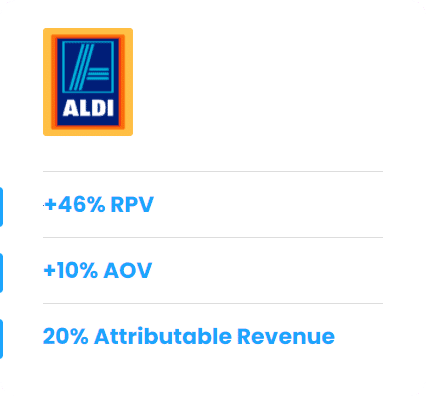 Customer Data at Multiple Touchpoints Are an Opportunity
With connected consumers leaving their digital footprints across different channels and touchpoints, retailers have the opportunity to leverage this data to understand their customers at a much deeper level. This is the reason why investments in data management solutions like Customer Data Platforms (CDPs) are rising.
According to MarketsandMarkets, the global CDP market size is expected to grow from $3.5 billion in 2021 to $15.3 billion by 2026, at a CAGR of 34.6% during the forecast period.
A CDP ingests customer data from various online and offline channels, serving as an always-available, integrated source of customer data. It gathers a customer's transactional, behavioral, and identity data, and links identifiers to create a 360-degree view of the customer. This view helps retailers understand not only who the customer is but also their conditions for buying.
Getting Data Strategy Right
Data management and operations aside, most retailers are lacking in terms of an effective data strategy. Brendan revealed that only 26% of companies said they're data-led – they avoid pre-conceived notions about the customers and their business, and executives use data to guide strategic decisions before they make them. While 51% of companies are data-driven – they use data for tactical decision-making and often to support strategic decisions that executives have already made.
Evolving to a data-led state is key to staying relevant in a world where customer journeys continue to become more complex and non-linear. Retailers and brands need to ask three questions when defining their data strategy:
Is the data relevant for supporting our overall business strategy?
Can the data help predict customer behaviors and business outcomes?
Is the data actionable enough to improve our engagement strategy?
Companies that are more proactive with consolidating their data, generating granular customer insights, and creating contextually-relevant experiences for the individual customer in real time are the ones who become top-of-mind brands. Focusing on these areas is key to delivering consistent experiences everywhere and every time, which is what today's channel-agnostic consumers expect.