The Definitive Guide to Omnichannel Personalization in 2023
Recognizing customers as individuals, responding in real-time, and personalizing across the customer's digital lifecycle is the way forward.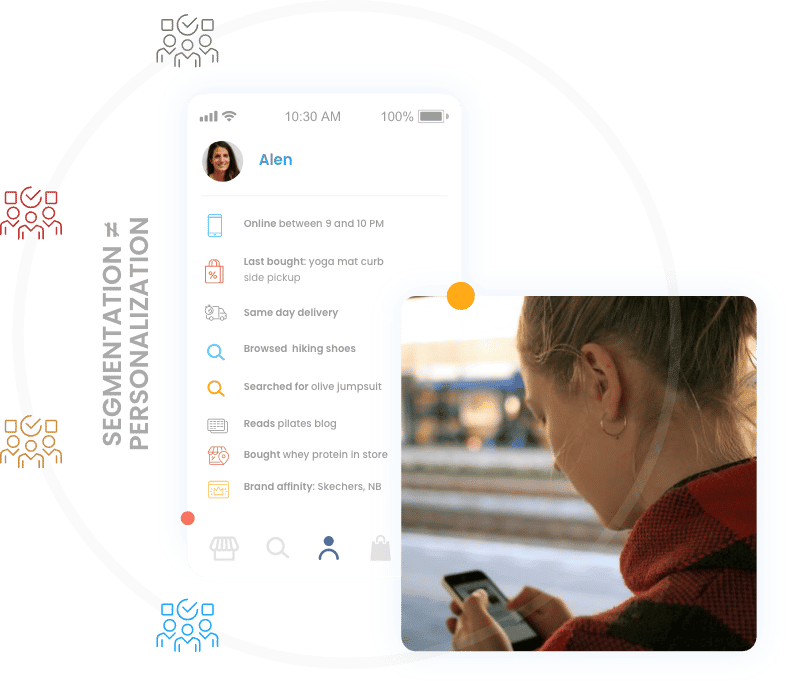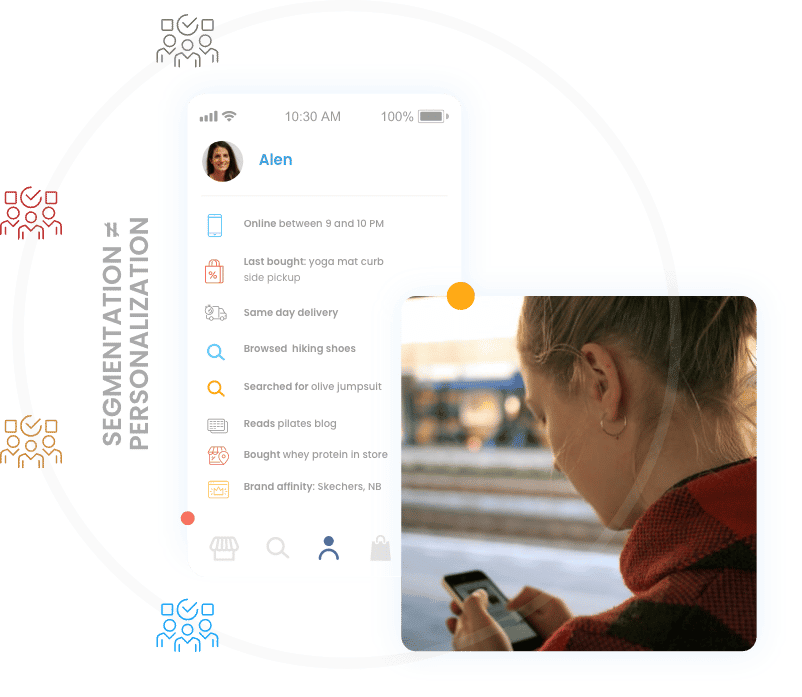 What is Omnichannel Personalization?
When was the last time you saw a product, say something that cost over $100, and bought it immediately without further research and on the same channel? It's probably been a while.
We have seen shopper journeys evolve remarkably over the years with continual advances in technology and the proliferation of channels. Consumers are no longer following a linear path to purchase. Today, people extensively research products on their connected devices and switch between online and offline channels as they make buying decisions and complete transactions. To say that customer behaviors are growing complex would be an understatement.
As a result, most enterprises and brands today follow a channel-first approach as a strategy to elevate customer experience and engagement. They invest heavily in the quality of their individual channels — physical store, eCommerce website, blog, mobile app, social media channels, and so on.
However, when a shopper moves from one channel to another, the engagement is inconsistent and the journey is broken. This ironically results in a frustrating experience for the customer. A channel-first strategy, therefore, isn't the answer in the experience economy.
Instead of focusing on the experience on each channel in isolation, businesses must adopt a more holistic approach to customer experience. They must integrate their channels in a manner such that consumers are able to seamlessly switch between them and progress in their journey without any friction.
Further, businesses should possess the ability to deliver individualized experiences, in real-time, no matter when and how consumers choose to interact. This is the essence of omnichannel personalization.
What Is Omnichannel Personalization?
Omnichannel personalization is an approach that leverages algorithmic decision-making — powered by real-time customer data across channels — to deliver contextually relevant experiences to an individual on any and all channels of their choosing.
Did you know?
The term Experience Economy was first used in a 1998 article by B. Joseph Pine II and James H Gilmore. The authors had made a bold prediction that just offering goods and services will no longer be enough to be a successful business. Instead, companies will have to deliver their customers unique and memorable experiences.
How Top Industry Analysts View Personalization
Gartner defines personalization as a process that creates a relevant, individualized interaction between two parties designed to enhance the experience of the recipient.
Brendan Witcher, VP, Principal Analyst at Forrester said, "Businesses need to evolve their definition of personalization – from tactical segmentation to strategic individualization."
Chaitanya Habib, TechVision Research Analyst at Frost & Sullivan, said, "Personalization using behavioral data will be key for the post-pandemic customer experience journey. We forecast enterprises' use of customer behavior analytics to grow 20% from 2020 to 2025. Creating intelligent experiences with the power of AI will allow companies to offer hyper-personalization of the individual consumer journey, which is a prominent component of converting an adopter into an advocate. Use of existing data and analytics will help retain customers and allow for product upselling."
How Can Personalization Benefit Your Business?
Increased Conversions and Revenue
Delivering personalized experiences across all touchpoints in the eCommerce journey as well as through outbound marketing campaigns leads to higher conversions and a significant uplift in revenue. Marketers report that personalization efforts can boost revenues by up to 15%.1
Improved Marketing Effectiveness
Sending timely, hyper-personalized offers and promotions, which are tailored to individual shoppers, helps retailers maximize the ROI from their digital marketing efforts. Further, it helps improve campaign performance, reduce bounce rates, and increase customer engagement. Marketers report a 760% increase in email revenue from personalized and segmented campaigns.2
Reduced Cost of Customer Acquisition
Personalized marketing enables retailers to eliminate 'spray and pray' tactics and drive targeted, outcome-oriented campaigns that resonate with potential customers. This approach helps retailers grow their customer base faster while minimizing their marketing spend. Personalization can reduce customer acquisition costs by up to 50%.1
Improved Customer Loyalty and Retention
Customers love brands that understand their unique needs and consistently deliver on their expectations with thoughtful recommendations and content, even as their tastes and preferences change over time. Personalization, powered by AI and machine learning, makes this possible. 91% of consumers say they are more likely to shop with brands that provide offers and recommendations that are relevant to them.3
Increased Average Order Value (AOV)
Personalization, aside from helping shoppers find what they are looking for as soon as possible, helps retailers make smart upsell and cross-sell recommendations, which is a surefire way of increasing average order value. Personalized shopping cart recommendations influenced 92% of shoppers online to buy products.4
Current State of Personalization
Algonomy's inaugural Personalization Summit 2021 — an invite-only virtual conference for senior executives in retail, held in April 2021 — covered why recognizing customers as individuals, responding in real-time, and personalizing across the customer's digital lifecycle is the way forward.
Personalization is passé. Algonomy emphasized the importance of moving to hyper-personalization, which has three core tenets:
No more segmentation. Move to individualization to create relevant, memorable brand and shopping experiences.
Deliver contextual experiences in the moment with real-time decisioning.
Do away with manual rules. Achieve true personalization at scale with the power of AI and machine learning algorithms.
At the event, we also conducted a survey about the current state of personalization in retail. The participants were 150 eCommerce, marketing, digital, and data leaders across the verticals: B2B, DTC, Fashion & Apparel, Food & Grocery, Marketplace, Quick Service Restaurant (QSR), Consumer Electronics, Specialty, and more.
Personalization Summit 2021: Survey Respondents
Below are some key findings from the survey.
1. Conversion rate, average order value (AOV), and revenue per visitor (RPV) are the top three KPIs impacted through personalization efforts.
What metrics are you able to impact through personalization?
2. A large majority (77%) of companies use A/B tests as their approach to optimize their personalization. Only 3% use algorithmic testing to auto-optimize personalization.
What is your current testing approach?
3. Only about 46% of businesses use behavioral data to personalize their eCommerce search results. This is rather alarming, as shoppers who search are 2-3 times more likely to convert.5 Shoppers who use search have an express intent of what they want to buy. Therefore, irrelevant search results
means opportunity lost.
Do you use behavioral data to personalize search results?
4. 40% of retailers believe that personalizing product recommendations has the biggest impact on business goals, followed by search (28%). There is little focus on personalizing other key areas such as category pages, content, and emails.
What would you want to personalize first to have the biggest impact on your business goals?
5. 45% of participants said over 50% of their business is through digital commerce.
How much of your business is through digital commerce?
Why Is True Hyper-Personalization Hard to Deliver?
Personalization has evolved tremendously with advances in disruptive technologies and methods like Machine Learning, Natural Language Processing, data engineering, data science, and big data analytics.
We have now entered the era of hyper-personalization, which is all about going beyond segmentation and providing truly individualized cross-channel experiences informed by granular customer insights.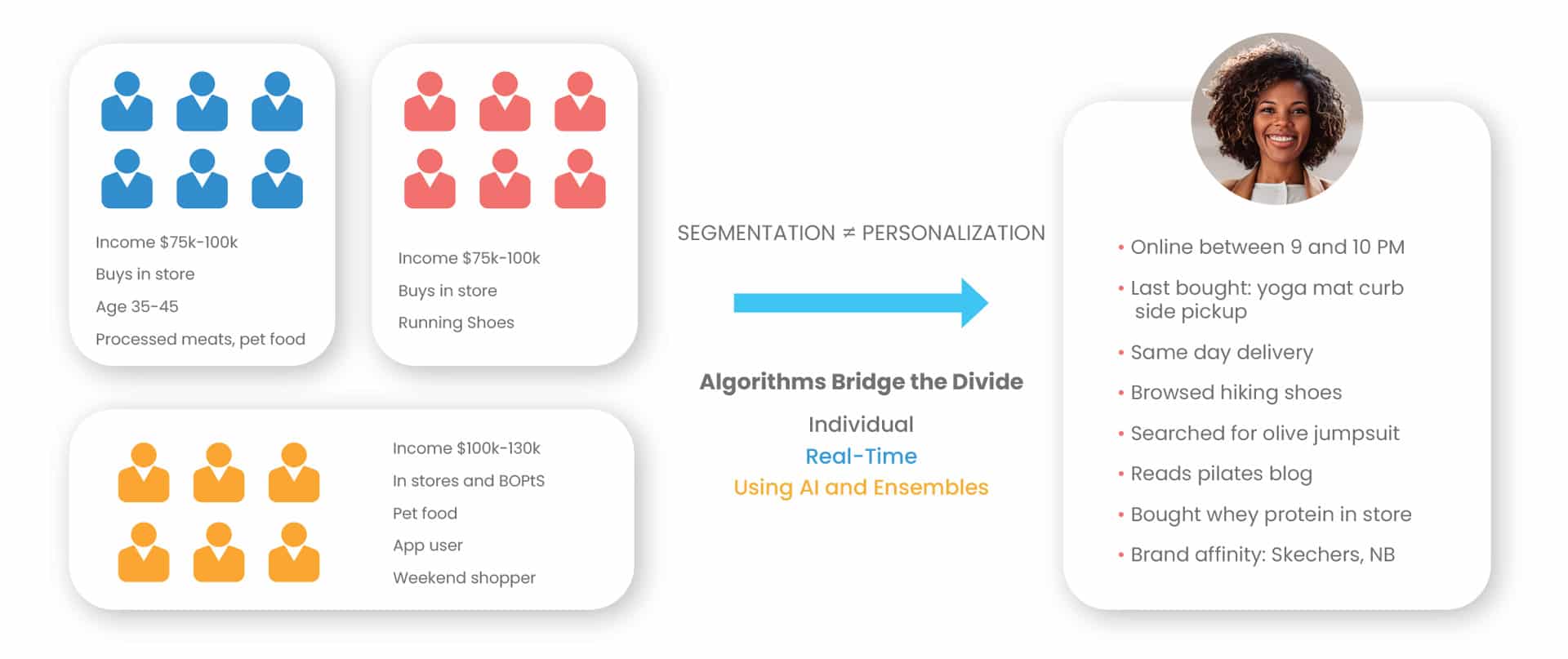 Hyper-personalization: Going from Segments to Individuals
However, there are many challenges hindering businesses from putting this in practice. We discuss a few below.
Data Silos: True, consistent personalization is not possible without unified customer data. Customer journeys are becoming increasingly complex and non-linear. As a result, data pertaining to consumers' behavior, expectations, preferences, transactions, etc. are being stored in silos across various channels and systems. Further, as consumers adopt more channels to engage with brands, customer data is being generated faster than ever in tremendous volumes. Most retailers don't have the infrastructure in place to centralize and democratize this data.
Lack of a Unified Customer Profile: Even after collating customer data from disparate channels, retailers face the issue of dealing with a mountain of bad data. Bad data refers to data that is irrelevant, redundant, incorrect, or outdated. 34% of marketers struggle with poor data quality.6


It is important to cleanse and enrich all of the gathered data to make it analytics-ready. This includes identity resolution, which is the process of matching identifiers across devices and touchpoints using deterministic and probabilistic algorithms, to build a unified profile of the individual customer. This profile provides the customer intelligence that enables retailers to deliver contextualized experiences on a customer's preferred channels.

Inability to Scale: Scalability remains a major challenge for retailers when it comes to delivering hyper-personalization. And herein lies the significance of AI. Manual rules for personalization work well in bounded conditions but fail when there are new or previously unseen conditions. Whereas AI algorithms are self-operating and don't need explicit rules to make decisions. You just define the target or goal, and algorithms find a way to get there.
AI algorithms are helping retailers move from segments to real-time customer profiles that serve as the foundation for hyper-personalization. They can understand the current context, the individual's likes and dislikes, and the business' goals, and make the optimum decision. This self-driving nature of AI helps organizations minimize human intervention and eliminate the dependency on IT.
Selecting the Right Tech Stack: Companies struggle to choose the right personalization software from a large and ever-evolving pool of vendors. In 2020, the number of MarTech solutions grew to an astounding 8,000, a 13% increase when compared with the previous year.7 Of these, 1,936 solutions are from the category of 'content and experience', which includes personalization solutions focused on specific use cases.


Other reasons include the lack of clarity in business objectives and poor cross-functional alignment. A company could be trying to solve one problem at a time, so they invest in software to get the job done. However, this approach fails as the company scales or when other functions that were earlier not involved come into the picture. For example, a software that was used only by marketing may not work for sales and customer service teams as their use cases are slightly different.
A Gartner survey revealed that 63% of marketers struggle with personalization technology.8
Primary challenges to implement and grow
personalization strategy and tactics9
How Can You Personalize eCommerce Experiences?
Personalization in eCommerce
Most businesses think of eCommerce personalization only in terms of product recommendations.
However, it is equally important to personalize other key touchpoints in the online shopping journey — search, browse, and content. Doing so allows for a more holistic customer experience, which translates to increased conversions and revenue per visit.
Touchpoints across the eCommerce shopping lifecycle
For instance, eCommerce search is increasingly becoming a key pillar of CX. Our client Verkkokauppa.com — Finland's most-visited online retail store with 65,000 SKUs in 26 product categories — experienced a 10-15% increase in conversions when they made the switch from one-size-fits-all search to self-learning, personalized search.
Customers expect to experience a brand in a consistent manner, and not differently based on the channel or touchpoint they're using. Therefore, personalization in the store needs to be an extension of digital and not a siloed initiative.
The sales associates in a brand's brick-and-mortar store should leverage customer's online behavior and purchase history to make their shopping experience relevant. What categories did you search for online, was the shoe not available in your size, do you want an adapter compatible with Windows or Mac – the most successful brands today know that it's about continuing the journeys seamlessly. In an omnichannel world, unified customer profiles hyper-personalize not only the online experience but also in-store interactions.
Businesses should arm their in-store sales associates with a mobile POS system that can access a shopper's customer profile, with details such as online behavior, shopping history, preferred price point, Touchpoints across the eCommerce shopping lifecycle favorite brands, most-bought products, household view etc. This information helps the associates make more informed recommendations and improve clienteling.
The information from the unified customer profile, combined with the knowledge the associate has gleaned from interacting with the customer in the store, helps make relevant upsell and cross-sell recommendations as well.
In case of a new shopper, the POS system should allow the associate to create a customer profile based on the shopper's order details. These details can be used to personalize future interactions with the shopper both in-store and online.
Retailers should also use in-store beacons to deliver location-based recommendations and promotions. Beacons recognize shoppers when they are inside or near the store, and push personalized messages and content informed by their recent shopping behavior, current location, and aisle position.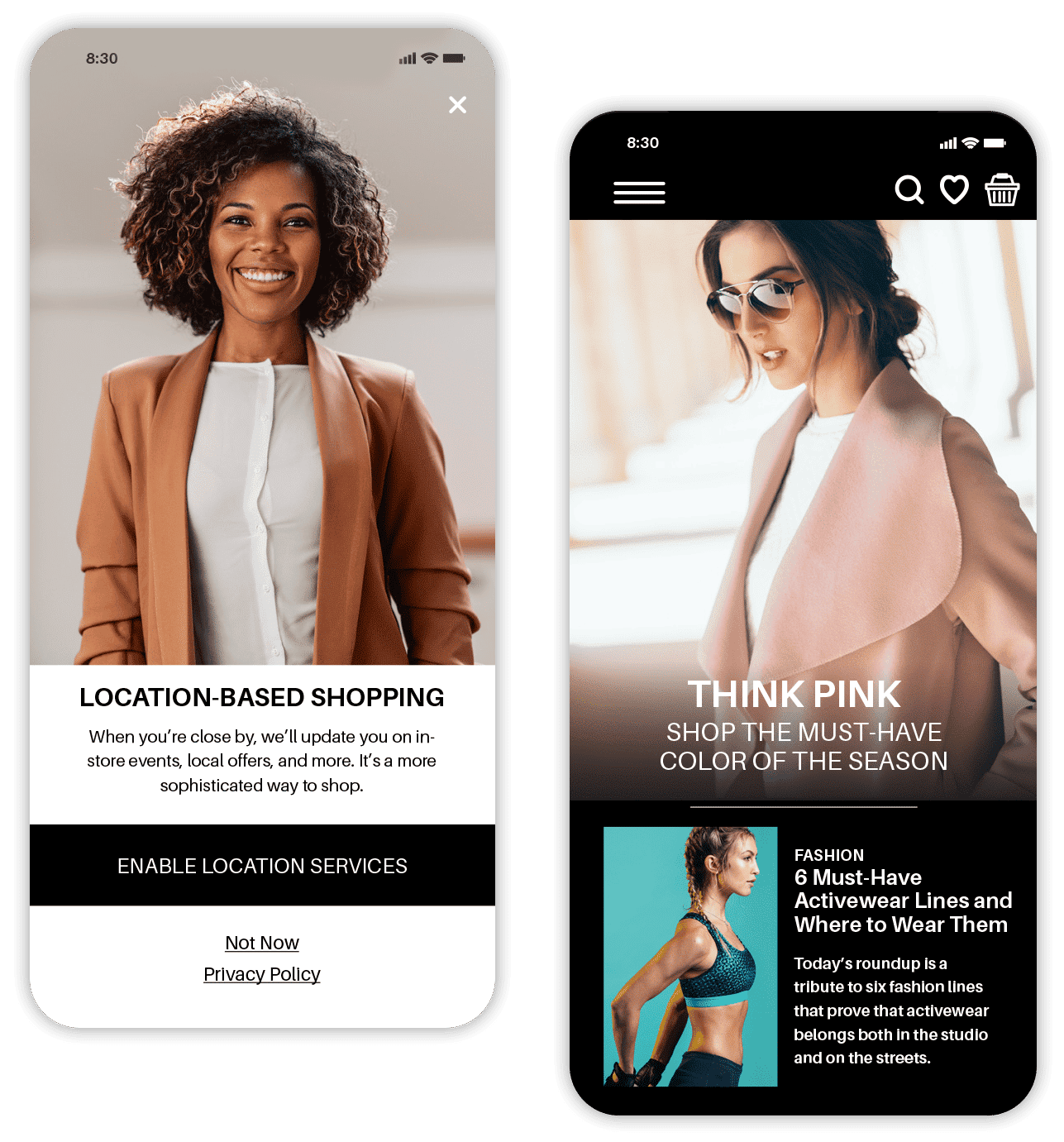 Location-based content and recommendations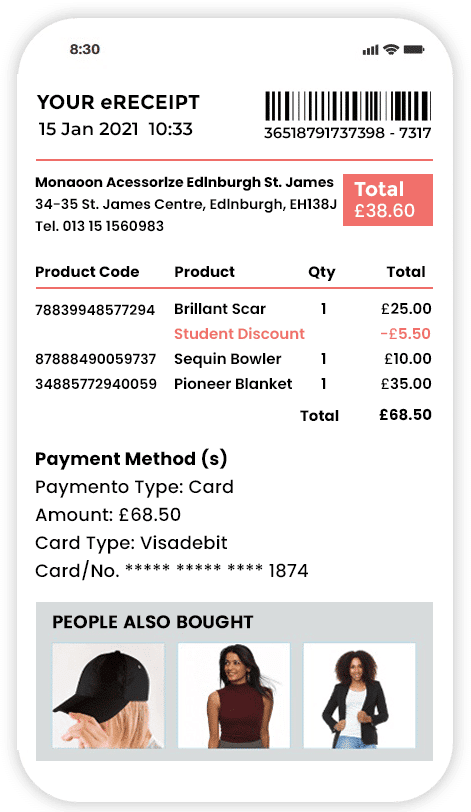 Personalized E-receipt
Another way to personalize in-store experiences is to send personalized e-receipts with relevant offers, recommendations, and coupons.
This way, businesses can integrate the online and offline experience, deepen customer loyalty, and drive more sales.
According to an Infosys survey, of the consumers who have experienced personalization, 67% are highly in favor of targeted coupons, and 62% prefer personalized offers or promotions based on past purchases.10
How Can You Personalize Marketing & Campaigns?
Channel agnostic consumers of today can see through spray and pray marketing tactics, such as generic campaigns and senseless retargeting. And most will not think twice before unsubscribing, or worse, marking such messages as spam.
Personalized campaigns that deliver relevant and thoughtful offers and promotions are key to building one-to-one relationships with customers. Forward-looking retailers are orchestrating omnichannel interactions by engaging with customers at the right moment and on the channel they prefer — be it email, SMS, mobile apps, or eCommerce.
They are moving from a channel-first approach to real-time audience activation. Further, they are leveraging advanced AI algorithms to automate the customer journey — connecting with customers based on their path-to-purchase and stage in the lifecycle.
Personalization Success Stories

Blue Tomato Increases Average Basket Value by 20% through Personalized Recommendations
About the Company
Blue Tomato was founded in 1988 as a snowboard school by the former European Snowboard Champion Gerfried Schuller. Since then, they have transformed into a successful international board sport and fashion shop. They now own more than 55 shops in Austria, Germany, Switzerland, Finland, and the Netherlands. Their webshop offers more than 450,000 products from over 500 brands.
The growing breadth of Blue Tomato's product range had become a challenge for their existing recommendation engine.
"Our traditional tools weren't working for us anymore," explained Andreas Augustin, Blue Tomato's Head of Webshop Development at the time. "Our existing tool had reached its capacity to make automatic recommendations. We spent a lot of time and resources trying to manually improve results and ingest products, with limited results."
Blue Tomato, therefore, sought a more sophisticated recommendation engine to address the issue.
The Solution
During an exploratory stage, Blue Tomato evaluated solutions from six different vendors and finally chose Algonomy Recommend™ for its advanced machine learning algorithms, ease of use, and merchandising functions.
"We particularly liked Algonomy's 'King of the Hill' approach, with its different machine learning algorithms that continually challenge one another to get the best results," said Augustin. "We also valued the extended merchandising functions that enable us to maintain specialist product areas in-house. Finally, the personalization developed specifically for mobile devices was very important for our omnichannel strategy."
Experienced Algonomy consultants supported Blue Tomato through the implementation process, which ran smoothly and fast despite the webshop's complexity.
"Thanks to Algonomy's great support — often on short notice — we were not only able to optimize the system but could also be assured that our personalization project would be successful in real-time mode," explained Augustin.
Since going live with Algonomy, Blue Tomato tripled their revenue from product recommendations.
"The value of the shopping baskets resulting from product recommendations has increased by an average of 20 percent, with an average of one more product purchased by each customer," said Augustin. "The numbers apply as well for the recommendations shown on the mobile devices, where significantly less products can be listed. But thanks to Algonomy, these are the most relevant."
One type of recommendation problem that has been historically difficult to manage is when customers buy separate matching products – for example, bikini tops and bottoms in different sizes or from different collections. When this happens, appropriate recommendations should still appear as if the customer had chosen a matching set.
"Before using Algonomy, this common scenario had been difficult to maintain and manage," explained Augustin. "We were able to configure Recommend to ensure matching parts were listed together. However, this wasn't even necessary as the algorithms figured it out pretty fast themselves."

Bubbleroom Observes a 53% Increase in Mobile Conversion Rate with Personalized Recommendations
About the Company
Founded in 2005, Bubbleroom is a pure play eCommerce retailer specializing in women's apparel, operating in the Nordic countries. Bubbleroom is now the number one Scandinavian retailer for women's party fashion.
The Challenge
Bubbleroom was concerned about the performance of their mobile site. Dismissing the myth that shoppers research and browse when on their mobile rather than purchase, Bubbleroom sought to optimize the mobile experience for shoppers and increase the conversion rate to 2.4%, similar to their website.
"We saw the potential mobile presented," explained Ville Kangasmuukko, CEO at Bubbleroom. "With industry figures telling us that 4 in 10 transactions involved multiple devices, and with the number of purchases on mobile devices on the rise, we believed there was an opportunity to do much better than we were. While mobile traffic represented 50% of our traffic volume, it was only delivering 30% of revenue."
With over 50 brands and 65,000 products, the main challenge Bubbleroom faced on mobile was the limitations in showing the wide range of products and brands they had on the smaller device. With limited options to display recommendations on mobile, Bubbleroom had to ensure they didn't waste this opportunity to inspire shoppers with their suggestions.
The Solution
Bubbleroom turned to data as the answer. The Algonomy User Profile Service (UPS) builds one profile for each customer, tracking all activity as it happens across all sales channels. Every view, click, and purchase is stored, building a holistic profile for each customer. This profile is updated in real time, always available, and helps drive individualized experiences as the shopper continues their journey.
"Through the UPS, there was a wealth of information at our fingertips," explained Ville. "From size preferences, brand and price affinity, to search queries, context, and location – we realized we knew a lot about our customers."
Using Algonomy UPS, Bubbleroom was able to utilize what they know about their customers to improve the mobile experience. They were able to drive personalized recommendations across product, browse, and navigation, helping shoppers find their desired products as soon as possible.
Results
Bubbleroom saw a 16.8% higher average order value from shoppers interacting with recommendations on their mobile device, with items per order increasing by 18.5%. They successfully increased their mobile conversion rate to 2%. Mobile now represents 63% of traffic and 59% of revenue.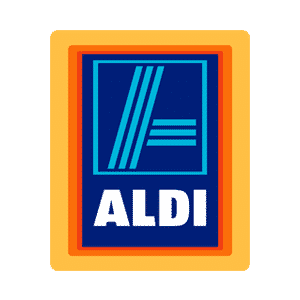 Aldi UK Leverages Integrated Personalization to Drive a 46% Lift in Revenue Per Visitor
About the Company
Aldi is one of the UK's fastest-growing discount supermarkets with over 900 stores and a unique flash sale business model that launches new product categories twice a week.
The Challenge
Aldi sought to use personalization on their site and were on the lookout for a strategic partner to guide their personalization plans as well as provide the technology that meets their unique business model.
The retailer sells groceries and household goods, but they also run two Specialbuy events a week, where 'once it's gone, it's gone'.
As the merchandise sells out fast, the online shop needed to diligently consider inventory levels, recommend substitutes for out-of-stock products, and alert shoppers when a product is back in stock.
A key requirement was strategic advisory services to help the business teams better understand the role personalization can play across the customer journey, identify specific opportunities, and roll out the plan in a systematic manner.
The Solution
Algonomy appealed to Aldi due to their ability to provide a single-solution suite, encompassing personalized content, recommendations, navigation, and search in addition to expert in-house personalization consultants. 'A single source for integrated personalization across key revenue-driving components on the commerce site' is how Aldi describes Algonomy Personalization Suite.
Personalizing content was first on the list. With Algonomy Engage™, the team started experimenting with content with an aim to guide visitors to the most relevant categories and campaigns based on their behavioral affinities and customer trends.
"We're now creating much more content, and seeing positive results from personalized targeting. Content creation requires effort, but we wouldn't be investing in it if we didn't see strong returns from Algonomy's dynamic personalization," said David Barter, Managing Director of National IT at Aldi.
Using personalized content targeted to shoppers interested in specific categories, such as Fishing and Pets, has resulted in up to 6X higher click-through rates for these categories.
Due to their unique, fast-paced business model with frequent catalog changes, Aldi needed to surface the right spread of recommendations for their Specialbuys — a unique range of products covering multiple categories such as sports, camping, DIY, and BBQs at low prices. Aldi releases Specialbuys every week for a limited period of time, giving their customers the opportunity to try something new.
To surface these products to likely interested shoppers, Aldi deployed Algonomy DeepRecs NLP to generate recommendations in a markedly different way from the traditional collaborative filtering recommendation techniques that rely on historical events (such as viewed together, bought together).
DeepRecs NLP has resulted in 2X higher engagement and 25X higher RPMI (revenue per 1000 impressions) for Specialbuys.
Another key requirement for Aldi was the ability to personalize not just for known customers, but also for unknown and first-time shoppers looking for deals and Specialbuys. Using Algonomy's combination of content and product recommendations, Aldi is now able to give all visitors a personalized experience from the moment they start browsing the site.
"Algonomy's ability to personalize for unknown shoppers is key. We're now successfully able to engage shoppers with deeper journeys, leading to 10% higher average order value and 46% lift in revenue per visitor. We're also witnessing organic repeat visits, which is invaluable," said David Barter.
The team also appreciates the time savings they've achieved by moving to algorithm-driven personalized recommendations for each shopper. Not only are the products shown relevant, but out-of-stock situations are automatically managed by Algonomy, without manual interventions.
Subsequent to content and product recommendations, Aldi expanded personalization to category pages by deploying Algonomy Discover™ – to achieve their vision of delivering a cohesive experience to shoppers no matter how they choose to interact with the site. Discover offered the flexibility to extend the same personalization to the mobile site as well.
Algonomy personalization is built on the foundation of a customer profile that updates in real time as the shopper interacts with anything on the commerce site. A shopper's preferences are leveraged to determine their experience.
Aldi plans to continue innovating with personalization and has laid out a strategic roadmap with Algonomy to serve customers even better.
"Few digital businesses have been able to connect the customer journey across the purchase lifecycle; it requires firm management commitment, significant volumes of data, and the right technology. Done right, it immensely strengthens your bond with customers, and we have seen higher engagement and conversions," said David Barter.
"With Algonomy, we're able to trigger personalized experiences in real-time, and shoppers don't have to dig deep into the product catalog to locate products they prefer."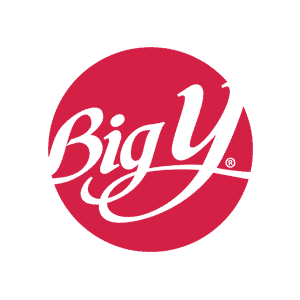 Big Y Drives Data-driven Marketing, Experiences a 100% Increase in Digital Account Growth
About the Company
Big Y is one of the largest privately-owned retail chains in New England and has been in operation since the 1930s. Headquartered in Massachusetts, the grocer is listed in Forbes Top 500 Private Companies. In addition to grocery, the company covers pharmacy, prepared foods, and fresh foods.
The Challenge
The grocery chain struggled with how to implement and sustain a data-driven, targeted marketing strategy. In their earlier state, they at best sent weekly email flyers to their customers on all the offers without any customization based on customers' past purchases and preferences.
Multiple channels were deployed, however, there was no integration among digital systems leading to a lack of unified customer experience across channels.
They were unable to run multi-channel campaigns, and email campaigns were run manually with no holistic understanding of performance.
There were no personalization and targeting capabilities on eCommerce and the mobile app, leading to low (~10%) digital penetration and engagement.
The Solution
Algonomy, along with their specialist partner Relationshop, deployed a Customer Data Platform (CDP) for Big Y to create a unified view of customers across online and offline channels.
The CDP's intelligence layer, supported by machine learning algorithms, helped create granular customer segments by applying RFM modeling. This helped understand customer journeys, identify products of interest, and utilize propensity models to gauge the likelihood to respond, buy, and churn.
Armed with deep customer insights, the grocery chain adopted a personalized marketing approach that was curated to each customer's preferences, transactional behavior, lifecycle stage, and promotional activity.
The recommendation engine was crucial to enable this, and the business could easily set rules such as:
Only pick offers that are active in the customer's home stores
Offer deep discounts for acquisition targets
Lower discounts for 'Reward' category
Only recommend products on offer
The CDP enabled a test-and-learn environment to measure and change course to ensure success.
Using predictive modeling, the grocery chain was able to enhance their targeting, resulting in improved response rates and revenue. The CDP enabled recommendation algorithms to personalize offers and products, which was orchestrated through their weekly newsletters to customers.
AI was applied to automate and optimize performance and contact governance. The platform enabled the display of high affinity items on the shopping list and helped recommend items for substitution, value, or nutrition switch outs. The retailer could automatically load and apply offers on the customer's shopping list based on the loyalty program. Real-time triggers based on activities such as app launch, add to cart, app uninstall, etc. were enabled.
Algonomy's CDP allowed for better targeting for weekly newsletters while orchestrating them in a single, consolidated template through automation. The company was able to drive personalized communication to loyalty account customers as well as personalize advertised products and digital coupons to all customers based on their purchase behavior.
They could dynamically personalize email look and feel, images, products, and best-fit offers to make the best use of limited real estate. Additionally, promotion content was versioned based on the home store of the customer.
Algonomy's integrated engagement platform with machine learning-based algorithms helped the retailer personalize customer engagement across touchpoints — email, app push notifications, SMS, eCommerce, and more.
How a CDP Makes One-to-One Personalization Possible
A CDP ingests customer data from disparate online and offline sources — website, mobile, eCommerce, POS, CRM, ERP, etc. — and serves as an always-available, integrated source of customer data, thereby eliminating silos. It democratizes data and helps other marketing systems access it for analysis and activation.
A CDP also helps marketers address the lack of a unified customer view. It gathers customer's transactional, behavioral, and identity data, and links customer identifiers to create a 360-degree view of the customer.
It merges multiple profiles a customer might have, a process known as deduplication, and further enriches the profile with third-party data to build a golden customer record. This record serves as the single source of truth — helping retailers gain the intelligence and insights to drive hyper-personalized, journey-based customer engagement across online and offline channels.
The global CDP market size is expected to grow from $3.5 billion in 2021 to $15.3 billion by 2026, at a CAGR of 34.6% during the forecast period11
Customer Data Platform Market By Region (USD Bilion)
Source: MarketsandMarkets Analysis
Other key use cases for a CDP include:
Identifying personas with micro-segmentation
Performing lookalike and propensity analyses to drive next-best actions
Identifying high-value customers
Tracking customer segment migrations
Driving smart upsell and cross-sell recommendations
Improving marketing campaign effectiveness
BI reporting for key marketing metrics
Creating a Customer-centric Personalization Strategy
Retail is now real time. It is contextual and always changing in response to consumers' needs and behavior. Personalization should respond to each consumer's present context, and that requires unifying customer data and activating the journey in-the-moment. To pivot from a product or campaign-led strategy to a customer-led strategy, organizations need to:
Integrate customer context across stores and digital channels
Deliver the most relevant experience in real-time, everytime
Hyper-personalize at scale, everywhere
Organizations should start by determining where they are in their personalization journey. Algonomy's Omnichannel Personalization Maturity Model is designed to help businesses assess their current state and decide on capabilities and technologies that are required for 1:1, real-time interactions.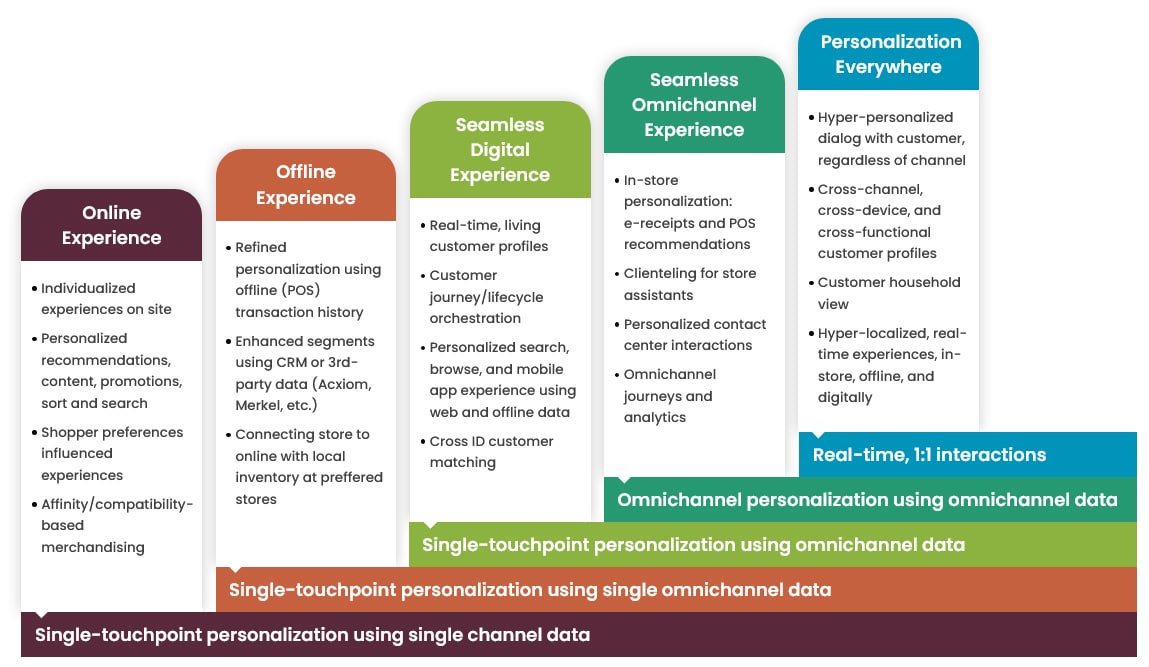 Omnichannel Personalization Maturity Model
Meet the Industry's Only Personalization Engine with Algorithmic Decisioning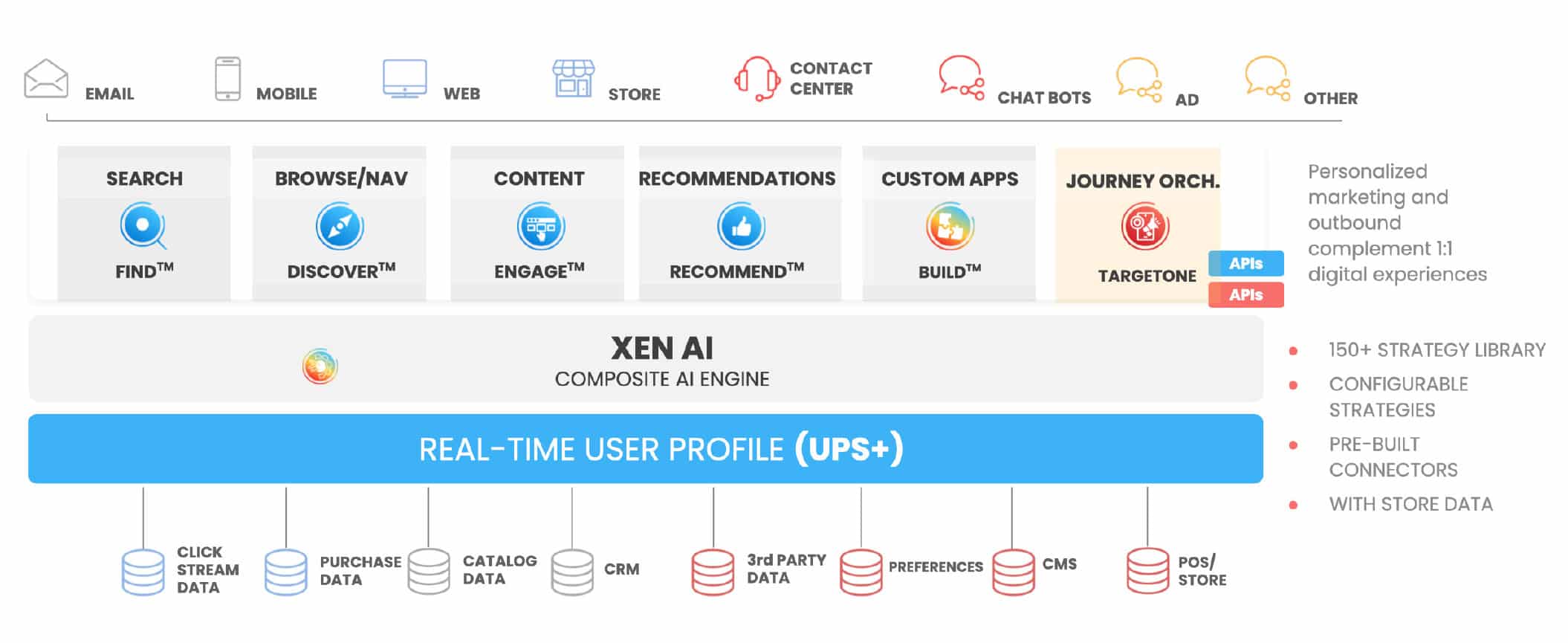 Algonomy offers a complete portfolio to deliver on the algorithmic vision. Positioned among leaders in data, decisioning, and delivery, we are ready for the world where the line between physical and digital is blurring. We are ready for digitally native consumers and shifting brand loyalties.
With Algonomy, you can personalize across your commerce, marketing, and customer service use cases. And across every touchpoint – search, browse, content, recommendations, and outbound marketing. Our promise – omnichannel personalization at scale with the power of AI algorithms.
Here's why pioneering retailers, brands, and commerce businesses choose Algonomy:
Full Lifecycle Personalization: We personalize across the entire customer lifecycle on all digital channels and touchpoints, putting an end to fragmented experiences.
Open, Self-driving AI: We are the only vendor with AI and algorithmic decisioning, eliminating the need for manual rules and extensive merchandising.
Retail and eCommerce Expertise: We live and breathe retail. Our deep domain expertise and pre-built models deliver rapid time to value to our clients.
Learn more about Algonomy's omnichannel personalization solutions here.
More than 400 retailers and brands have grown their revenue with Algonomy's personalization solutions. Join the growing community.
Stay ahead of the ever-evolving needs and expectations of connected consumers with Algonomy's AI-powered personalization solution.
Redo Personalization with the Power of Algorithmic Decisioning