New Features include OOTB Connectors to leading Commerce Platforms, No-code Data Science enhancements, new Deep Learning models, and Extends Omnichannel Personalization to Contact Centers
Algonomy, the leader in Algorithmic Customer Engagement (ACE) solutions, announced an array of new and enhanced capabilities in their latest Spring '21 Release. The new release is specifically designed for Retailers and Brands who are in a post-pandemic recovery cycle, with a unified platform for digital customer engagement that integrates data from supply to demand across the value chain with algorithmic decisioning and omnichannel orchestration.
The release features numerous powerful capabilities like composite AI frameworks, no-code ML frameworks, Visual AI algorithms, greater control and governance over customer data, and better orchestration abilities across marketing, commerce and merchandising.
"The digital-first era is all about staging relevant experiences across the entire customer journey, and extend personalized interactions to all customer touchpoints, both inbound and outbound", says Sarath Jarugula, Chief Product Officer at Algonomy, "In this release, Algonomy customers can continue to better leverage their technology investments across the enterprise, to improve on their metrics for customer engagement, conversion, and loyalty."
Algonomy Personalization Suite now features the following:
Algonomy Connect
We now provide out-of-the-box integration of the Personalization Suite with leading Commerce Platforms like Shopify Plus, VTEX, Adobe Magento, SAP Hybris, SFDC Demandware and more. The integration has helped merchants to accelerate their digital journey by using Algonomy's best-in-class personalization. Merchants can keep product catalogs, inventory, and pricing always updated, with Algonomy's unique real-time streaming catalog integration.
DeepRecs Visual AI
Announced in Sep 2020, this deep learning functionality is now leveraged by over 15 apparel clients, helping them replicate store-like personal experience on digital commerce properties. Shoppers can find visually similar products and get complete-the-look recommendations based on product images and without the need for any behavioral data. Designed to improve engagement and repeat visits, our clients have grown CTR, time on site and revenue per visitor with Visual AI based recommendations.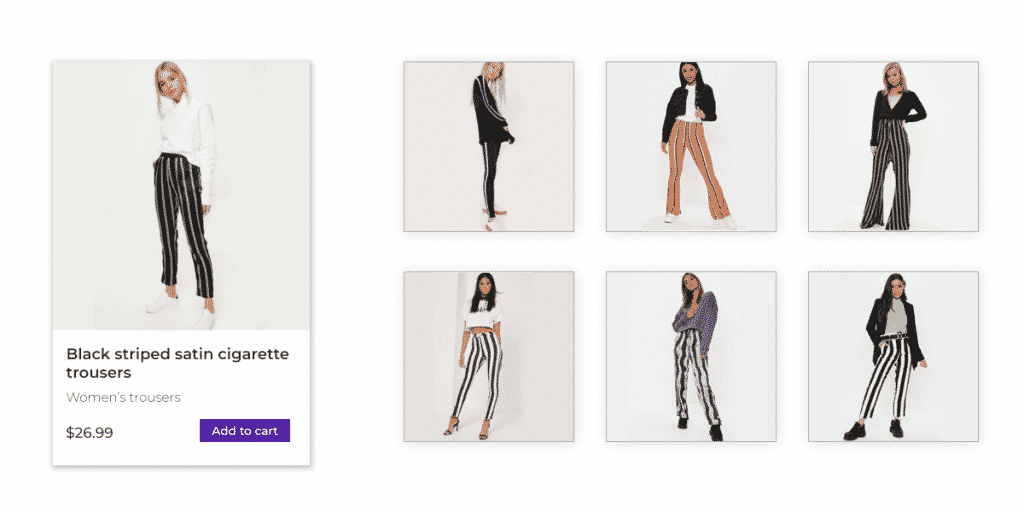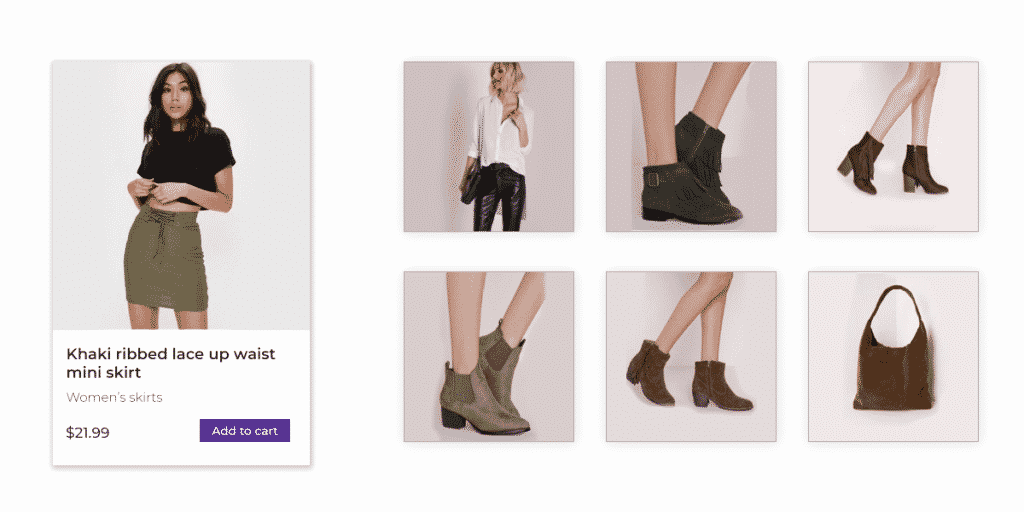 Configurable Strategies
GA since May 2020, Configurable Strategies is a step towards self-serve machine learning, empowering non-tech users to quickly build, test and iterate new personalization strategies. Users can pick from a pre-built library of algorithms to create new strategies, test their hypotheses and serve their unique needs. This year, additional controls have been added to apply category diversity to strategies such as Top Sellers, New Arrivals, Attribute Top Sellers, Best Offers and Category and Brand Affinity. A shopper's affinity to categories or brands can be used as the seed, so the resulting recommendations match their affinities. Additional user attributes for add, replace, remove values are now available, providing high flexibility to marketers and merchandisers.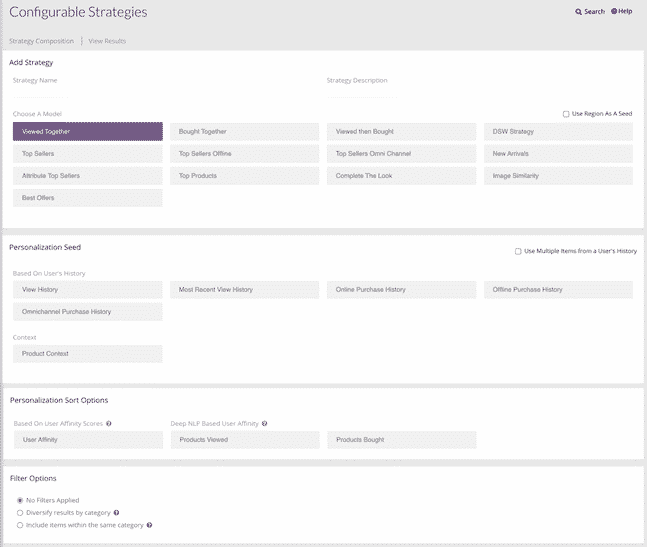 "Our merchandisers and marketers always have new ideas. Configurable Strategies is a very handy tool to test these hypotheses – be it on the eCommerce site or for email promotions. The personalized campaign leveraging custom category and brand affinities achieved 356% more revenues compared to the fallback. Similarly, brand pages on our eCommerce site have seen +3% conversion rate for key categories"

Rob Hitchman, Digital Product Owner, John Lewis
Contact Center Personalization (EA Only)
In line with our vision of personalization everywhere, the call center application extends personalization to sales associates and agents. A shopper's online behavior, intent signals, search data, affinities, cart contents as well as past purchases are made available to call center associates in real-time, so they can make personalized substitute or cross-sell recommendations. Agents can leverage various recommendation strategies to aid product discovery and decision making without fragmenting their experience, leading to higher average order value and sales.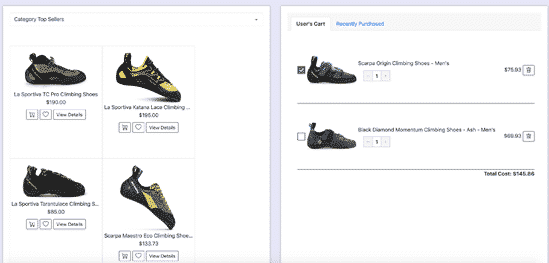 Social Proofing (EA Only)
Designed to engage shoppers using real-time view and purchase data, social proof provides dynamic messaging overlays on digital commerce properties. A highly customizable set of metrics such as 'xx people bought this in the last one hour', 'Viewed by xx people today' can create urgency and provide social validation to shoppers considering the products. The strategy can be used on PDPs as well as category and search pages. Online retailers and brands can expect an immediate lift in conversion rates and reduce abandonments with urgency messaging.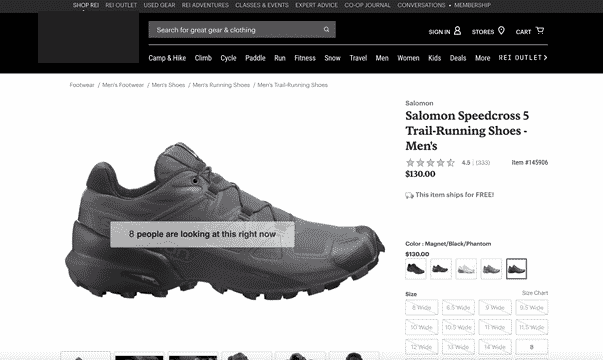 Customer Analytics now features:
Data Studio
Our customer data platform provides highly differentiated capabilities to allow analysts to build dashboards, do interactive analysis such as drill downs, drill across, leaderboards, etc. without any SQL understanding. To further empower data scientists and analysts, we have introduced Data Studio which is an interactive SQL query pad with full SQL access to CDP data through an easy-to-use, browser-based query editor. Data Scientists get access to clean and structured customer behaviour data for many years providing them the flexibility to build advanced custom models without having to go through the hassle of bringing it together from multiple systems – CRM, Google Analytics, etc. They can extract data for model building and conduct all Exploratory Data Analysis (EDA) with the data management and visualization capabilities in the application without compromising on data security.
Customer Journey Orchestration (CJO) feature the following new capabilities:
Journey Analytics and Automation
While it is a great competitive advantage to be in the pole position with personalization, your ability to win the race is in the machine, finally. The last mile in a marketer's effort to drive seamless CX that improves stickiness for the brand – Journey Orchestration. The key metrics that marketers measure the performance on is return on their investment in campaigns and communication. Algonomy's Journey Orchestration tool enables omnichannel marketing campaigns with maximum precision and minimal effort. In addition to automating journeys, supporting many offline and online channels and extensive journey analytics, we've now added great capabilities.
Universal Control Group
UCG allows creation of a program level control group to measure effectiveness over long-term marketing objectives. Here, one group is a neutral universal control group that doesn't receive any communication and the other group is a collection of all remaining customers. However, regular control groups (campaign control) provide only an incremental impact on the promotion, only measuring campaign level performance and not cumulative impact of all promotions over a long period. UCG fills this gap. Users can create UCG once and seamlessly execute journeys without having to manage UCG groups separately across different journeys. This helps marketers make informed decisions on campaigns, offers, products that work thereby saving cost, improving response rates and optimizing ROI.
Channel Enhancements
We continuously enhance our omnichannel capabilities and boost key capabilities of our existing channels to ensure marketers can connect with the customers in the channel of their choosing.
WhatsApp: Users can now send transactional messages on WhatsApp using whitelisted templates in real-time.
SMS Conversational Management: Users can now set up conversational workflows based on using expected customer-entered keywords and direct customers to appropriate journey paths.
Facebook Audience Management: We support Facebook audience as a channel enabling users run remarketing, persona-based, multi-channel and experimentation journeys.
Direct Mail: Users can define Direct Mail output template structure for flattened and multi-record formats. Users can drag-and-drop personalization tags to easily customize the output and auto-scale for accelerated file generation.
Mobile App SDK and Push Notification: We've introduced carousel push notifications with separate design pages for iOS and Android with landscape and portrait orientation options. With this, you can also control the display life.
Email Channel: Open-time personalization has been enabled where users can dynamically personalize recommendations and content sections based on when the customer opens the email.
Criteo Integration
Our platform has automated custom audience integration with Criteo enabling marketers to push dynamic and personalized ads to known customers across channels. It enables mobile & website retargeting, omnichannel journey audience push and helps measure marketing ROI. It eliminates manual list management and campaign set up.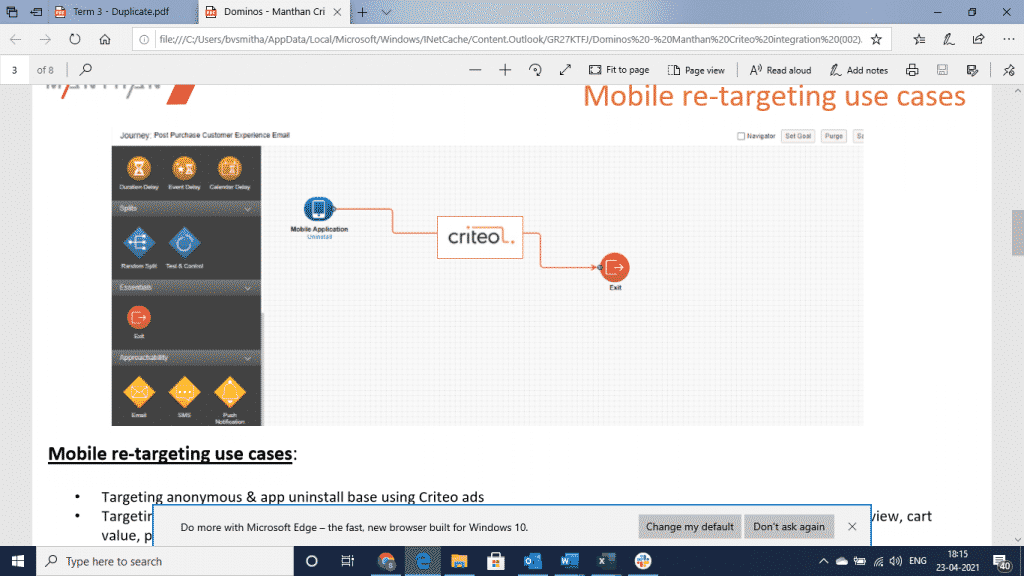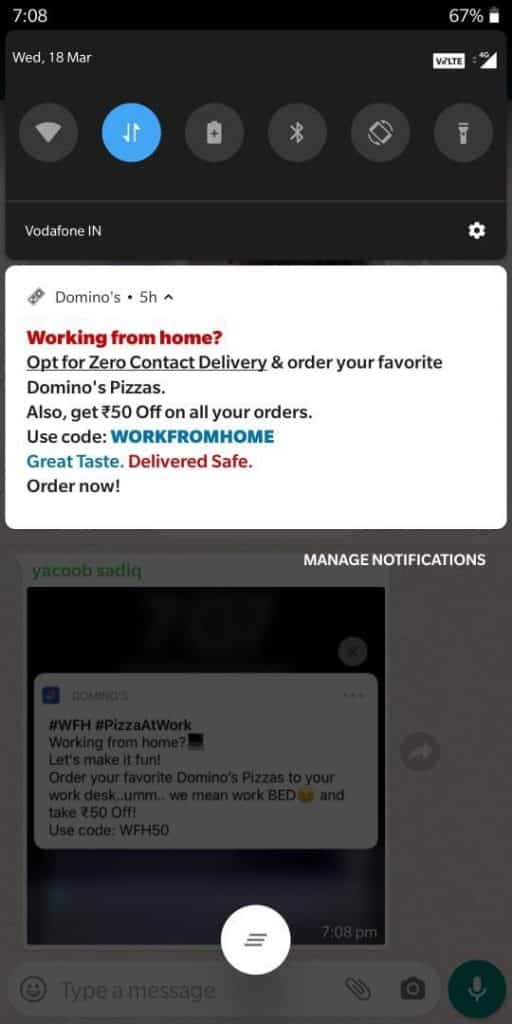 Merchandise Planning and Analytics features the following new functionality:
Size-pack Assortment Planning
A critical assortment planning need for fashion retailers to improve their full price sell through is allowing them to plan according to their key size strategies – single and multiple size packs, eaches, fill-in packs, and hybrid size planning. The Buy Plan is created at option, size, and store grade level, which helps in optimized and localized buying reconciled with the overall demand and receipt plan. The multiple size profile has been integrated with the store clustering model to help further tune the assortment recommendation.Users can also add a new size pack to the size recommendations. The addition of a new size pack modifies current predictions and total size packs. Users can modify any size profile and the system auto-scales the remaining to 100%, reducing manual readjustment efforts.

Store data mapping helps in planning for new stores and new plan classes that may not have sufficient history to predict sales, assortment, and size strategy.Assortment Edge facilitates creation of wedges for stores and plan classes that do not have sufficient historical data by modelling them using similar stores or plan classes. Users can set default model stores and departments at global level or map to specific values. The mapping does not impact the wedge definitions that have been already approved.
Store level size pack recommendations allow users to view details such as style options, store clusters, and size pack recommendations for each store along with wedge details. Users can also export this information to seamlessly integrate with the downstream application for initial allocation and replenishment.
Style intelligence uses computer vision for ranking global trends to get contextual style recommendations and offers qualitative recommendations on the styles and attributes that can be included in the assortment plan. It helps fashion retailers gain insights on the top product attribute trends and the top styles trending in the market for a competitor and inspirational brands for the selected plan class and time period.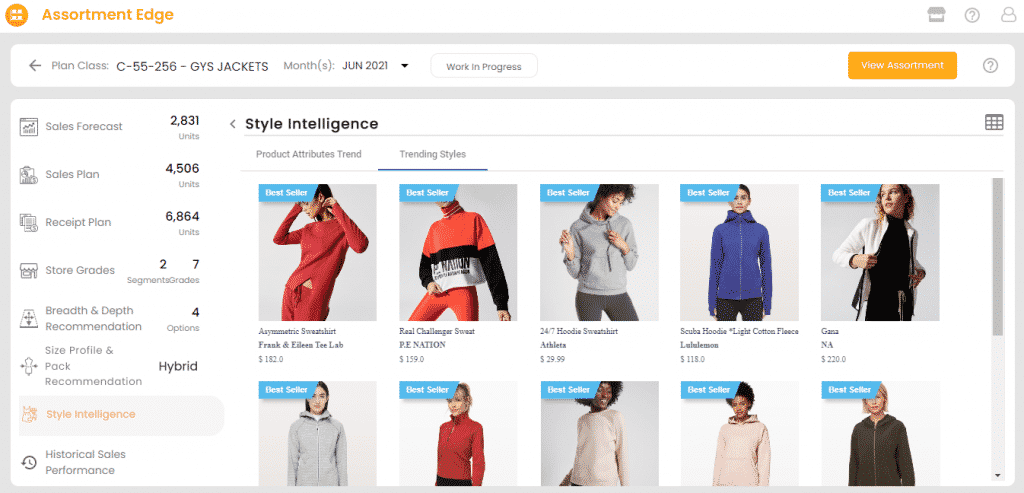 Product Lifecycle Pricing
Product lifecycle pricing allows retailers to address major discount price planning scenarios. The enhanced UI helps retailers easily configure the solution to plan for multiple discount planning strategies. Some of the preconfigured strategies are:
Promotion pricing or temporary discounts for discount or online retailers with high velocity of discount price changes.
Permanent markdown planning for shorter life cycle products like fashion.
New product markdown pricing that optimizes discounts across product's life cycle.
Inventory liquidation pricing to achieve the targeted Inventory units at the end of pricing time period.
Cross-price elasticity or halo-cannibalization impact on demand – the enhancements to the markdown algorithm now allows users to view the output/simulation grid. It shows the cross-elasticity impact on the forecasted sales against the markdown and helps improve the quality of the markdown output.
Offer recommendations – recommends the best offers for the selected products for the planned promotions/offers, based on historical elasticity for the products against different offer types like Buy1 get 1 or a flat % off. It considers the customers' response or the product's change in demand for the promotion or a perceived value to the product's offer / promo rather than the end discount or markdown. The model uses hierarchy or category data for insufficient product level offer data.
Accelerate your Digital-first Customer Engagement
We hope you are inspired by our product investments and innovations. For more information on the Spring '21 Release, please connect with your Algonomy representative.
In summary, we recognize that delivering digital-first retailing needs a complete technology stack that unifies data, and drives decisioning and real-time algorithmic customer engagement. Algonomy is today the only industry cloud for Algorithmic Customer Engagement (ACE). We stay unwavering in our focus in offering the industry widest array of applications across marketing, digital commerce, analytics and merchandising for retail consumers and brands. For more information, write to us https://algonomy.com/contact-us/ to reach out to a sales or customer service representative.