In 2023, retail firms understand the impetus of matching the elevated pace of business while also responding to supply challenges with agility. In this new normal, suppliers have emerged not just as providers of goods but as strategic partners.
According to The Future of Procurement, Making Collaboration Pay Off, by Oxford Economics, about 65% of practitioners say that procurement at their company is becoming more collaborative and strategic with suppliers.
Moreover, retailers who invested in improving supplier collaboration have seen a 20% increase in revenue directly or indirectly, according to the Coresight Research survey of retailers, by Precima. Among some of the direct benefits received by these firms are lower costs in the supply chain (32%), faster order fulfillment (30%), and stronger promotions strategy and calendar (28%).

Benefits of Investing in Better Supplier Collaboration
With supplier collaboration emerging as a primary key to unlock the next phase of growth in retail and drive synergies that are otherwise perceived as impossible within the confines of the traditional business, no retailer can ill afford to ignore it.
With that in perspective, here are the top challenges that retailers face today due to ineffective supplier collaboration.
Your Category Managers Are Burned Out Leading to Ineffective Planning
In most retailer setups, category managers are on their own to plan for demand, assortment, and inventory. Understanding all that is happening on the ground, translating it to requirements, and directing it to the right vendor completely takes up the bandwidth of category managers – denying them the opportunity to focus on more strategic affairs.
This is one of the leading causes why category managers have not been able to catch up with the fast-paced business retail has become today, leading to elevated levels of stock outs, wastage, margin erosion, and new product introduction failures.
According to our estimate, new product introduction failure rate due to supplier challenges for most retailers is as high as 25%.
Why? Because new product introduction is a very time-consuming process that involves several iterations of communications to onboard the product (and vendor in some cases). With category managers already struggling with adapting to fast-paced demand, they have little oversight on the various stages of new product introduction – often leading to delays and failures.
Most retailers have realized the value suppliers can bring and help ease this burden. When suppliers are part of your retail planning process, they are able to help category managers make the right decisions at the right time while also benefiting from them. It is in other words a Win-Win.
Not Achieving Optimum Pricing and Promotions Is Eating Away Your Margin
Managing a vast set of products across stores has its own challenges. One of the greatest challenges is setting the right price of the product. The cost price of a product changes with tax, geographical, and transportation factors.
In the absence of a track record of historical pricing, category managers do not have a reference they can use to make pricing decisions. Most category managers are forced into frantic communication with suppliers to determine the right price. Ultimately, this lack of transparency leads to suboptimal pricing, eating into your already thinning margins.
Another challenge is with regards to promotions and rebates. Retailers today face underutilization of supplier funded/co-funded promotions. The main culprit here is the siloed nature of communication that happens before a promotion is run and a lack of transparency on promotions performance.
As a result, suppliers don't proactively initiate promotions. Even if they do run the promotions, they are unable to learn and adapt to run more effective campaigns.
Lack of a Single Source of Truth
Nothing is more detrimental to efficient operations than not having a reliable source of truth to measure and course correct. Unfortunately, retailers still rely on external teams to extract valuable business insights. By the time they get these reports and make sense of it, proverbially speaking the train has left the station.
Data collaboration and reporting form a key pillar to supplier performance. In the absence of quality data from retailers, suppliers are reluctant to collaborate and plan better. Their focus is solely on delivering orders, rather than larger objectives such as category growth. Retailers themselves don't have reporting capabilities to track supplier performance and evaluate it from time to time.
There is therefore a strong merit in on-demand, persona-specific access to real-time insights and reports. The implications are far reaching, spanning across functions such as sales, category, inventory, assortment, demand planning, financial planning, and more.
Your Supplier Data and Process Is Fraught with Errors
In today's fast-paced retail environment, building responsive and resilient supply chains depends on how tightly knit your supplier ecosystem is. Even though we live in the world of WhatsApp and Slack in our personal lives, collaboration with suppliers has yet to catch up.
Across a typical supplier lifecycle—onboarding suppliers, information management, onboarding product, creating order, generating invoice, running promotions, and more—there are multiple barriers to execution. The biggest of these barriers is a siloed chain of communication – not being able to take action at the right time.
As a result, most processes get delayed and require greater manual oversight. This not only leads to increased costs but also affects the morale of suppliers.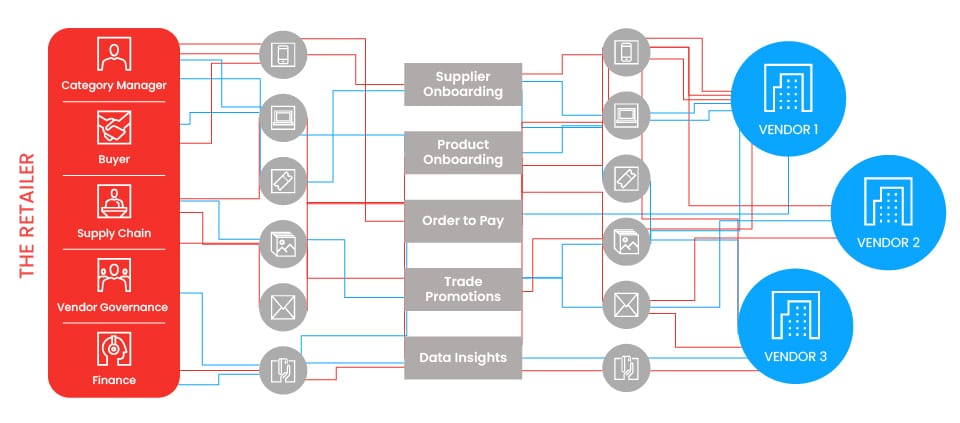 Let us take an example of a simple Purchase Order (PO). PO raised by a buyer undergoes several changes in coordination with the supplier before it is converted to a Delivery Shipment Note (DSN).
These DSNs are then tallied with received goods by the warehouse manager. Invoices raised by suppliers are validated by the AP processor against POs and DSNs in coordination with the warehouse manager and the buyer.
Finally, the payment is processed to the supplier. As you can see, there are at least 5 participants in the entire process, but even today for most retailers the communication happens at best on one-on-one email, messages, and phone calls. This leads to delayed payments and excruciating audits which inadvertently affect business growth and profitability.
Achieve Cost Efficiency and Unlock Business Growth with Vendor Link – Retail's Only End-to-end Supplier Collaboration Platform
Vendor Link helps retailers digitize and streamline end-to-end supplier processes, build seamless communication across supplier lifecycle, and elevate data insights and collaboration to a whole new level. It's mobile first and data-science backed use cases help retailers save on operational costs and unlock top line improvements.
Learn more about Vendor Link here.