Cart abandonment is a user behavior every eCommerce business hates but has to contend with every day. Among the top reasons for cart abandonment are high shipping costs or taxes, mandatory account creation on the site, slow delivery, and window shopping.
Take a look at the global cart abandonment rates by segment in 2022: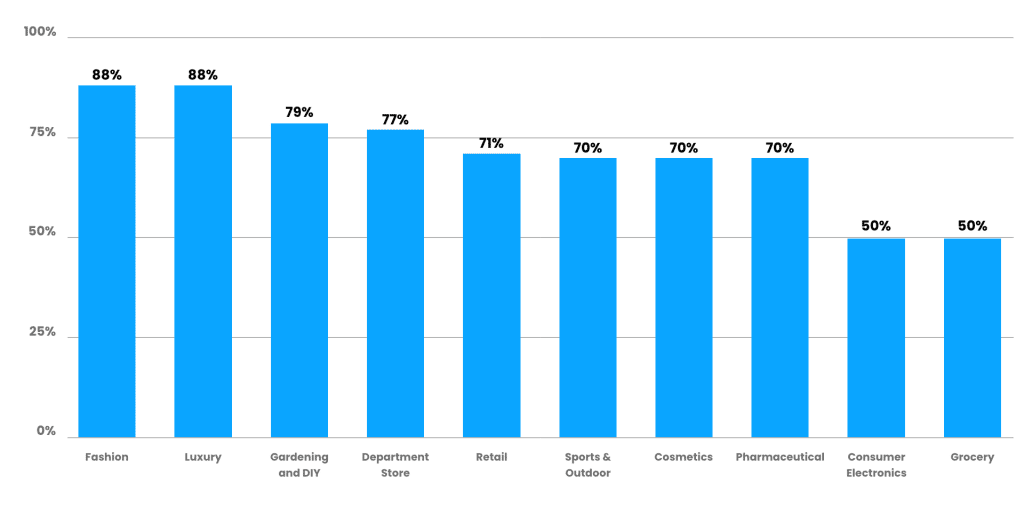 Losing a customer at such a later stage in the purchase funnel is disastrous on your revenues. So, how do you prevent revenue loss due to cart abandonment?
The standard tactic used by marketers is to send cart recovery emails triggered by the event. And it does deliver results—one study says you can get up to 10% of shoppers to complete their transaction by running automated cart abandonment email campaigns.
However, this strategy can work only if you already have the user's email address. So, the question stands: What can you do to ensure that customers who add items to cart complete the transaction sooner rather than later?
The answer is to add preventive measures to your curative measures. While most of the key reasons for cart abandonment are business-level reasons, you can do a lot with some smart content personalization strategies. Use a mix of persuasive conversion optimization techniques and dynamic, personalized, and engaging customer journeys created using content personalization engines like Algonomy's Engage™ to encourage users to checkout.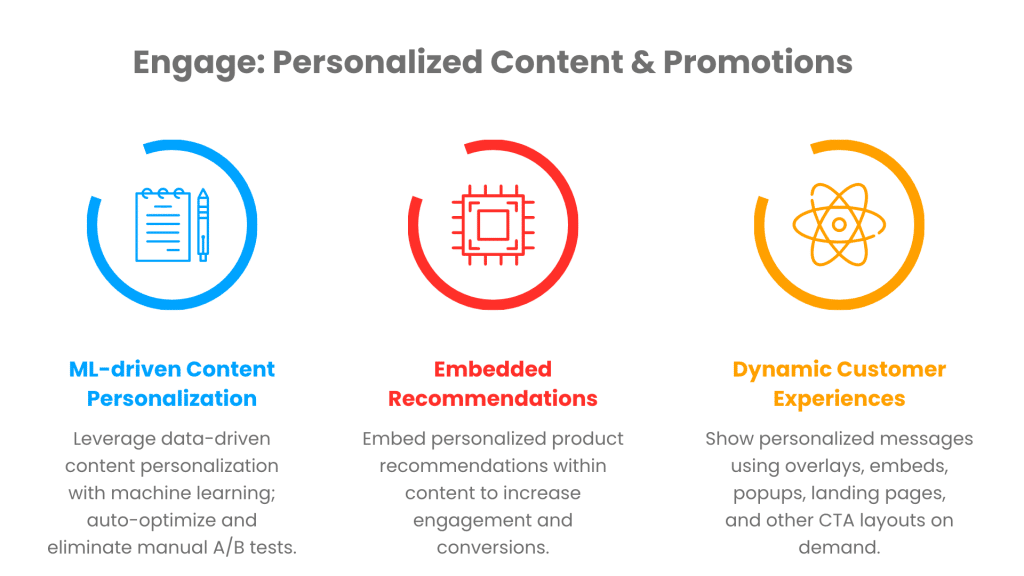 Let's dive right into the strategies to encourage users to checkout.
Reducing Cart Abandonment: 7 Proven Strategies
Use the Power of Social Proof
Social proof may sound like a common answer to many problems in eCommerce, but that is because it is a powerful device when used right. Don't just add social proof widgets to your product page and forget about it—show the right kind of social proof on the right page through dynamic messaging.

For example, on the product page, show the average ratings—highlight the good ones. Show how popular the product is, how many people are looking at it, adding it to cart and purchasing it right now. On the cart page, show reaffirm the messages that show urgency, like "x number of people are buying this now", "Flying off the shelves", or "Low Stock".

On the cart page, security badges can be used to assure users that the process will be secure (e.g. Norton Secured or Guaranteed Safe Checkout). Even showing multiple popular payment options on this page can act as trust-evoking social proof.

Gap.com's cart page highlights PayPal and Afterpay,
which can instill trust among users.

All this can help alleviate different kinds of user anxieties and motivate them to complete the transaction.

Recommend Products to Meet the Shipping Fee Threshold
In today's age of free deliveries and next-day deliveries, delivery fees are a prime perpetrator of cart abandonment. In the US, 63% of users abandon carts because of shipping costs.

But you cannot realistically provide free delivery for small order values, right? It won't work out logistically. Worry not, 68% consumers are willing to spend enough money to qualify for free shipping. Use this consumer psychology to your advantage, and show recommendations of complementary products, cross-sell recommendations, gifts, and offers on the cart page or sitewide.

With Algonomy Engage™, you can do this by specifying a cart order value after which customers will be shown incentives and recommendations. The incentives or products shown to each user will depend on the price difference between the existing cart value and the promotional thresholds alongside user affinities and preferences.

This will ensure that each user sees products and content that are hyper-personalized and relevant to them and get them quickly to that all-important free shipping.

Use Exit Intent Popups and Time-based Popups
Exit intent is the recognition of a user's intent to exit the site. This is identified by tracking user behavior and capturing the moment when the user moves their mouse to the address bar or to close the browser.

By identifying this behavior in real time, Engage™ allows you to show the user popups with dynamic messaging. This can include visual reminders of the items they've left in their basket ("Don't forget to checkout") or showing time-bound discounts for certain items in their basket ("Get extra 5% off T-shirts for the next one hour!).

Popups with cart reminders can also be shown based on the time spent by the user on the site. For example, if a user has been on the site without any activity for more than five minutes, you could show a visual cart reminder.

Showing images of the items in the cart is more impactful than simply showing a message, as consumers tend to react positively to visuals than simply text.

Engage™ has several ready-to-use templates for these popups, which means you can deploy such personalized popups easily and effortlessly.

Auto Discovery of Segments
Segmentation is a powerful tool when it comes to cart abandonment. With Algonomy Engage™, the AI is constantly looking for segments where customers fall into two groups:

Cross-sell Candidates are customers who generally checkout but with low average order values (AOVs). These customers would be shown cross-sell items and initiatives to increase their basket size.

Incentive Candidates add a lot to their basket but do not checkout. They would be shown the promotions and initiatives that will help them get to checkout.

Personalized Cart Abandonment Emails
Yes, we did say that cart abandonment emails are basic. But here we're talking about personalized cart abandonment emails deployed through Engage™, not the standard "You left this in your cart" message.

Firstly, using unified data and real-time analytics, the Algonomy platform is able to identify whether the user completed the transaction on another channel or not.

Secondly, it can also add dynamic product recommendations to the emails. Cross-sell and Upsell strategies can entice the customer back to the site with additional items they may not have considered. The Similar Products strategy can suggest items which may resonate with the customer if they were having second thoughts about the item they abandoned.

This adds layers to the cart abandonment email that enriches the customer buying experience and increases engagement levels and loyalty.

Algonomy's Engage™ is easily added to any HTML email, so it is platform-agnostic. This means that any email tool can be personalized and turned into a complete re-engagement solution.

With Engage™, you can personalize different email campaigns as well as the entire email lifecycle of customers with individualized content, product recommendations, and journeys.

Using product recommendations on the Add to Cart and Cart pages can help you increase AOVs and basket sizes and also encourage customers to checkout. Some strategies you can use for that are:

Add Product Recommendations to Add to Cart Confirmation Popups
Generally, Add to Cart confirmations are a static "this product has been added to bag" message. But this is the perfect time to engage customers and try to get them to buy more, because they've already found something they liked on your website and are in the right frame of mind to buy more if they find another right product.

So, convert your Add to Cart confirmation page into a popup and add dynamic product recommendations to it.

Here's an example:

Product recommendations on add-to-cart confirmation page

Engage™ uses machine learning to deliver hyper-personalized recommendations based on the user's context, preferences, and behaviors. The platform allows you to embed recommendations anywhere on the site and customize the recommendation strategy as per your business goals.

The recommendations can be based on a mix of customer affinities, popular products, and cross-sell strategies.

Recommend Products on the Cart Page
A page that marketers often ignore is the cart page. Look at Amazon—they use every page on their site to continuously make product recommendations of all sorts—similar products, complementary products, cross-sells, or upsells.

The cart page should be used to promote more products using dynamic recommendations, similar to the Add to Cart Confirmation page strategies mentioned above. This is an ideal space to show upsells and cross-sells and increase basket sizes and AOVs. The user is already in the mind-frame to purchase from you, so take advantage of it.

Product recommendations on the cart page
If people are exiting from the Cart page, it's likely that there are issues in your shipping costs, delivery options, discount codes, or payment options.
Bonus Tip: Know What Drives Users Away and Fix It
The importance of user research in delivering engaging customer experiences cannot be emphasized enough. You must conduct on-site user research such as session recordings, usability reviews, and surveys to understand why your users are abandoning cart.
As mentioned earlier, shipping costs are a prime deterrent to completing a transaction, but almost 50% of US shoppers don't complete their transactions because discount codes don't work.
So, find out what is causing friction in your customers' journey and see what you can do to reduce the friction. It could be delivery costs, lack of trust messages, lack of payment options, irrelevant form fields—whatever it is, fix it.
Read more about how Algonomy Engage™ can personalize content and promotions to increase customer engagement and drive conversions.