Applicable Segment(s):
Fashion & Apparel, Specialty, Food & Grocery, Supermarket, Department Store, Luxury
Impacted Function(s):
Marketing, Commerce
Solution Area:
Engage™
Enabling a Personalized Brand Experience on Product Pages
Company
A popular beauty and cosmetics retailer in Brazil.
The Challenge
The retailer wanted to give a shopper a more brand-specific experience on product pages (depending on which brand was being viewed) with the goal of increasing conversions.
The Approach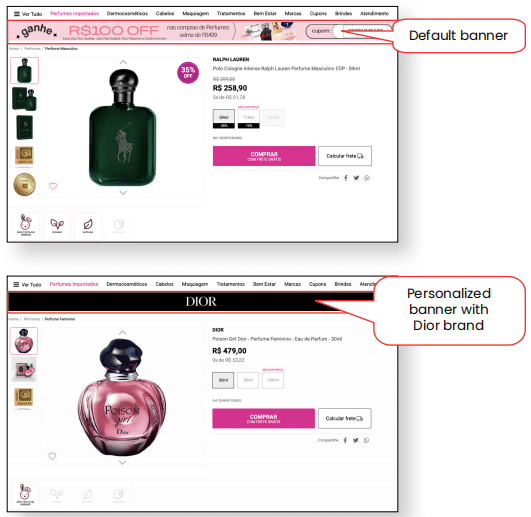 Using the Engage™ Segmentation feature, content was set up according to each brand.
Rules were put in place to determine which brands (usually reputed or sponsored) would show a brand-specific banner.
Products without a brand-specific banner default to general banners, discounts, or promotions.
The ROI of Algorithmic Retail Solutions
Learn how our customers improved key business
metrics with our made-for-retail solutions.