The Marketer's Guide to Customer Journey Orchestration
A deep dive into the nuances of connecting touchpoints and end-to-end journey orchestration to elevate customer experiences.
In an ecosystem that is in perpetual flux, Customer Journey Orchestration (CJO) marks a new stage in the evolution of retail.
Dubbed the gamechanger in elevating the customer experience (CX), it has caught the industry by storm and continues to be the focus of conversation among marketers and retailers.
Yet, for all the interest it has sparked over the past few years, it is a topic that throws marketers off balance because it is often confused with related terms and tools.
So, what exactly is Customer Journey Orchestration? Why is it fundamental to improving the customer experience? How does it work and integrate into existing infrastructure? More importantly, how do you choose a Customer Journey Orchestration platform that works for you?
These are just some of the questions we will explore in this guide.
Buckle in as we deep dive into the what, why, and how of Customer Journey Orchestration.
The Current State of Customer Experience
Before we set out to define and understand CJO in its entirety, let's first explore the current CX landscape that makes it a necessity.
Let's face it, there will never come a time where the customer experience will conform to a set standard. It has, is, and forever will be in a state of constant evolution catalyzed by the customer's changing behavior, advances in technology, and the aftermath of the global pandemic.
That said, it comes as no surprise that customer expectations have risen.
As a marketer, it falls on you to understand and bridge the divide between the customer's expectation and the experience delivered.
Yet, this is where most brands fail to meet the mark.
According to Forrester VP and Principal Analyst Brendan Witcher, there is a huge gap between how brands think they are doing and the reality from their customers' perspectives. A report by Forrester sheds light on this growing disparity. It finds while 89% of the brands claim they are investing in personalization to revamp the customer experience, only 40% of the customers say the information they get from brands is relevant to their tastes and interests.
But, why do these gaps exist? And, how can marketers proactively bridge this divide?
Let's dive in.
In a time before the journey was central to the customer experience, marketers viewed the customer through the lens of business objectives. Interactions were manufactured with the singular intent of educating customers about products. Marketers aligned these interactions with events such as product launches. These interactions were linear, generic, and restricted to a handful of channels that marketers predetermined.
The dawn of the digital age marked a shift in this paradigm.
Technology has revolutionized communication and reshaped the way customers experience a brand. The steady incline in digital disruptions has birthed a plethora of digital avenues where customers explore, experience, and engage with a brand before making a final decision.
This increase in touchpoints between a customer and brand has recalibrated the customer journey and redefined the shopping experience.
Customers no longer perceive or limit their expeditions at brick-and-mortar stores as 'shopping'. The lines have now blurred to include a matrix of channels.
Empowered by these advances, customers now demand to be met in moments where and when it matters the most to them.
Now, more than ever, to thrive in a highly competitive and crowded industry, marketers must be present, listen, and engage with customers on their turf. The need of the hour is seamless and consistent experiences that add value to the customer, where and when they require it.
Thus, the traditional linear monologue has been replaced with dynamic and real-time interactions between the brand and customer across channels, both online and offline.
This brings us to a pivotal question – how do you meet your customer in real-time where and when it matters the most to them? How do you interpret, anticipate, and orchestrate a dynamic and consistent experience before, during, and after a purchase?
The answer is Customer Journey Orchestration.
What is Customer Journey Orchestration?
Customer Journey Orchestration is a unifying and customer-centric technology employed by marketers to connect and orchestrate every interaction across any or all channels along the customer's lifetime journey.
The journey starts with the very first interaction a customer has with a brand. This could be as simple as engaging with an ad on Instagram. A CJO registers every subsequent interaction and orchestrates intent-driven journeys across the customer's lifetime. The purpose of which is to drive value in each interaction by delivering highly personalized and contextual experiences across every touchpoint in real-time.
At its core, CJO enables the customer experience to evolve with the customer, no matter where or when.
CJO puts the emphasis back on the customer by placing them in the driver's seat and letting them steer the conversation with the brand. It listens, learns, designs, and enables marketers to connect the dots along the journey.
Based on actionable insights generated from data gathered, CJO orchestrates omnichannel conversations and journeys to provide better end-to-end experiences. Simply put, by employing Customer Journey Orchestration, marketers can help customers get to where they want to go by enabling them with the information they require at each touchpoint.
Forrester Research defines journey orchestration platforms as those that "help fuse data across channels, touchpoints, and systems along the customer journey to design and plan current and future-state journeys, test and optimize journey hypotheses, and orchestrate tasks among stakeholders and with customers."
The Defining Pillars of Customer Journey Orchestration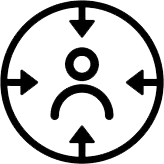 Customer-centric with an 'Outside-in' Approach
The principal purpose of CJO is to deliver value in each moment of interaction. CJO achieves this by employing an 'outside-in' approach where the attention is directed towards the customer and their experience.
CJO listens, learns, and predicts what a customer wants and mobilizes solutions that cater to these wants. Simply put, it looks at marketing from the customer's perspective.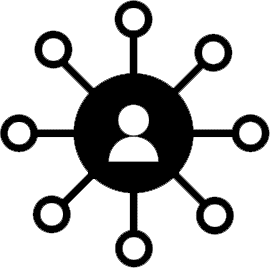 Omnichannel Orchestration
CJO creates and delivers highly personalized and contextually relevant customer experiences across channels, both online and offline. It connects these various touchpoints to remedy content, data, and organization silos and pave the way for seamless and consistent experiences.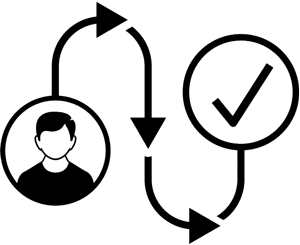 CJO automates the decision-making process to determine what happens next in a customer's journey. This enables relevant engagement in the context of the journey the customer is in to motivate them on their path to conversion.
In this process, specific events predetermined by marketers are identified and configured to trigger the next best action after each event occurs. For example, welcome series emails, anniversary offers, and first-purchase feedback are actions in response to event triggers such as signing up for an email newsletter.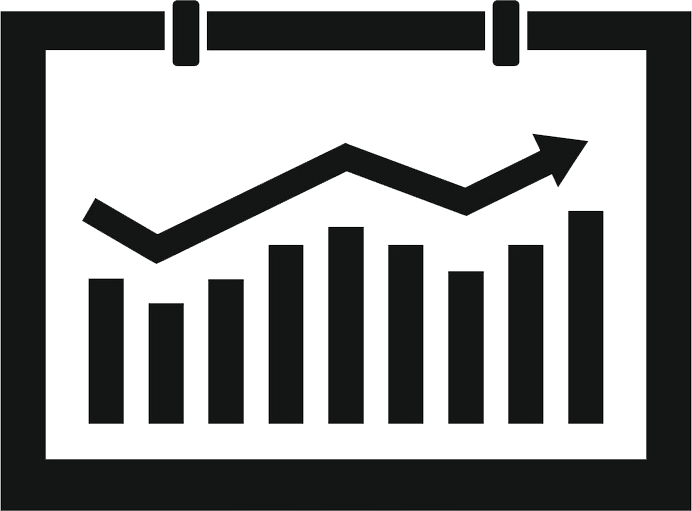 The very essence of CJO is that it is a real-time process. It is a critical function that enables marketers to adapt to fluid scenarios and drive personalized experiences.
Data is gathered, registered, and analyzed in each moment of interaction across touchpoints to generate actionable insights. Leveraging its machine learning (ML) capabilities, CJO puts this insight into action to respond with contextually relevant experiences at preferred touchpoints as the moment unfolds. This process helps marketers identify and eliminate hurdles in the customer journey without bogging the experience.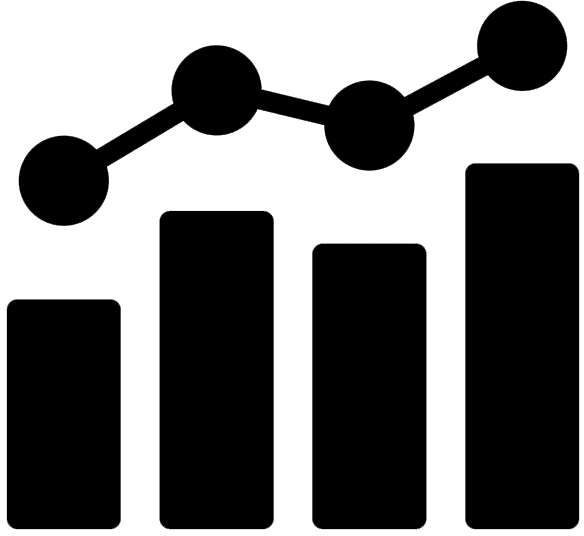 Advanced Journey Analytics
Apart from providing marketers with a view of the entire customer journey, CJO employs advanced journey analytics to understand, test, measure, and influence the impact of each interaction across the customer journey. This data is analyzed to build comprehensive predictive models and follow-up strategies.
This is leveraged to design personalized omnichannel campaigns for each interaction using machine learning algorithms. These campaigns are  A/B tested and optimized in real-time to provide improved customer journeys.
The Difference Between CJO, Marketing Automation, CJM, and RTIM
To understand Customer Journey Orchestration, it is equally if not crucially important to understand what it is not.
The familiarity of the words and concepts present in 'Customer Journey Orchestration' often results in blurred lines and breeds confusion on what it is and is not. Though related intrinsically, CJO builds on these existing tools and takes it a step further in its function and purpose.
Here are a couple of approaches and tools often confused with Customer Journey Orchestration:
Customer Journey Orchestration vs. Customer Journey Management
Customer Journey Management is the process of determining what information a customer needs to achieve a set goal. It relies on predefined segments to create a consensus on what action is required to motivate a customer from one stage to another.
Think of it as a funnel. Customer Journey Management provides predictive analysis on the best course of action to move the customer along their journey.
Customer Journey Orchestration, on the other hand, looks at the customer as an individual. It stitches together every interaction a customer has had and continues to have with the brand to create a holistic 360-degree view of the customer. This data is gathered and analyzed in real-time to help make intelligent decisions to enhance the customer experience at each touchpoint.
While customer journey management provides the best response, Customer Journey Orchestration puts that action into effect.
Customer Journey Orchestration vs. Marketing Campaign Automation
Marketing campaign automation is an element of Customer Journey Orchestration. It features campaign-focused functions that automate monotonous and repetitive responses in interactions between a customer and brand. This includes email marketing and social media posting.
Customer Journey Orchestration takes on a more holistic and nuanced approach in comparison. It is journey-focused and comprises setting up a series of campaigns across the journey. This includes management, analytics, and optimization geared towards guiding customers along the various touchpoints.
Customer Journey Orchestration vs. Customer Journey Mapping
Customer journey mapping helps marketers learn and understand the journey their customers are likely to voyage. It consists of creating a blueprint or flow of likely scenarios of how a company perceives a customer will engage with the brand.
Customer Journey Orchestration takes this one step further by putting this map into action, connecting the touchpoints of interaction, and providing customers with contextually relevant experiences across the journey.
Customer Journey Orchestration vs. Real-Time Interaction Management (RTIM)
RTIM is an 'in-the-moment' decision engine that delivers appropriate content across channels and touchpoints. Though similar to CJO, the lines blur when it comes to its core function. The focus of RTIM is to improve business results, and every action is geared towards achieving its purpose.
Customer Journey Orchestration, on the other hand, gathers, analyzes, and orchestrates customer journeys in real-time to improve the customer experience. It is a customer-led function that aims to create value in each interaction.
How Does Customer Journey Orchestration Work?
An online retailer offering a customer offers on products they expressed interest in. Recommendations from a fashion house on items based on preference and taste. A notification from your grocery store about a restock and availability of viewed items.
These are some examples that showcase the different capabilities of a CJO to accomplish the same result – make a customer feel seen and valued.
While each example highlights a different function, the process of delivering meaningful and value-driven experiences along the customer journey can be divided into four steps: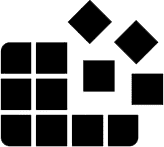 Step 1 Audience Activation for Journeys
By integrating the CJO tool with a Customer Data Platform, CJO can activate the audience in real-time for engagement orchestration. CDP stitches customer data together to create a dynamic 360-degree view of the customer. CJO leverages this real-time view of the audience to understand contextual information and address customer intent.

Step 2 Journey Orchestration
CJO provides an interface to create automated journeys based on certain patterns. Marketers could also create custom journeys based on business needs. Journeys could be trigger-based or event-based.
When a shopper abandons a cart, an automated journey gets triggered to communicate with the customer with a certain message on a certain channel to entice the shopper to complete the transaction. This is an example of a trigger-based journey. While event-based journeys are communications sent on a customer's birthday or appointment reminders.
A CJO automates such repetitive tasks and ensures the delivery of contextual, journey-based experiences at any point or time.
Using connectors, CJO integrates into various channels, such as email, SMS, mobile app, eCommerce site, POS, social media, and WhatsApp to deliver the next best action, and create connected and consistent experiences across the customer journey.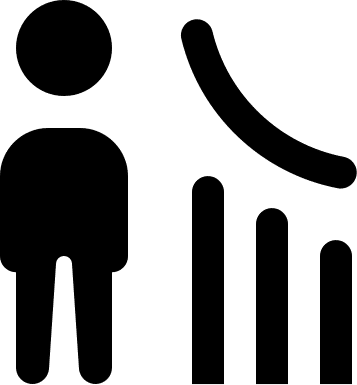 Step 3 Testing and Optimization
Leveraging AI, machine learning, and advanced analytics capabilities, CJO tests and optimizes every interaction to improve the customer experience along the journey.
Campaigns are A/B tested to assess the effectiveness of messages, custom offers, and content of every interaction. CJO can run tests on multiple variants of each message before publication to determine the best course of action. This is optimized at each interaction to systematically improve each message and experience, thereby enhancing the overall marketing ROI.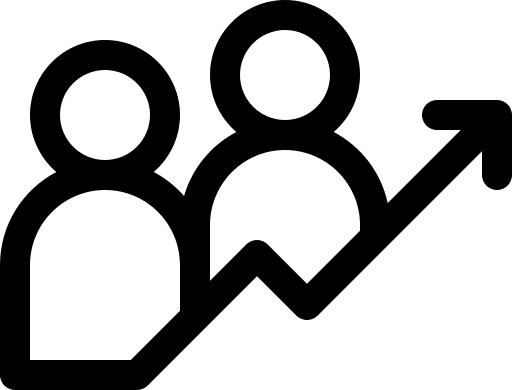 Once an omnichannel campaign is published, CJO integrates with CDP to track and report on the performance of the executed journey. Marketers can leverage real-time insights on how a campaign is performing and how the customer is progressing in their journey. It covers metrics such as Open rates, Response Rates, CTRs, ROI, etc.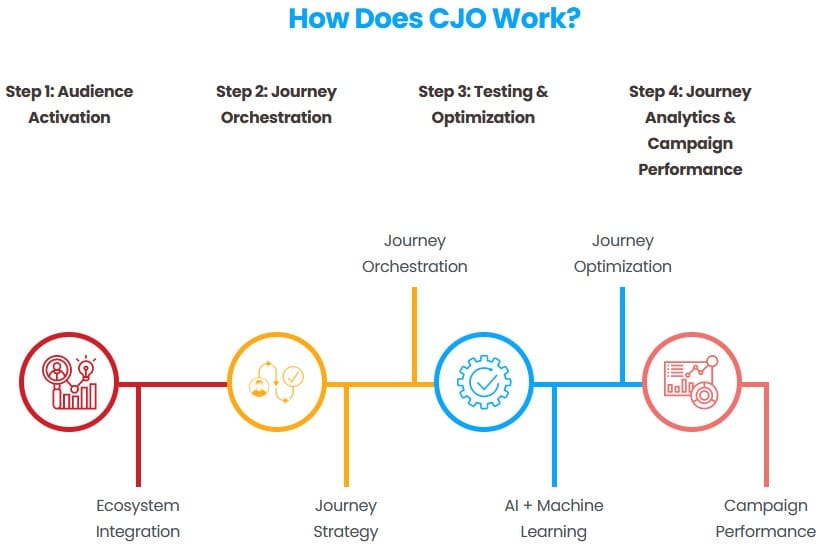 How Does CJO Work?
Step 1: Audience Activation
Step 2: Journey Orchestration
Step 3: Testing & Optimization
Step 4: Journey Analytics & Campaign Performance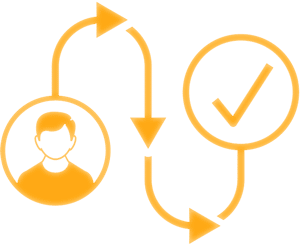 Quantifying CX Performance
Key Use Cases Supported by CJO
Marketers know what customers want – consistent, hyper-personalized experiences at each moment along their journey.
The question is, how can marketers bridge this divide between expectation and experience? How can CJO help marketers deliver value to their customers in every moment as it unfolds?
Here are a few use cases that demonstrate how a CJO can orchestrate value-driven experiences:
Email Personalization at Open Time
Marketers who employ personalization in their email report a 27% higher unique click rate and 11% higher open rate than those that do not. While 52% of customers cite the absence of personalization in emails they receive from a brand for lost transactions.
Leveraging CJO, marketers can send targeted emails to specific customers that personalize content when the email is opened. This allows for dynamic updates to be made to the messaging and recommendations based on the latest activity and purchase in the journey. Advanced rules can be leveraged to drive rule-based abandoned cart, search, and browse notifications.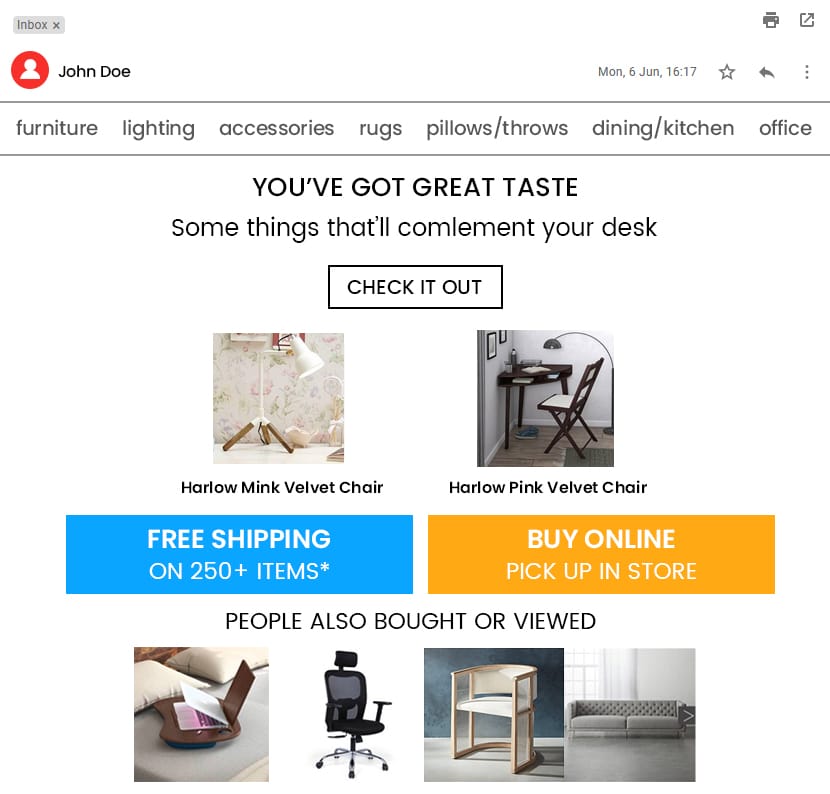 Real-time Offer Personalization
Marketers can instantly deliver customized content to an individual in response to their interaction with their brand. They can configure real-time triggers to showcase contextual and personalized offers based on preference and taste.
For example, marketers can display products with active offers, or, display high-affinity items on the shopping list and recommend substitutions or switch-outs. These actions can be triggered by predetermined events or activities such as add to cart, and app uninstall to display items based on preference and taste.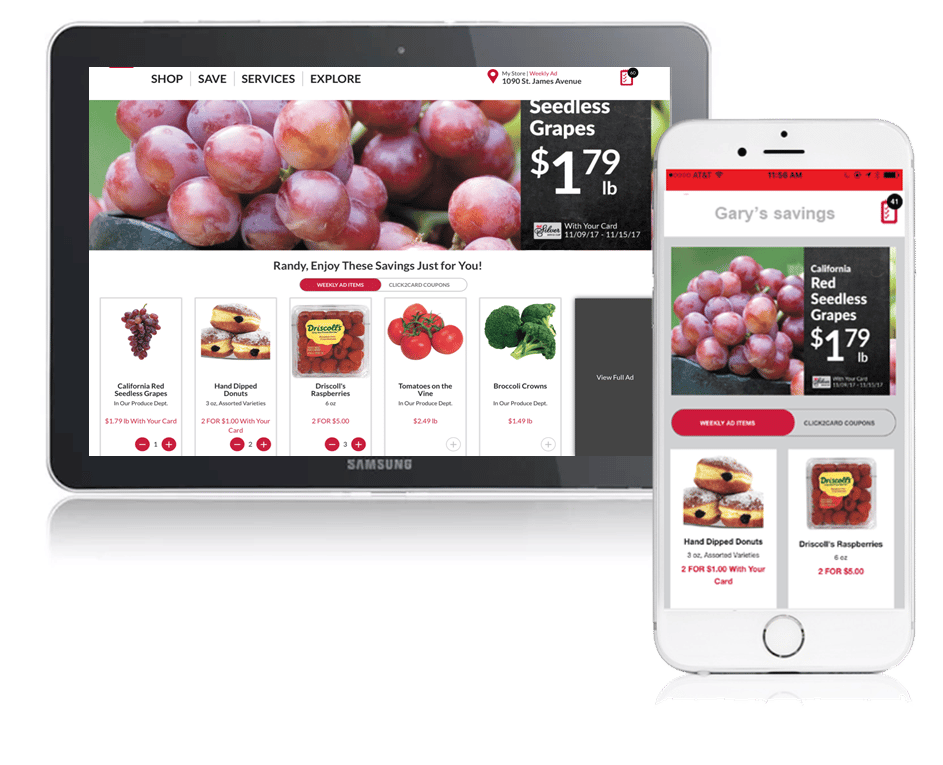 AI-based Guided Selling for Call Center Agents
CJO effortlessly remedies content, data, and structural silos within an organization to connect various internal functions and processes.
This provides every team across the organization with a holistic and unified view of the customer. This also helps marketers ensure that customers receive a consistent experience at any point of their journey, no matter the point of contact.
Marketers can now leverage CJO's AI-based guided selling to offer customers a personalized experience through call center agents. These agents can access the full context of the customer's profile to view information such as preferences, prior purchases, and real-time browsing history to tailor the conversation based on the customer's intent.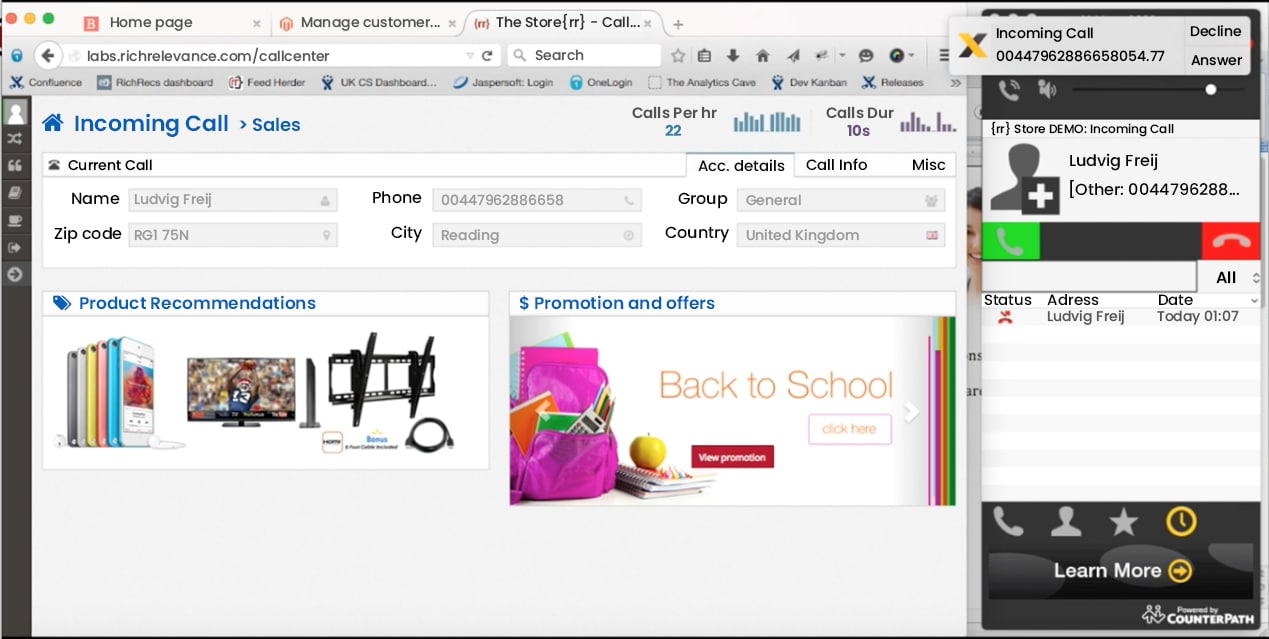 Real-time Personalization at POS
Marketers can seamlessly transition and provide customers a tailored experience that extends from online channels to offline channels. Customer services representatives can now offer personalized printed coupons at an offline POS based on the customer's past purchase, product view, and online behavior.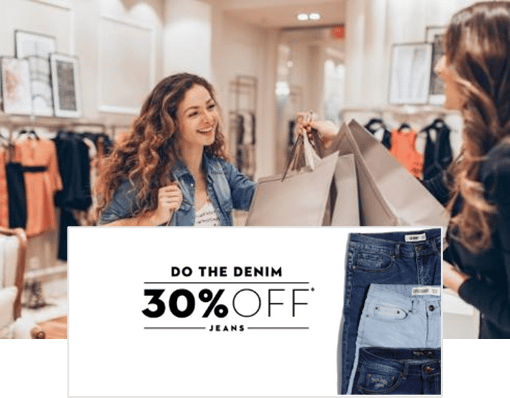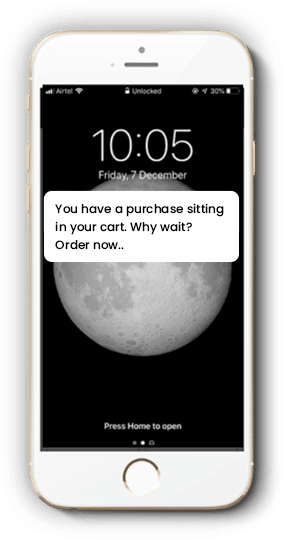 Real-time Intervention at Cart Abandonment

When integrated, marketers can leverage streaming transaction data on CDP to trigger automated journeys for customers in real-time.
For example, if a customer adds an item to cart but does not check out, a cart abandonment journey workflow is triggered automatically by CJO. This puts into motion a series of notifications at intervals reminding the customer of the abandoned cart.
Further, to motivate the customer to follow through on their intent, CJO can orchestrate customized offers on items in the cart.
Creating Omnichannel Engagement
Customers interact with brands across various channels. They look for information on social media, shortlist on an eCommerce site, and end up making the purchase in store. Besides, they may go off paths as well. Customers face a gap in their journeys as retailers do not cater to dynamic journeys. CJO not only helps know how the path flows but also connects every customer touchpoint and channel through the customer lifecycle.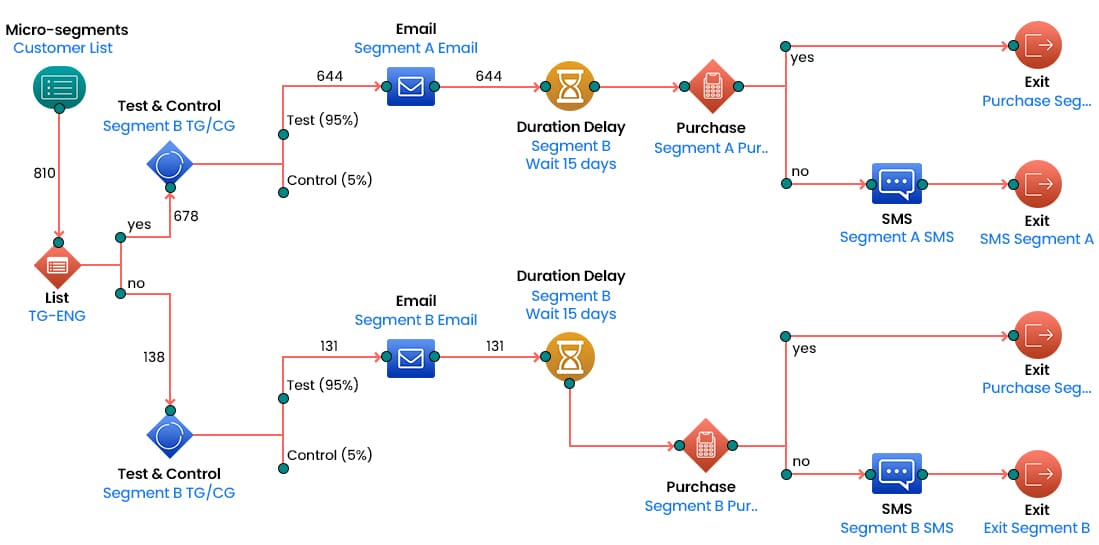 What Are the Benefits of Customer Journey Orchestration?
Customer Journey Orchestration offers a breath of value to marketers and customers alike. In a world where customers are bombarded with content and marketing gimmicks every other minute, CJO helps marketers cut through the noise and deliver value in each moment. CJO helps marketers get it 'right' in every interaction.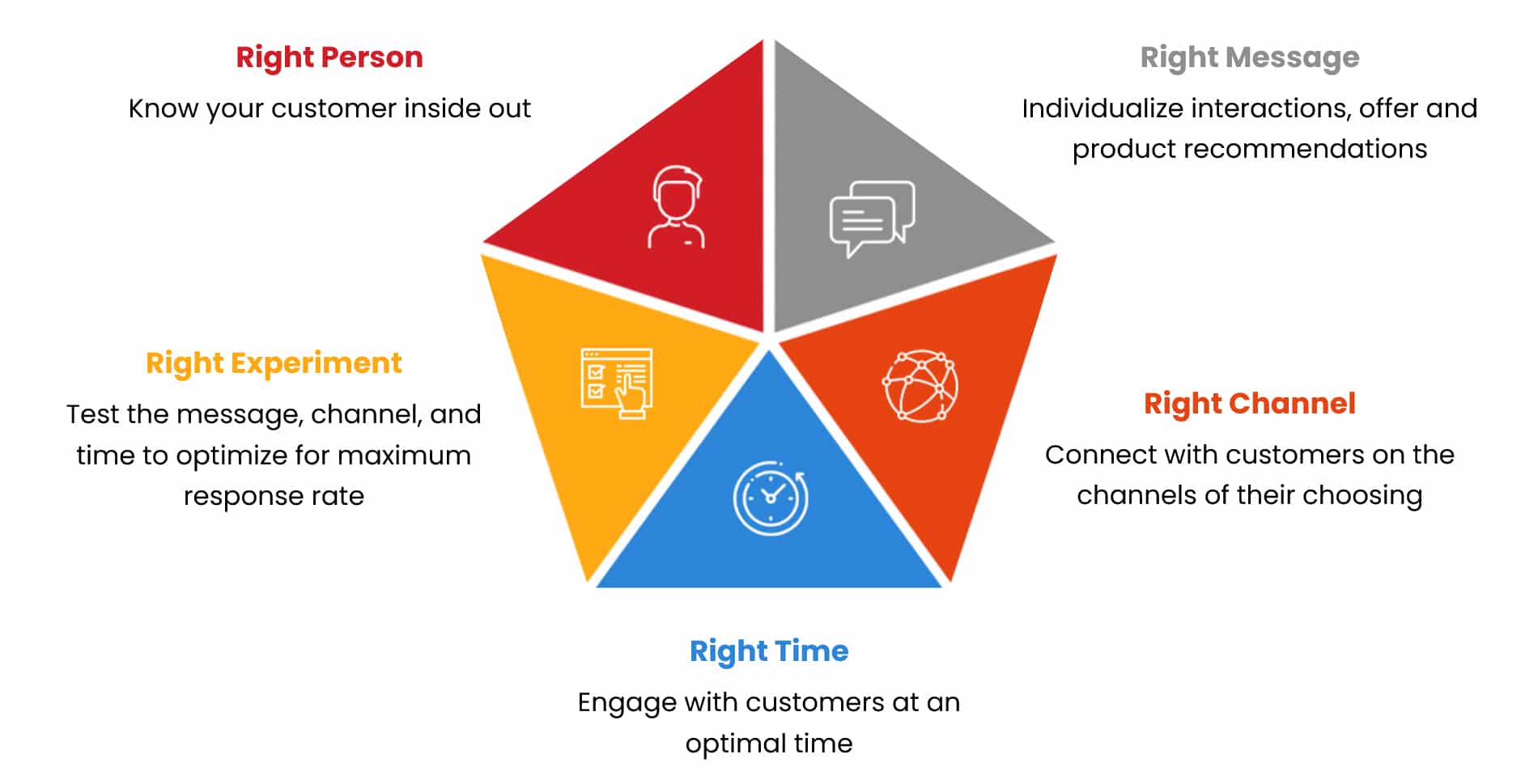 Enhanced End-to-End Customer Experience
With the standard of customer experience evolving at a rapid pace, a robust CJO enables marketers to adapt, adopt, and thrive amid these changes.
Customers enter, engage, exit, and re-engage with a brand at various touchpoints spread across multiple channels and devices. Serving as the operational and execution hub, CJO draws from its comprehensive view of the customer to provide predictive and proactive actionable insights to enact the best response in every interaction.
CJO's omnichannel experience facilitates a seamless and consistent experience so customers can pick up where they left off in their pathway to conversion at their preferred channel and moment.
Customer Engagement at Scale
CJO enables marketers to design, execute, and optimize omnichannel customer engagement programs at scale in real-time.
Automated Journey Logic, a key piece of CJO, systematizes the decision-making process to always ensure the next best action in the customer's journey. This helps marketers scale their campaigns easily as the business grows. Based on predetermined events and triggers, the decision-making capabilities in CJO enables automated responses to micro-moments at scale. This helps marketers treat every customer individually.
Thanks to automated journey logic, marketers can speed up marketing, sales, and customer support processes to deliver real-time and consistent experiences along each touchpoint in the journey.
Increased Revenue
Implementing Customer Journey Orchestration has the potential to scale revenue considerably in the form of increased ROMI and CLTV, and reduced cost of acquisition and retention.
The testing and optimization of every interaction ensures the customer receives a personalized and contextual experience at each phase of the journey. This creates a value-driven approach to the CX and in turn drives better ROI.
According to BCG, organizations implementing Customer Journey Orchestration have achieved:
Revenue Gains of 10-20%
Cost Reductions of 15-25%
Customer advocacy scores improvement of 20-40%
With 80% of frequent shoppers inclined to shop only with brands that personalize the shopping experience and 56% of online shoppers more likely to return to a website that recommends products, it puts into perspective the importance and necessity of personalization to not just survive but thrive in the retail landscape.
Further, according to Ernst and Young, for every $100 billion in assets that a bank has, it can achieve as much as $300 million in revenue growth simply by personalizing its customer interactions.
Enhanced Productivity
A robust CJO connects all the pieces of the puzzle, or, in this case, tools and technology across an organization, together to form a cohesive structure and process. By doing this, it eliminates data silos to improve cross-departmental functions. This greatly improves productivity across the organization.
Further, an AI and ML-powered Customer Journey Orchestration automates repetitive tasks which reduces the need for human intervention while maintaining accuracy. While intelligent decisioning enables faster, accurate, and effective insight-driven actions.
This enables the CJO to perform once manual and cumbersome tasks independently in a matter of seconds. For example, creating and sharing custom offers based on the customer's journey.
Improved Customer Lifetime Value
Consistency is key to unlocking a seamless and exceptional customer experience. However, data silos, incomplete data sets, and a dearth of historical, behavioral, and contextual data can serve as hurdles to creating these memorable experiences.
CJO remedies these challenges by integrating with a CDP to stitch together a comprehensive and holistic view of the customer. This data is leveraged, analyzed, and synthesized into actionable insights that are predictive and proactive.
This is put into action by the CJO to engage with customers along each phase of the customer lifecycle, right from acquisition (campaign awareness), growth (cross-sell campaigns), to retention (offers and loyalty programs).
CJO offers customers a unique and evolving CX. One that is tailored to their journey. This provides marketers with a competitive advantage as customers are more likely to transact with a brand that makes them feel seen and heard, leading to increased acquisition, sales, retention, and CLTV.
Investing in CJO: 6 Things You Should Know
The changing retail landscape and growing need to provide customers with a consistent and personalized experience across channels have led to a surge in the global journey analytics market.
With the market slated to reach $46.68 million by 2030, marketers have quickly realized the importance of incorporating Customer Journey Orchestration into their MarTech stack.
But how do you go about choosing a CJO that works for you?
Here are 6 things to bear in mind when considering a CJO for your business:

Think of CJO as a jigsaw puzzle consisting of interlocking pieces. While many of the available solutions feature pieces that seamlessly connect to form a cohesive process, there are some that were built with no foresight, and therefore cannot integrate into many MarTech stacks and legacy systems.
Further, some orchestration tools support integration with a limited number of channels which can prove troublesome in the long run. When considering a CJO, ensure that it is future-proof, adaptable, and scalable.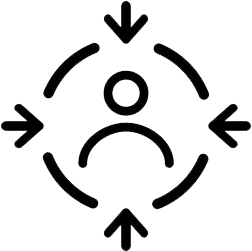 A CJO cannot claim to be customer-led if it is not journey-centric. While many tools do boast of being capable of engaging with customers across channels, unless it provides marketers with a holistic view of the customer and their journey in real-time, it will remain a traditional campaign-driven approach.
When assessing a CJO, ensure that it consists of Journey Analytics, Journey Orchestration, and AI and ML capabilities. When combined, this must translate into a tool that studies the customer in real-time to provide insights that can be put into action to deliver exceptional experiences.

Real-time, Cross-channel Decisioning
Customers want to be met where and when they want. To meet this expectation, a CJO tool must be able to analyze, visualize, and orchestrate the next best action to an interaction in real-time.
To do so, AI-driven intelligent decisioning is a critical feature. Building on this, a CJO must allow for conversations across channels where the customer interacts along their journey.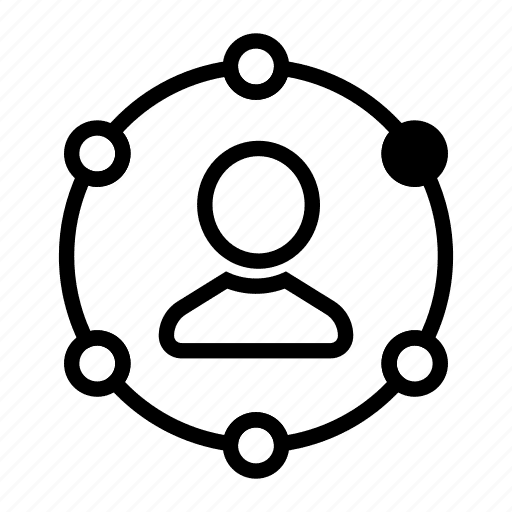 Customer Journey Visualization
A key feature of CJO is understanding beforehand where the 'hot spots' and 'bottlenecks' are along a customer's journey. Knowing this helps marketers proactively resolve issues to facilitate a seamless customer experience along the journey.
When in the market for a CJO, ensure that the tool comes equipped with robust Journey Analytics capabilities to provide marketers with deep insights on the customer's journey from every minute detail of the customer to broader trends at scale.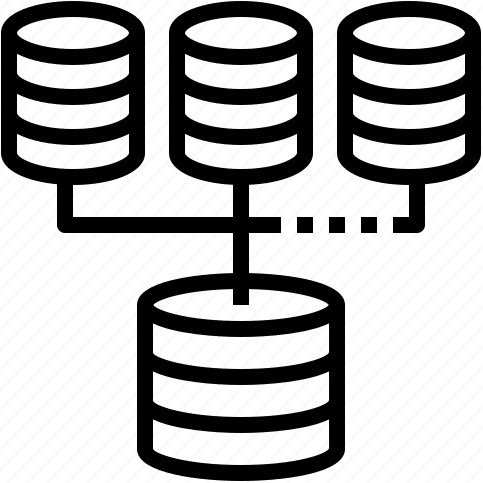 Connect to Offline and Online Data Sources
To work as it should, a CJO must connect to multiple data sources across online and offline channels. These fragments of data are stitched together to create a comprehensive customer profile. This is critical to orchestrating value-driven journeys.
However, to perform this function, a CJO must be integrated with a robust CDP. When considering a CJO, check to see if it comes natively integrated with a CDP, or if this will need to fit into your existing stack.
Should this be the other way around, test to see that the tool is able to harmoniously integrate and access a wide range of data sources. Any limitation in the data sources will likely limit journey orchestration capabilities.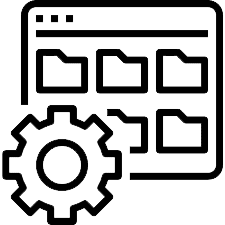 Data is an immeasurable resource. Though pivotal to a CJO in orchestrating contextual and value-driven journeys, managing and operating data within the guidelines of privacy regulations can prove challenging.
When determining if a CJO is a right fit for you and your organization, consider the processes it has in place to regulate data, privacy, and security in accordance with globally recognized standards. Review the company's accreditations to ensure that they are certified and compliant.
Why Choose Algonomy's CJO?
Algonomy's Customer Journey Orchestration (CJO) is a specialized solution built for retail and consumer businesses. It leverages machine learning algorithms, advanced analytics, and micro-segmentation tools to automatically orchestrate, test, and optimize personalized campaigns to offer an end-to-end flow of tailored customer experiences.
What's more, the CJO can seamlessly integrate with Algonomy's Real-time Customer Data Platform (CDP), empowering marketers with real-time audience activation capabilities in conjunction with customer analytics, campaign orchestration, and journey optimization capabilities. This allows for a more holistic approach to personalization and 1:1 engagement.
Algonomy Campaign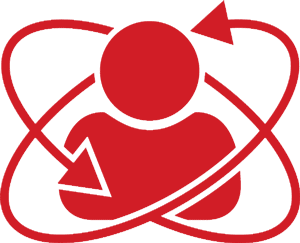 Real-time Customer Profiles
Unified Customer View across online & offline channels
Dynamic Audience Segments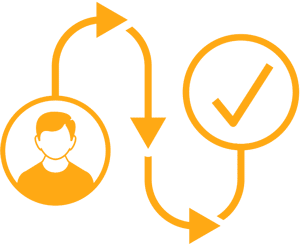 Customer Journey Orchestration
Triggered Journeys
Event-based journeys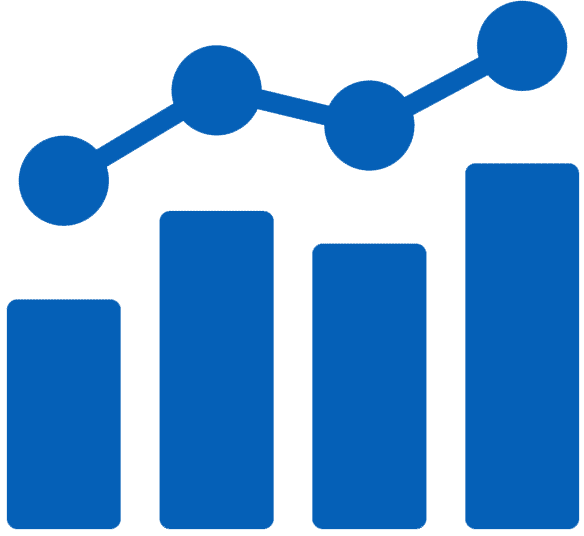 Campaign Analytics
Campaign Effectiveness
Real-time Insights

Campaign Management
Campaign Calender
Offer Personalization
Email templates
Mobile Push Notification
What Sets Algonomy's CJO Apart?
Built for Retail: Algonomy's CJO is power packed with features that are retail-specific to accelerate time-to-value. In addition to supporting and offering coupon management capabilities, CJO comes with advanced personalization, supporting industry-specific use cases such as offer personalization for grocery.
Supports Online and Offline stores: This includes direct channels (email, SMS, direct mail, WhatsApp), mobile channels (push notification, mobile in-app communication, and wallet), and AdTech channels (Facebook, audience export, and real-time API).
OOTB Connector Ecosystem: You don't need to rip or replace your system. Algonomy's OOTB connectors enable flexible deployment and quick time-to-value.
Seamless API-based Integration: CJO integrates into existing legacy systems and tools effortlessly. It is natively built for large-scale omnichannel execution and automation.
Real-time Audience Activation: Facilitates hyper-personalized, journey-based customer engagement across online and offline channels.
Delivering Tangible Benefits: Here's What We Have Done And Can Do For You
28% increase in email open rates for a US supermarket chain
26% incremental sales from targeted campaigns for a global pizza chain
4% growth in average customer spend for a retail chain in India
19% higher business from loyal customers base for a large retail chain
31X reduced time to create a promotion for an American Grocery Chain
Here's a look at how Algonomy's CJO scaled performance and revenue for our partners:
US Supermarket Chain Achieves 3X Incremental Sales and 2X Digital Adoption with Personalized Marketing and Automation
About the Company
Listed in Forbes's top 500 private brands, the company is one of the largest privately owned retail chains in New England. The company specializes in grocery, fresh foods, pharmacy, and other prepared foods. It boasts of over 100 stores spread across Northeast USA and serves over 3.6 million customers.
With newer competition mushrooming in the grocery industry, the client was determined to retain its loyal customers and expand its customer base by moving to a data-driven, customer-centric marketing strategy. The company turned to Algonomy to help remedy the following:
Generic communication
Poor engagement on digital channels
Inconsistent communication
Internal inefficiencies
Leveraging Algonomy's CJO, the company was able to deliver personalized and consistent weekly ads, recommended items, and loyalty emails across digital and newsletters to targeted segments. These assets also featured custom and personalized digital coupons.
As a result, the company saw:
Increase in email open rates, from 15% to 22%
2X growth in the adoption of digital channels
4X growth in mobile app engagement
10% to 25% increase in digitally active customers
Leading Canadian-based Pizza Franchise Sees an 8% Increase in Overall Sales
About the Company
The client is a franchise owner for a leading QSR brand in Canada. As part of their portfolio, they run the pizza business for one of the top 3 pizza brands in the world. They own and operate over 500 stores across 200+ cities, catering to over 50 million orders from 7+ million customers.
Despite being a large quick-service restaurant chain, the franchise relied on manual, Excel-based analytics reports to make decisions on campaigns and customer engagement.
The fundamentals of a single view of customers across digital interactions and store purchases were missing. This meant that marketing was not equipped with the right insights at the right time to drive effective communication that would resonate with the end customer.
By leveraging Algonomy's CJO and CDP, the QSR was able to drive targeted messages and campaigns to their customers across journey and lifecycle stages.
With relevant and timely engagement, the client was able to enjoy an increase in repeat purchases, purchase frequency, and average order value.
These efforts translated into the client seeing:
8% increase in overall sales
1% reduction in one-time purchases, and
16.5% increase in average recency.
Leading Multinational Conglomerate Tackles Data Silos and Missed Cross-sell and Up-sell Opportunities
About the Company
The client is a multinational conglomerate that operates across 40 countries, driving over 30 businesses and 300 brands. With a heritage of 100+ years as a successful commercial enterprise, they serve as the master franchise for some of the leading international brands in retail, food & beverage, automotive, engineering, and credit, among others.
The presence of data silos within the conglomerate posed various challenges, namely:
Missed cross-sell and up-sell opportunities
No science behind marketing decisions
Generic customer engagement, resulting in low response rates
Leveraging Algonomy's CJO and CDP, the conglomerate was able to get a 360-degree view of customers across individual brands as well as at the conglomerate level. This was achieved by integrating transaction and customer information from multiple downstream systems to build a single source of truth.
With complete visibility of segmented data, Algonomy's CJO delivered personalized, contextual messages through SMS, email, app push notifications, and other channels.
The client was able to provide omnichannel, customer journey-based engagement with end-to-end predictive LTV-based journeys which are dynamic and near real-time. The scale of campaigns improved manifold, covering cross-BU campaigns, reverse inactive and churn campaigns, win-back campaigns, etc.
Campaign automation resulted in productivity improvements with a 95% reduction in time for campaign management. As a result, the conglomerate witnessed:
10% lift in cross-brand communication
8% reduction in marketing investments
5% incremental value, and
1% reduction in churn
The Future is Dynamic Journey Orchestration
To thrive in today's highly competitive retail industry, marketers must deliver individualized experiences in every interaction that go above and beyond expectations. According to McKinsey, 71% of customers expect companies to deliver personalized interaction. Therefore, Customer Journey Orchestration is no longer an option but a strategic imperative.
Algonomy's CJO can help you reimagine your approach to customer experience with hyper-personalized omnichannel journeys.
Elevate Your Marketing with End-to-end Journey & Campaign Orchestration