Providing relevant help with deep customer insights
A leading American optical retailer uses Algonomy to personalize customer experience and improve conversion.
One of the fastest-growing optical retailers in the United States operating and managing over 700 optical retail stores in 40 states
Headquartered in United States
700 optical retail stores
Fastest growing optical retailer
Eye care services provided
A fast-growing organization meant that the customer base was increasing rapidly. In order to provide a differentiated experience to this growing list of customers, the company was looking to rely on data and customer insights to drive intimate customer engagement.
Lack of unified view of the customer across their journey with the brand
Inability to provide custom service such as appointment reminders, prescription access, missed appointment rescheduling, product availability impacted customer loyalty
Missing historical insights on customer transactions meant lost cross-sell and upsell opportunities that the format lends itself to
Unable to get an omni-channel view and channel effectiveness meant conversion rate and ROI optimization was a challenge
Algonomy was well-positioned to support the client with their objective of driving differentiated experience for their customers. Algonomy's Customer Data Platform and Customer Analytics helped the client improve customer engagement and revenue.
Customer Data Platform provided the foundation of Golden Customer Record – resolving their identity with clean, latest and accurate data
Complete, 360 view of customers through deduplication, 3rd party data enrichment
Household profiling using customer address
Audience activation for omni-channel, journey-based engagement
Timely engagement on appointments, prescriptions, product updates, insurance benefits
Store traffic and appointment analysis to rationalize footfall and appointments
Campaign reporting and automated analytics dashboard to measure effectiveness

personalize engagement on customer appointment
Algonomy enabled a unified view of the customer across their journey with the client. We analysed historical data on customer appointments to enable relevant, timely support to customers to enhance brand affinity
Increase customer visit frequency and thereby CLTV by sending appointment reminders to customers who are due for a consultation or an eye test. Additionally, notify patients of missed appointments, so that customers can reschedule appointments.
To make it convenient for customers to book appointments, provide available slots by ingesting appointment availability data.
Apply householding to send appointment reminders to make appointments for family members.
Send benefit summary prior to the customer's appointment to make them aware of the insurance coverage and hence better prepared.
By way of integration with robocall provider, help client reach customers that do not receive text or email messages.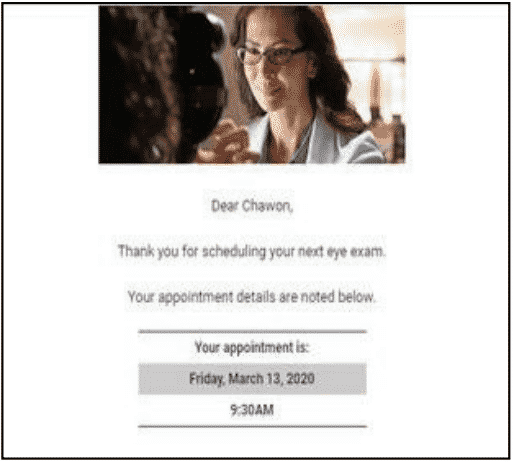 Personlize product recommendations with purchase data
The client was unable to provide the right product recommendations as were unable to map purchase data. By understanding the customer's needs and preferences, Algonomy CDP generated granular customer segments using deep learning recommendation model. This enabled the client push personalized messages and campaigns to customers resulting in increased loyalty and conversion rate.
Send engagement reminders and triggers for secure and easy access of digital version of their Rx. This enabled auto-populated, digitized Rx on ecommerce.
Orchestrate tailored messages across customer journey with enticing offers that did not purchase products from the client at their last eye exam or make personalized product recommendations based on changes in prescription.
Share product, brand and its availability information based on customer preference.
Using advanced analytics, model relationships to know which customers are more likely to have multiple pairs in order to cross and upsell multiple pairs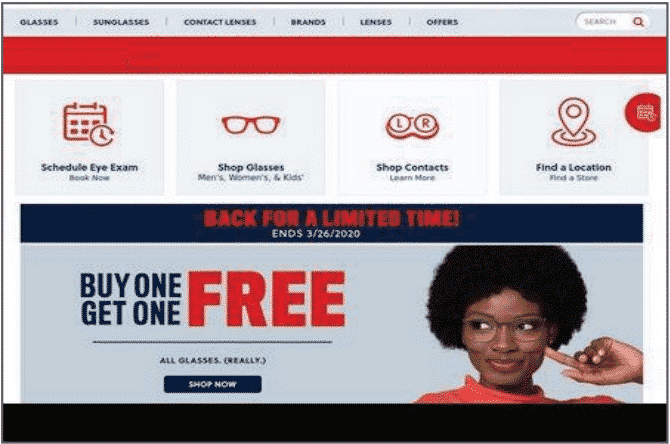 Improve operational efficiency with advanced business insights
With detailed traffic, transaction and revenue data across all stores, the client team was able to make intelligent, fact-based decisions to improve business efficiency and effectiveness of spends.
Complete visibility into daily performance of stores, traffic and conversion rates by territory, state, and market levels empowering business leaders to take growth -related corrective actions
Measure campaign effectiveness, lift, response rates and ROI to optimize marketing investments.
Monitor store-wise performance and the underlying reasons in order to apply best practices and reverse downward trends. Set up triggers on underperforming stores for quick actions.
Test different marketing messages on stores that have open availability or low traffic.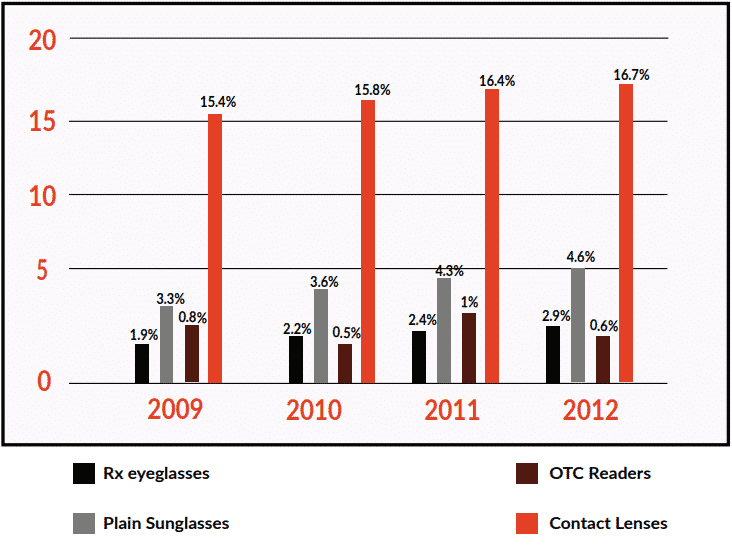 Customer data unification, deep insights and real-time activation across channels enabled the client to compete on CX and drove conversions and fostered loyalty
Higher conversion rate from precision targeting and householding
Improved Customer Experience and Marketing ROI due to 1:1 Personalization
Timely customer touch and improved delivery rate enabled by omnichannel automation
Reduced costs due to single identity, accurate targeting and personalization resulting in fewer messages