Aditya Birla Fashion and Retail
Drives a 13% Lift in AOV Across 6 Brands by Personalizing Key Commerce Touchpoints
DOWNLOAD PDF
Segment
Fashion & Lifestyle
Objective
To personalize the key commerce touchpoints of product recommendations, search, category pages, and content.
Product




13%
lift in recommendations driven AOV on Pantaloons and The Collective
71.90%
of attributable
sales on Pantaloons
77.48%
attributable
sales on The Collective
34%
lift in Revenue Per 1,000 Views for AI-driven recommendations vs. merchandised recommendations on Pantaloons

ABFRL's vision is to satisfy Indian consumer needs in lifestyle and fashion with product offerings from premium brands.
The retailer has embarked on a digital transformation journey with a high focus on delivering personalized omnichannel customer experiences.
After a rigorous selection process, ABFRL chose Algonomy as their technology partner as the latter checked all the boxes for product depth and breadth, innovation, and customer success references.
Personalizing All Path-to-Purchase Commerce Touchpoints
ABFRL has deployed Algonomy's AI-powered personalization suite, which comprises:

Recommend™ (personalized product recommendations)
Find™ (personalized commerce search)
Discover™ (personalized browse and navigation)
Engage™ (personalized content)

These solutions are live across the ABFRL brands – Pantaloons, The Collective, and Super App.
Algonomy's solutions combine real-time browsing behavior with enterprise-wide customer data to create real-time, unified customer profiles that guide contextual, individualized experiences across all customer channels—including website, app, email, and in-store.
The solutions offer the retail industry's only no-code Data Science Workbench and Configurable Strategies, which help ABFRL's marketing and merchandising teams build, test, and iterate personalization strategies on the fly.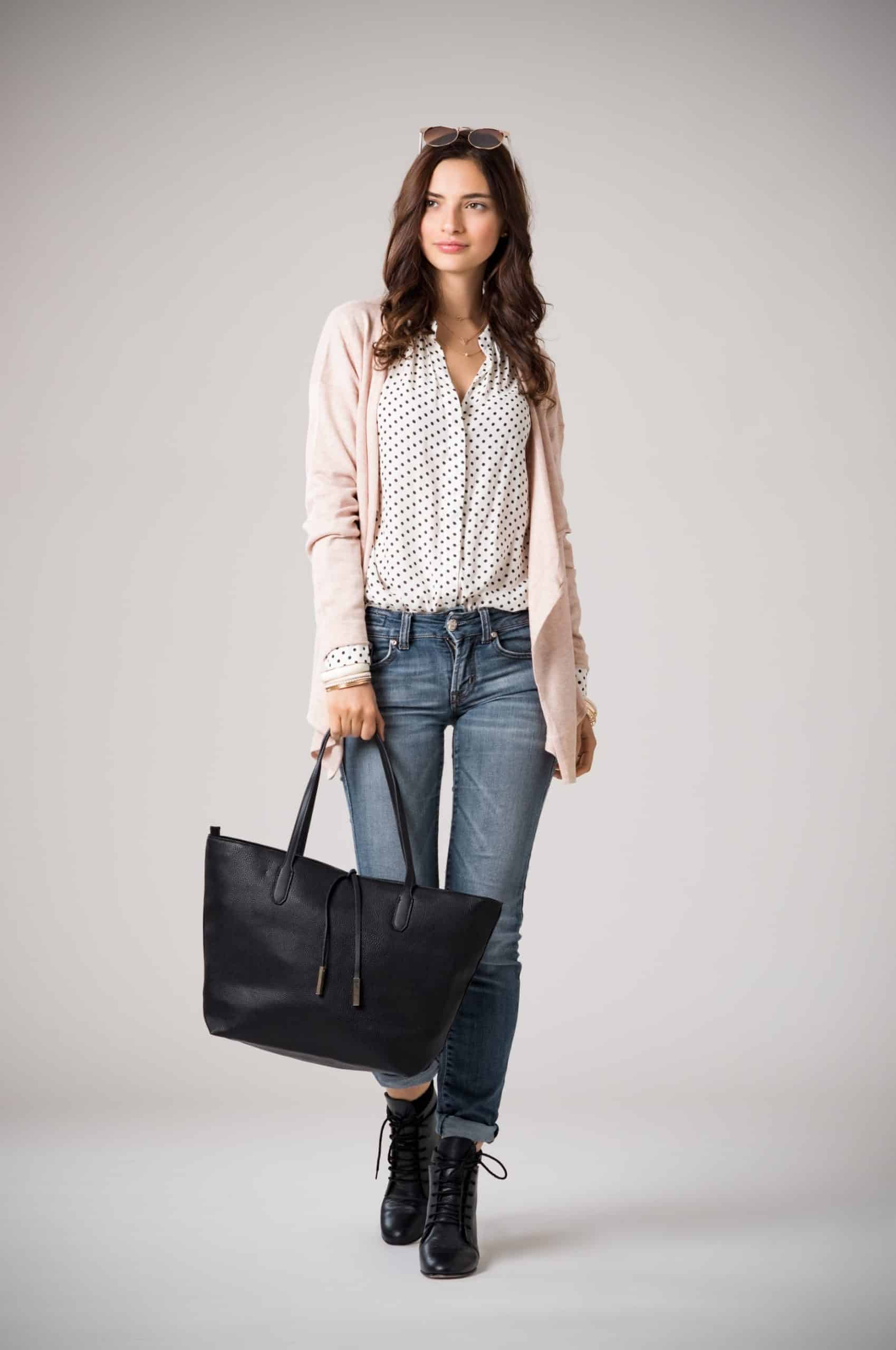 "Algonomy's AI-infused personalization tech has helped us individualize all path-to-purchase digital commerce touchpoints—search, recommendations, browse, and content—to deliver a more holistic and connected customer experience."

Varun Rajwade AVP – Product, Design & Digital CX at ABFRL
Personalization Use Cases on the Pantaloons Online Store
Pantaloons is one of India's largest fashion store brands. The brand has launched 'Style Finder' that allows shoppers to specify their preferred categories and the occasion, and view personalized product recommendations.
This feature has significantly improved product discovery in a time when consumers expect brands to make every experience feel personal.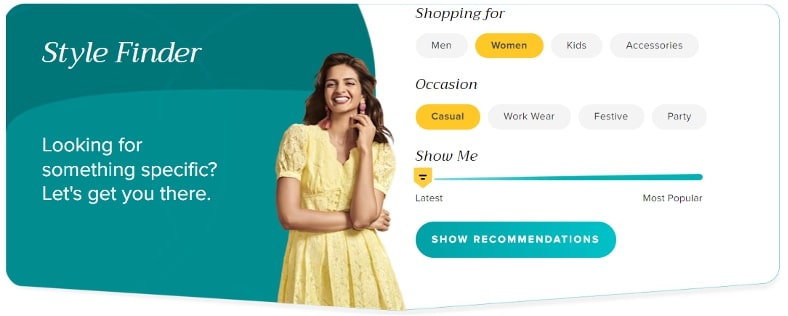 Other examples of personalized experiences on Pantaloons:
The 'Pick up where you left off' placement on the home page helps a returning shopper resume their journey instead of having to start over.
Recommendation placement for similar products on Product Detail Pages.
Placement for 'Deals of the Day' with offers on products a shopper will likely be interested in.
Complementary product recommendations on the PDP.
Personalized product sorting in search results.

Search results for "trousers" without personalization

Search results for "trousers" with personalization


The 'Shop the Look' feature allows a shopper to view complementary products and complete the look.
Helping Shoppers Experience 4 Popular Brands in 1 Intuitive 'Super App'
Super App allows shoppers to seamlessly switch between four popular and sought-after brands — Louis Philippe, Van Heusen, Allen Solly, and Peter England—on the same website or app.
Shoppers can view personalized products and add items across the four brands to a common cart and complete their purchase.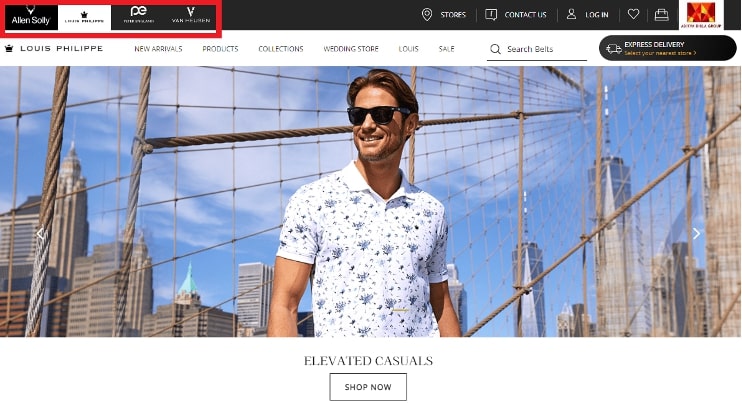 Some examples of personalization on Super App:
While setting up their account, shoppers can set their preferences for color, categories, size, etc. The personalization engine uses this information, along with the shopper's browsing patterns and purchase history, to make the most relevant recommendations.
Typically, on most commerce websites/ apps, shoppers have to visit a PDP to find recommendations for similar products. On Super App, however, while viewing various
products on a category page, shoppers can just click on the 'View Similar' option near a product card, which opens a pop-up containing recommendations for similar products.
Category recommendations on the home page are displayed as per the individual shopper's tastes. The order of categories changes dynamically with respect to changes in the shopper's behavioral and purchase patterns.
Personalized content on the home page.
Unifying the Online & Offline Shopping Experience with The Collective & Super App
Most retailers tend to think of a customer channel in isolation. ABFRL, however, has seamlessly unified online and offline, delighting customers with unique and memorable experiences.
For instance, The Collective (India's first, and now the largest, multi-brand luxury retail store) and Super App have a feature called 'Store Mode' on their websites. The feature allows online shoppers to view personalized products from a certain physical store, and have products delivered to their homes.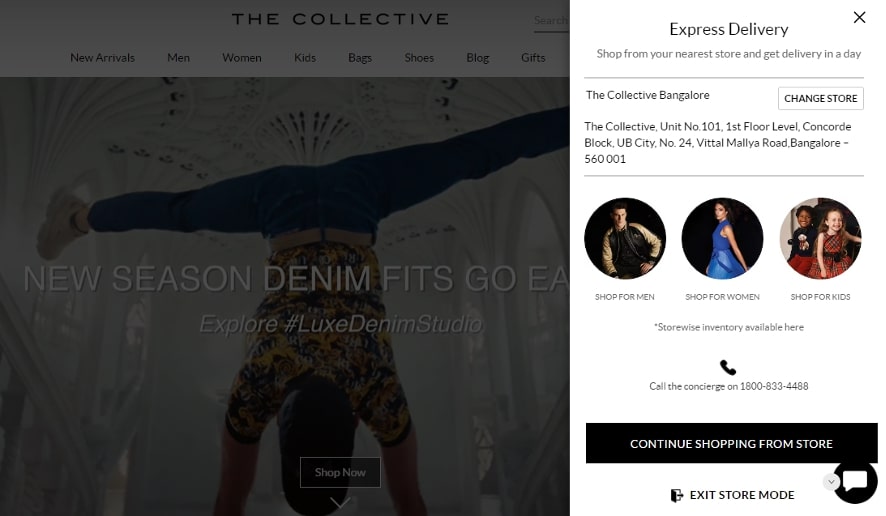 "Shoppers today expect their digital shopping experience to be quick, seamless, and personalized as per their individual tastes and intent. Algonomy's end-to-end personalization solution was the perfect fit, given our massive scale and speed requirements."

Praveen Shrikhande Chief Digital & Information Officer at ABFRL
The Future
In the next phase, ABFRL plans to deploy Algonomy's personalization solutions on four more properties – Van Heusen Intimates (a provider of innerwear and athleisure for men and women), Forever 21 (a global fast fashion brand), Jaypore, and Reebok.
Looking to hyper-personalize all commerce touchpoints? Let's talk.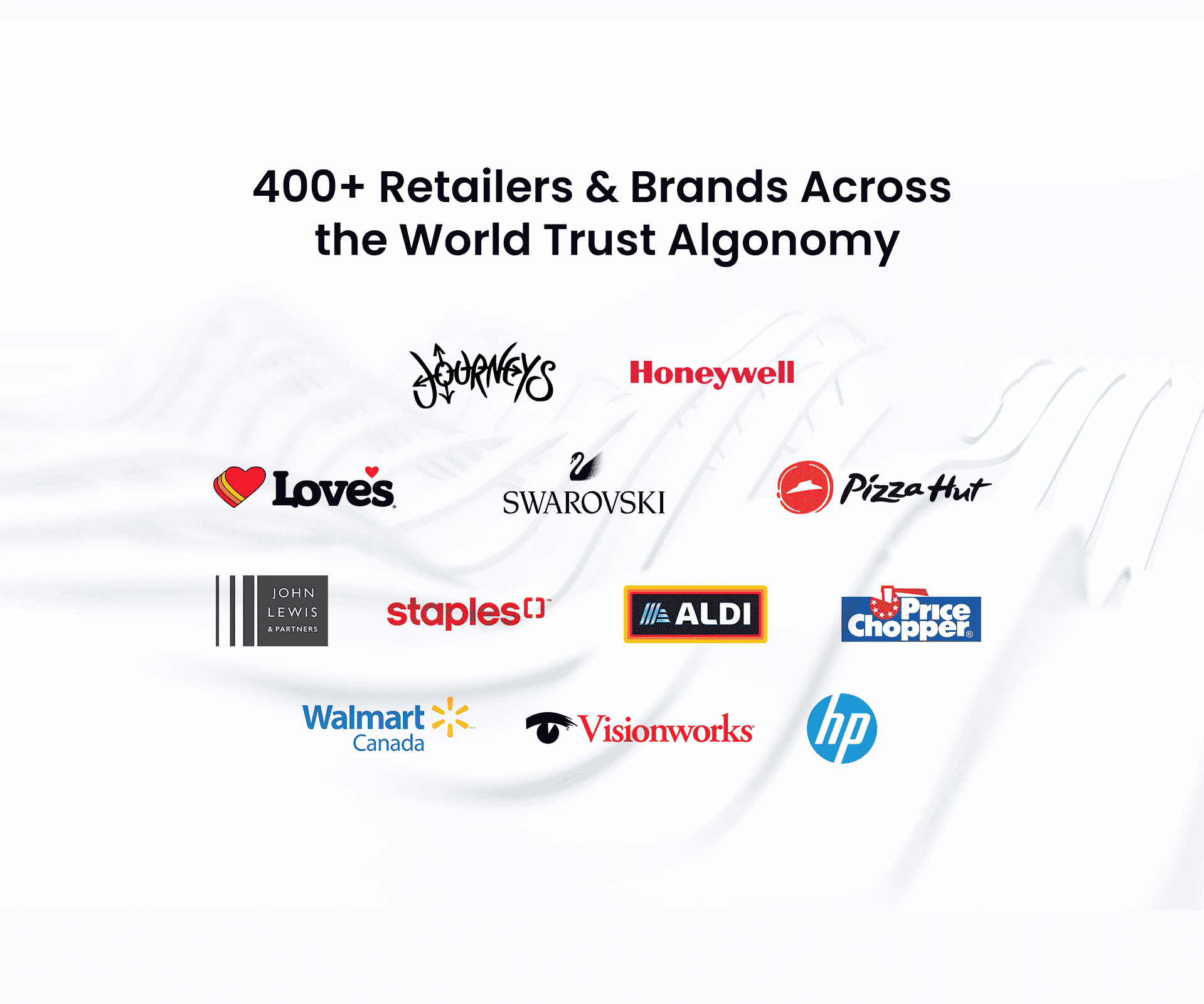 Explore More Resources on Commerce Personalization