ZALORA Achieves a

40%

Growth in Average Basket Size by Personalizing eCommerce Properties Across
6

Countries
DOWNLOAD PDF
15%
Higher Average Order Value
40%
Higher Average Basket Size
Three Things that Set ZALORA's Personalization Program Apart
Delivered personalization on multiple online properties across Indonesia, Hong Kong, Malaysia, Philippines, Taiwan, and Singapore.
Individualized experiences across all key touchpoints in the eCommerce shopping journey—product recommendations, search, category pages, and content and promotions.
Powered a product catalog of over 7 million across 6 websites, and processed more than 50 million Search API calls per month.
ZALORA is one of the largest eCommerce fashion retailers in Southeast Asia with presence in over six countries. With over 50 million visits per month to their websites, more than 20 million app downloads, and over 3,000 brands across a variety of product categories, ZALORA is one of the most popular fashion destinations in the region.
ZALORA prides itself in being a customer-first brand and therefore wanted to ensure that they deliver real-time, hyper-personalized customer experiences across the eCommerce touchpoints of search, product recommendations, category pages, and content. The fashion retailer selected Algonomy's integrated personalization platform to address this need.
Personalizing All Path-to-Purchase Commerce Touchpoints
ZALORA deployed Algonomy's end-to-end personalization suite with the goal of personalizing every single customer touchpoint in the online shopping journey across websites, apps, and emails.
The personalization suite comprises Find™ for personalized search, Engage™ for content personalization, Recommend™ for personalized product recommendations, and Discover™ for personalized category pages.
The solutions leverage real-time customer profiles that provide a holistic view of each customer's interests, preferences, and behavioral patterns. As the name suggests, a real-time profile dynamically evolves with each customer interaction with the brand and provides the insights needed to personalize experiences across channels and touchpoints.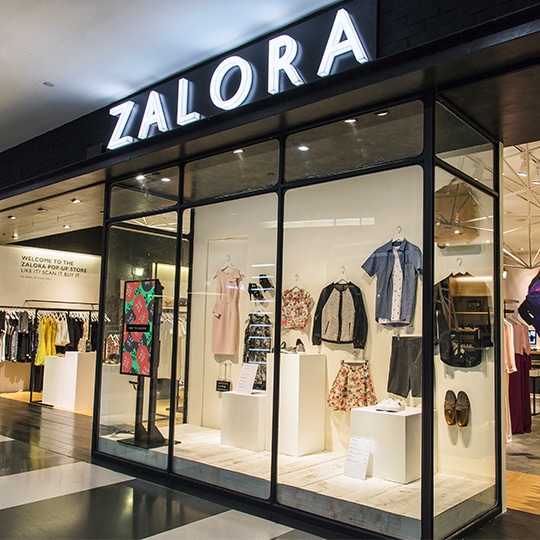 Personalization Use Cases on ZALORA's Online Channels
This section covers some personalization use cases at ZALORA across three categories.
1. Personalized recommendations and content on the website and app
Personalized home pages for anonymous and returning customers

The 'New Arrivals' placement on the homepage helps drive engagement with anonymous visitors and also shows updated products as per their recent searches during that session. Returning customers see a recommendation placement with products based on their affinity towards brands, categories, etc., and search and purchase history.
For Anonymous Visitors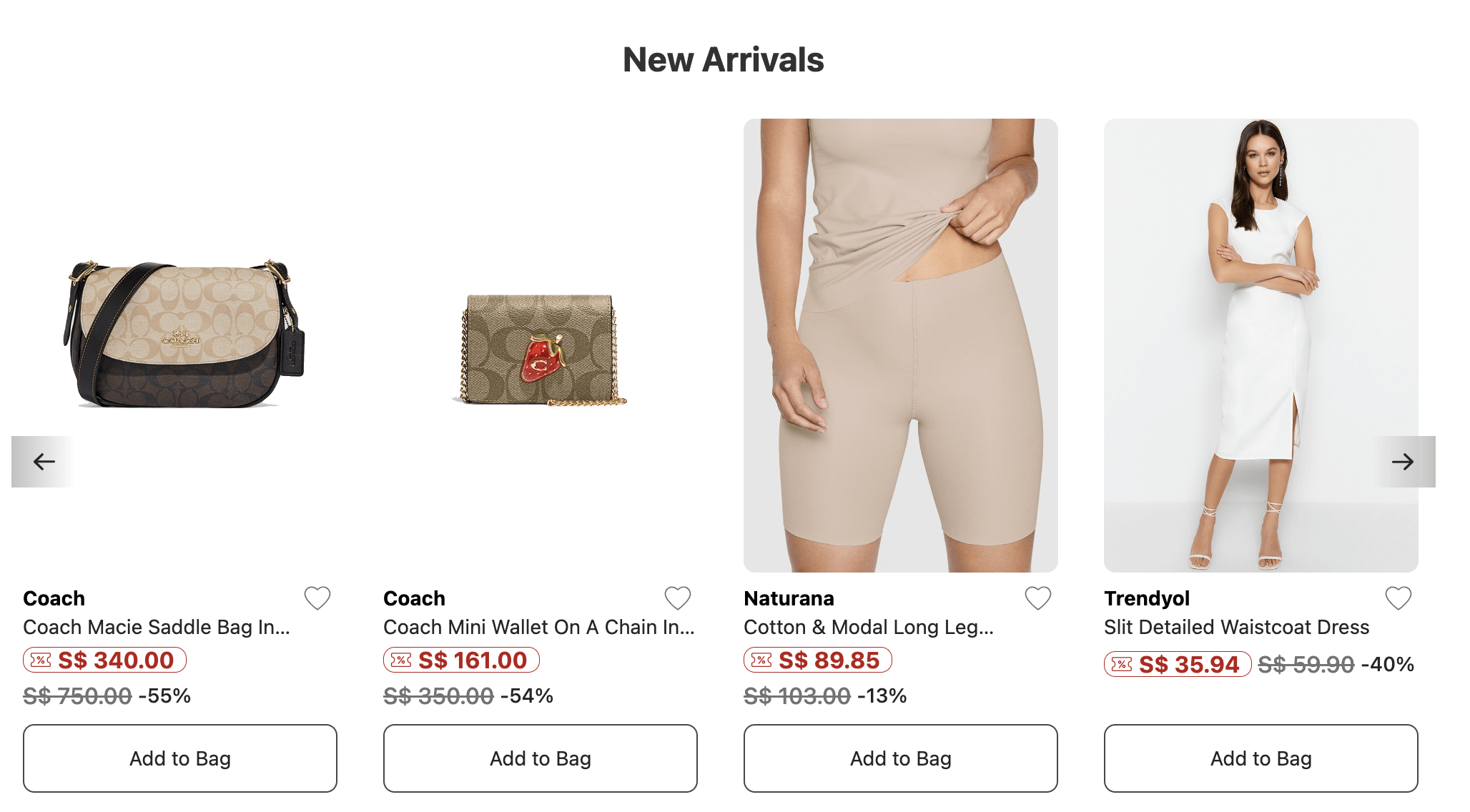 For Returning Visitors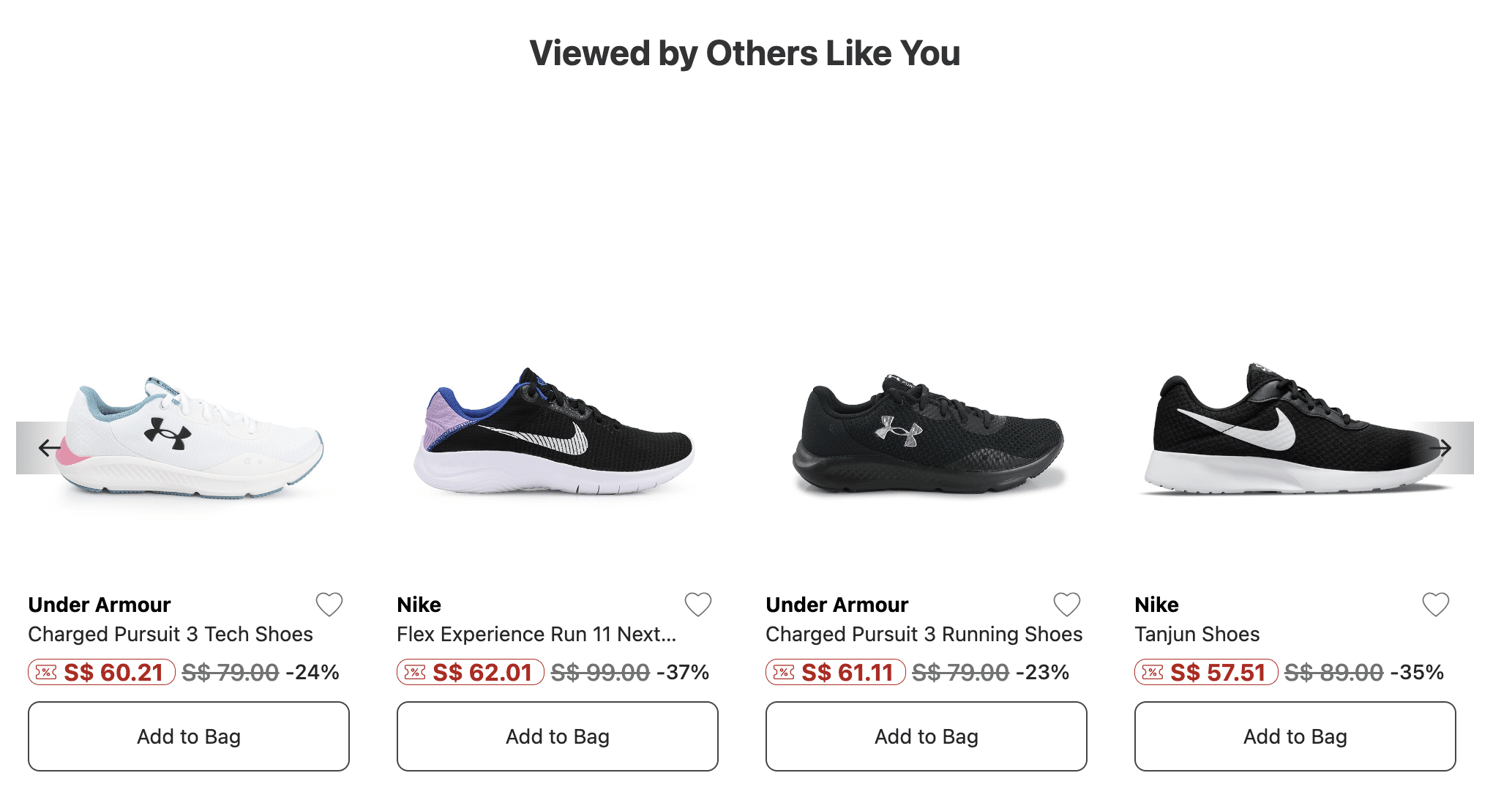 Personalized category pages

ZALORA personalizes product recommendations on category pages based on the segment the shopper belongs to and what the top selling products are in that category.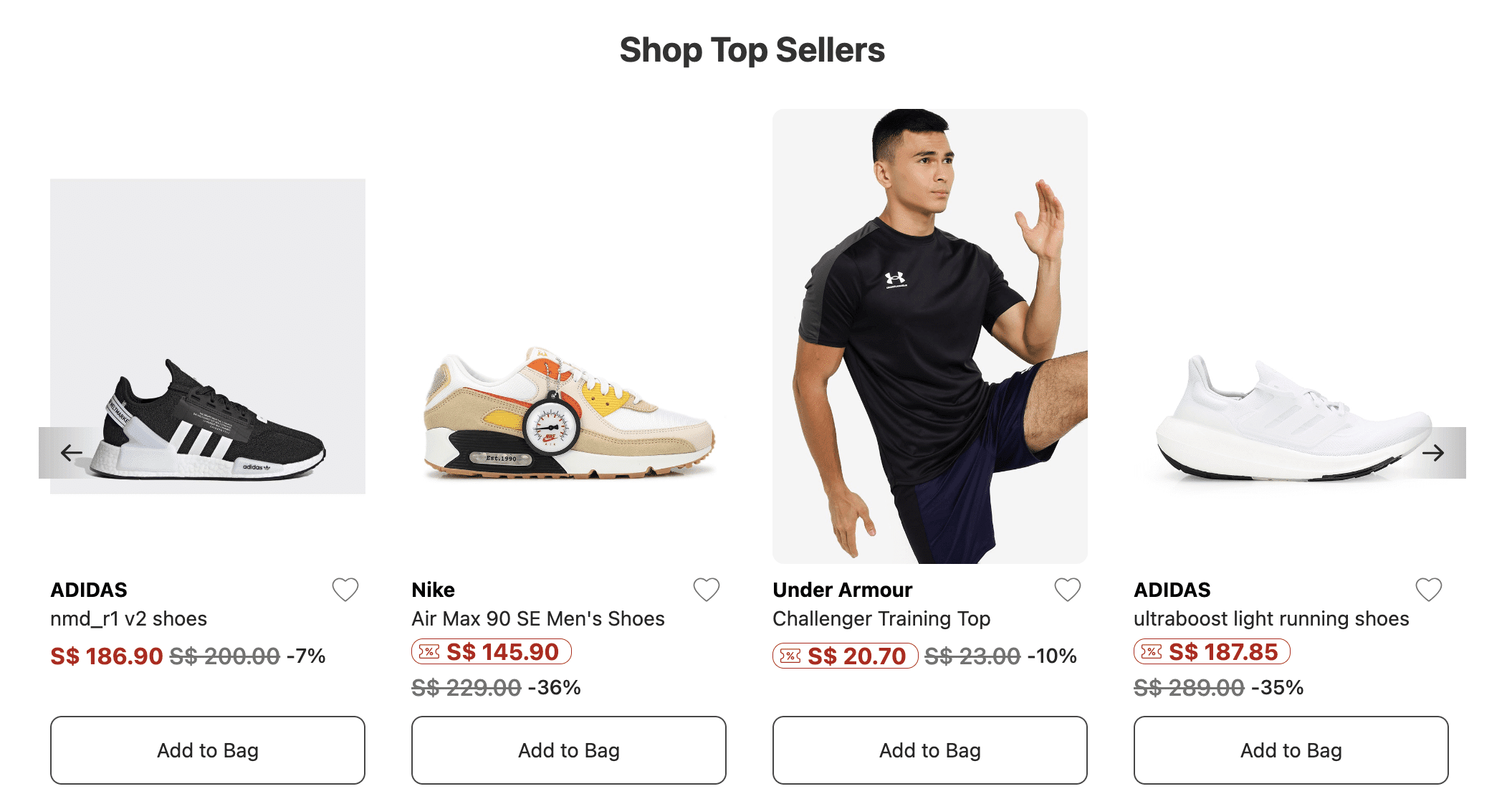 Personalized recommendations on the Wish List page

These recommendations help shoppers discover products that are similar to the ones they added to the wish list.

Home page content personalization

Personalized content and promotions on the home page boost engagement with shoppers and reassure them that they are in the right place with the best offers.
2. Fine-tuning search results
Secondary sort on search results

The secondary sort option ensures that search results are not only sorted based on the primary criteria such as personalization weights and catalog weights, but also based on an additional factor that is relevant to the user. By incorporating this option, ZALORA has enabled its users to make more informed purchase decisions.
Boosting new products in search results

Boosting newly launched products improves the relevance of search results. Shoppers feel rewarded as they get access to the latest offerings. This gives them a sense of being ahead of the curve and keeps them connected to the pulse of the market.
Skip stemming for specific search terms

Customer satisfaction and loyalty levels improve when search results align more closely with users' intent and expectations. By fine-tuning the search algorithm to bypass stemming for certain terms, ZALORA provides users with a more personalized search experience.

Search results for "men shorts" before and after adding the configuration
3. Personalized recommendations in emails and push notifications
These recommendations help re-engage with shoppers and get them back on their buying journey. For instance, recommendations in emails led to ZALORA's Singapore site experiencing an 18% lift in Revenue Per Click and a 52% increase in Revenue Per Thousand Views.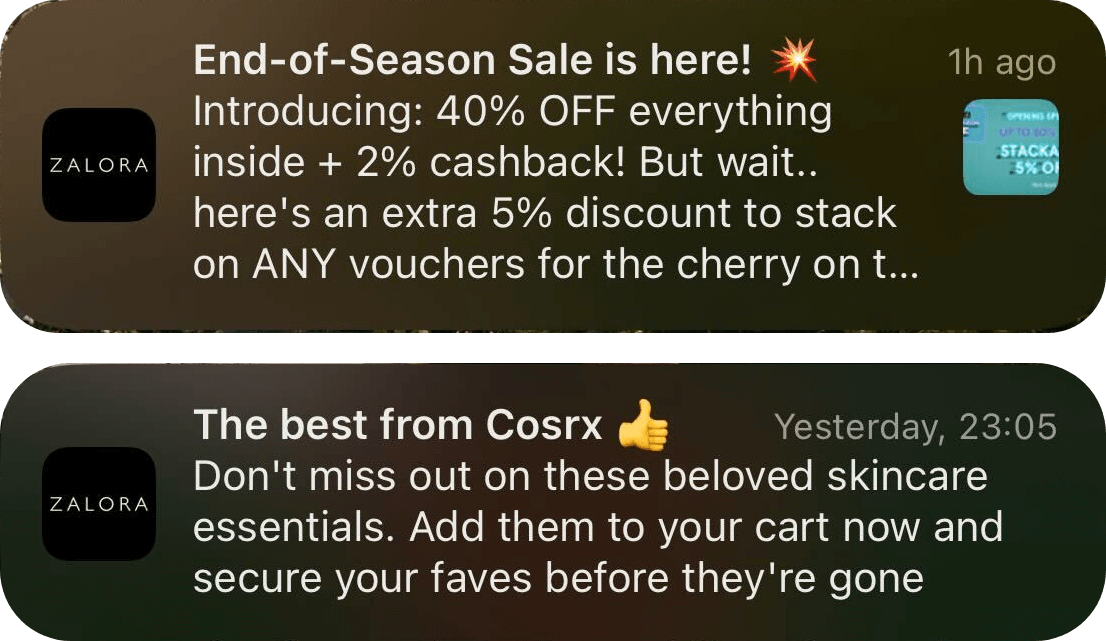 Recommendations in push notifications


Recommendations in email
"Onboarding the Algonomy suite of products enabled an acceleration of our personalisation strategy, empowering us to inspire our customers and offer more relevant content and products. Both through the platform and our deep partnership, we have been able to rapidly experiment with weights, strategies, and boosting to find the best experience across platforms and our 6 operating countries. We've deeply appreciated the partnership with Algonomy and their investment into our success."

Liam Hutchinson Director of Product, ZALORA
The Future
ZALORA continues to push the boundaries of personalization and plans to solve complex business use cases in the future. Below are some examples:
Size-based personalization

ZALORA has a lot of cut-size apparel inventory, which is difficult to sell (due to factors such as ageing) when such products are not shown in front of the shoppers. Displaying apparel to shoppers based on their size affinity would solve this problem. To this end, the ZALORA and the Algonomy Product teams coordinated seamlessly and carried out the development work to enable size-based personalization in search results and product recommendations. This use case is expected to go live soon.

Replacing the product catalog feed with Streaming Catalog API

ZALORA's inventory changes quickly throughout the day as products get sold. It's important for the search results and product recommendations to reflect the real-time pricing and availability of products. Streaming Catalog API enables this, ensuring that only the products that are currently in stock are presented to shoppers.

Guided Selling as part of the registration process

ZALORA would like to improve the shopping experience for brand new shoppers, who do not have browse and purchase history. When a shopper registers for a ZALORA account, they would like to present them with a set of questions to collect their preferences. This explicit data can be used to create a personalized experience.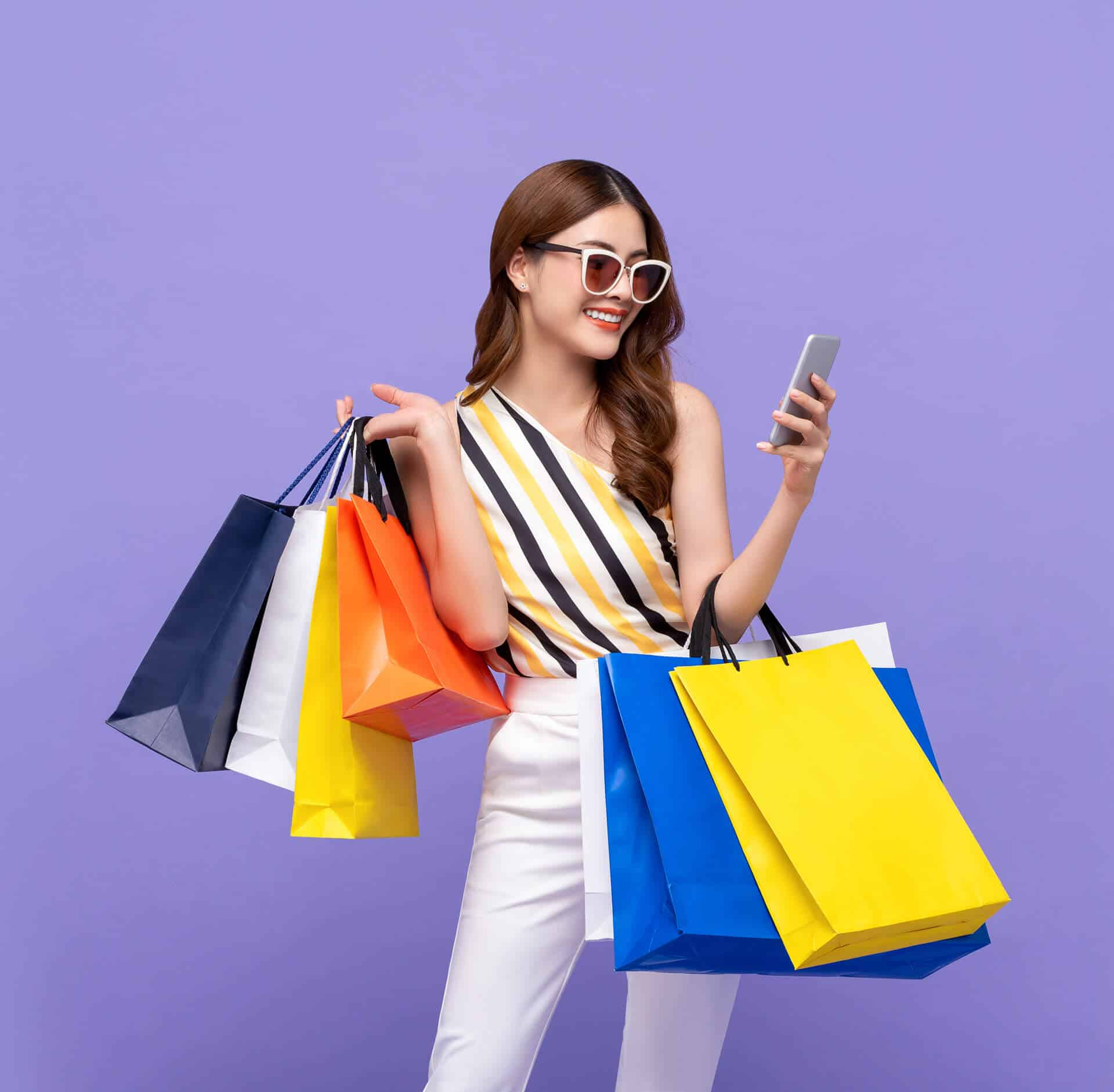 "We have a very clear strategic roadmap for personalization and search. We are working closely with the Algonomy team to collaboratively develop some custom strategies that we are very excited about."

Sumit Jain CTO, ZALORA
400+ retailers & brands across the world trust Algonomy to consistently deliver on their commerce KPIs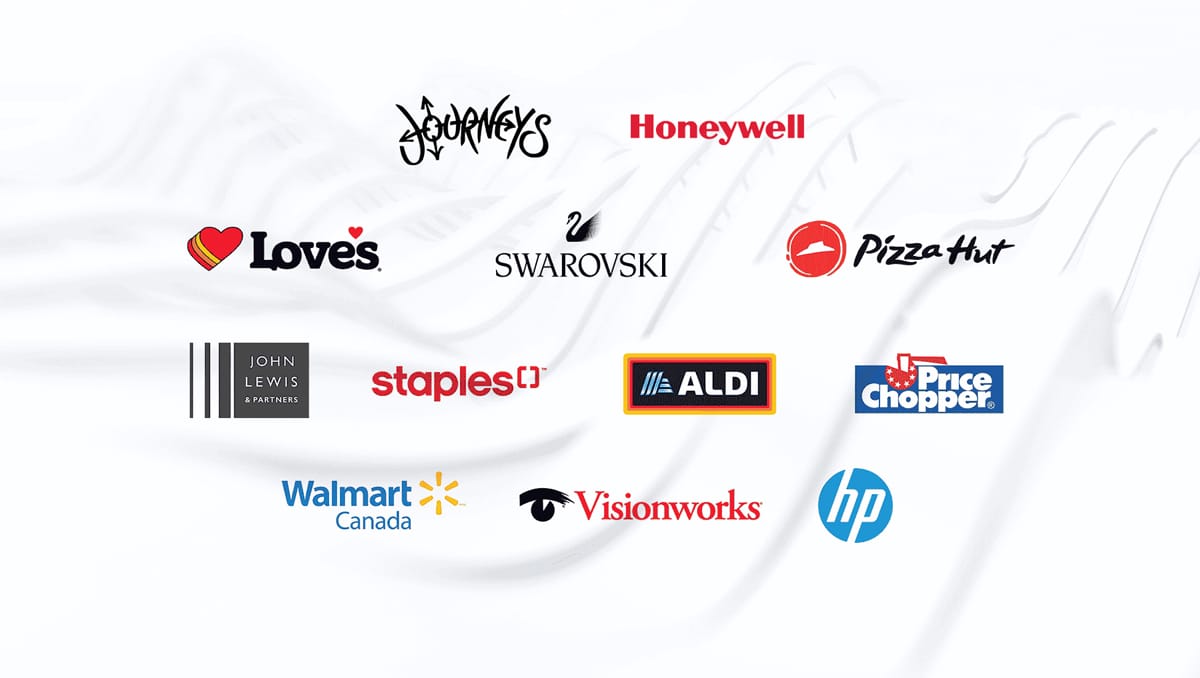 Looking to hyper-personalize all commerce touchpoints? Let's talk.
Explore More Resources on Commerce Personalization